The Cookbook Challenge!  Comfort Food!
The winter months always seem to have us yearning for all the yummy comfort foods that help make us feel warm and cozy as we come in from the cold, snowy weather…unfortunately, those same recipes don't often abide with healthy eating goals we set for the new year!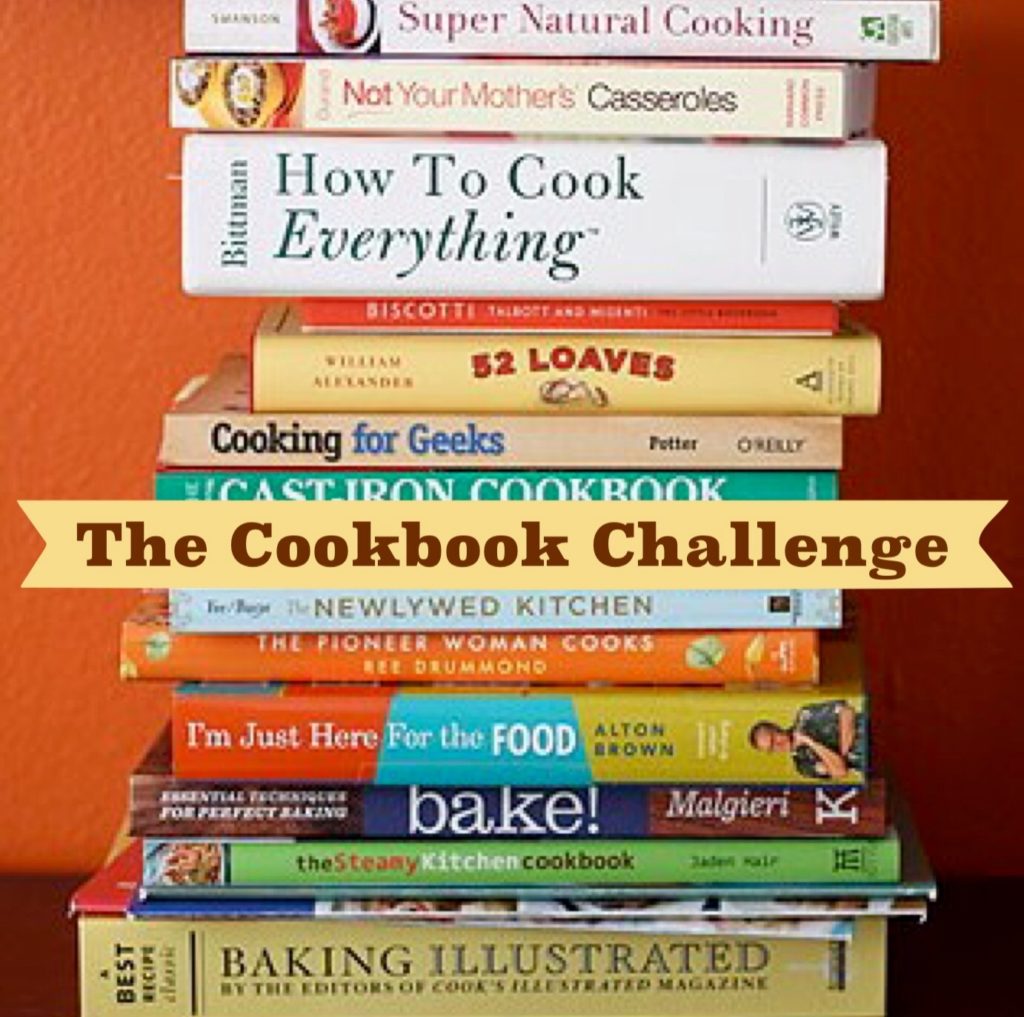 This newest cookbook challenge comes from a beautifully illustrated cookbook published by Williams-Sonoma, titled Comfort Food, written in collaboration with the award-winning cookbook author, Rick Rodgers.  (We discovered it one night while browsing our local Williams-Sonoma store in search of some gifts for my husband's secretaries.)  While some of the mouth-watering recipes featured in this cookbook are indeed made with calorie-rich ingredients, for that occasional splurge or fancy dinner party, there are plenty of fresh and light options that are sure to cure your homemade, comfort food cravings!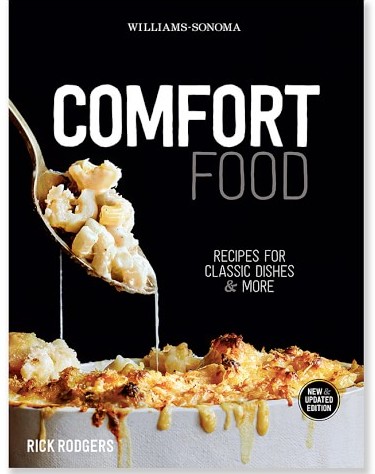 Mr. Rodgers tells some entertaining personal stories throughout the cookbook and offers helpful tips for making seasonal variations to many of the recipes shared; and just like the introduction page promises, we've found this cookbook to be a favorite "go-to" for making tasty, comfort food any time of the year!
Ramen noodle food trucks and restaurants have become a big trend lately.  My husband and I find that it's a great way to get a quick bite to eat that's fairly healthy, as well as flavorful and satisfying, on a chilly evening after work.  Recently, we made a version of this popular dish from a recipe in the Comfort Food cookbook.
Beef and Broccoli Ramen Chow (Serves 4)
Slice a 12 oz. flank steak into 1/4 inch thick pieces and about 2 inches long.
In a large bowl, whisk together: 1 tbsp. soy sauce, 1 tbsp. Chinese rice wine, 2 tsp. cornstarch, 1 tsp. dark sesame oil and 2 tsp. brown sugar.
Add flank steak to mixture and toss well.  Let stand for about 15 minutes.
Soak an 8 oz. pkg. of dried brown rice noodles in hot tap water for about 10 minutes, stirring occasionally until they are almost tender.  Then drain and rinse them with cold water and toss them gently with 1 tsp. dark sesame oil.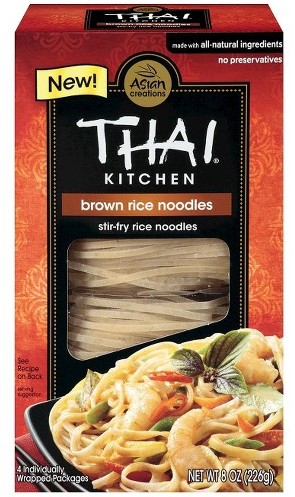 (I used this brand of noodles that I found at Target.)
For the sauce: in a small bowl mix: 2 tbsp. oyster sauce, 1 tbsp. black bean sauce, 1 tbsp. water, and 1 tbsp. Chinese rice wine.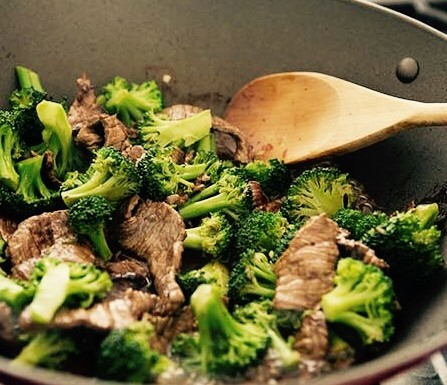 Heat wok over medium heat, then add 1 tbsp. peanut oil, swirl to coat bottom and sides of wok.  Add marinated steak mixture and cook until meat is slightly browned–about one minute.  Add 2 cloves minced garlic (or to your taste preference) and 2 tsp. fresh minced ginger.  Stir with steak and cook for another minute until steak isn't pink.  You don't want to over-cook meat. 
Transfer the meat mixture to a platter.  Add another 1 tbsp. peanut oil to your wok to brown 1 small chopped yellow onion.  Add 1 cup small broccoli  florets (I added more) and stir fry until it's tender but crisp-about a minute.  Add rice noodles and steak mixture and keep stirring until noodles are hot.  Continue stirring as you add sauce mixture and coat all ingredients well.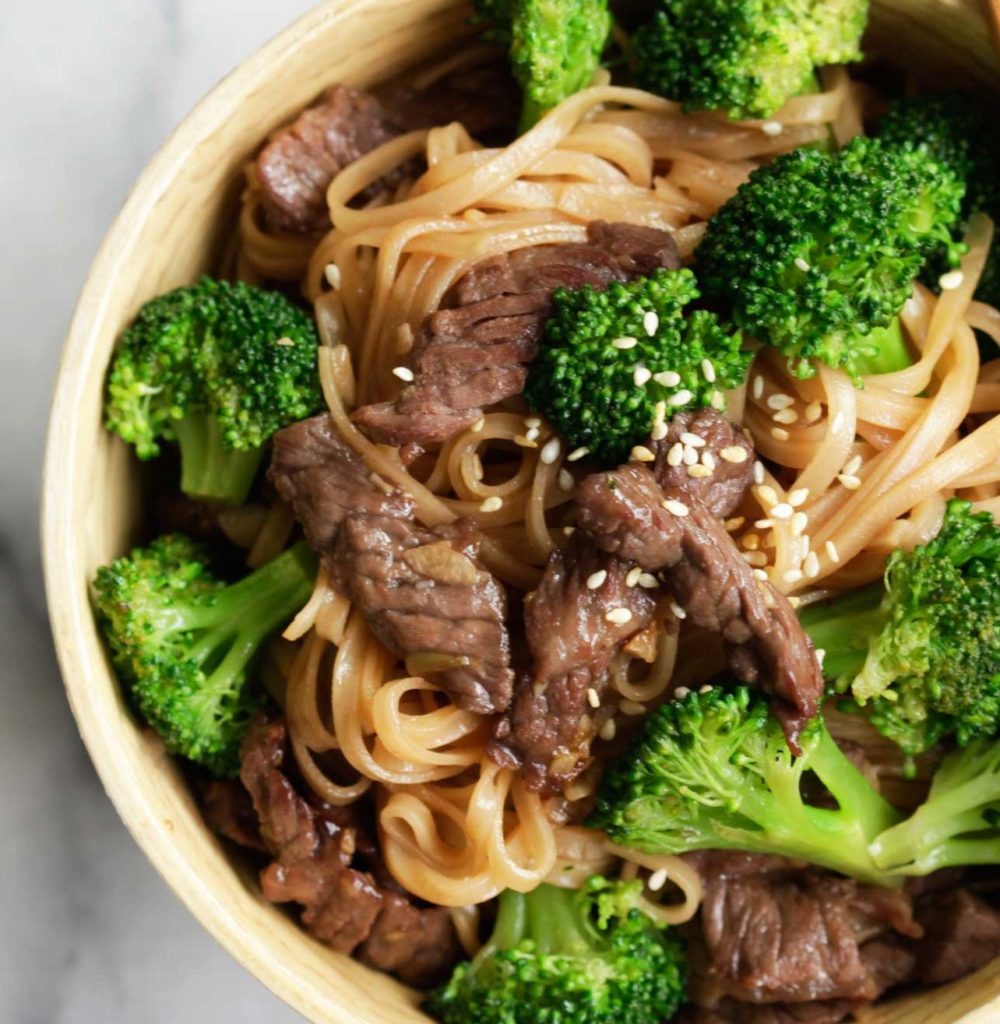 Serve hot in a deep bowl for a fun, easy meal!
My beef and broccoli ramen chow doesn't look as posh and fancy as the one pictured in the Comfort Food cookbook, but it's sure yummy!  One of the things I really like about this cookbook is that the ingredients are listed in a separate column which makes it easy for writing your grocery list!  There's also instructions for recipe variations, such as adding shrimp instead of beef, or making a vegetarian adaptation.
What are some comfort foods you're enjoying during the cold months of winter?
–Happy eating!  Mary