Think Pink…It's Breast Cancer Awareness Month!
I think that one of the most important things I do as a nurse on a woman's care unit, whether someone has just had a baby or is recovering from a gynecological surgery, is getting patients ready to leave the hospital feeling empowered and more capable about taking an active role in their health and well-being!  Despite the endless healthcare debates that have been dominating the media, we should all understand that there are a lot of things we can do right now to maintain a healthy lifestyle that are separate from the complicated issues and talking points being discussed.
One of the best things any healthcare worker can do for anyone seeking more information about how they can better take care of themselves, is to put things in simple, easy to understand terms that will feel attainable for them in respect to their everyday lives.  October is Breast Cancer Awareness month, and since I usually have a fairly captive audience when teaching patients before they get ready to be discharged after their hospital stay, I've outlined a few things that I tell them about breast cancer awareness.
Think Pink!!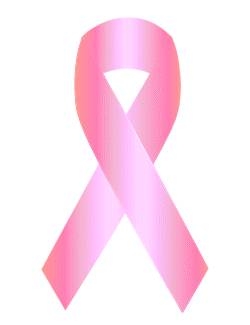 Perhaps my affinity for remembering important facts by virtue of an acronym was first established when my mom used to have me make birthday cards for family members when I was growing up.  I also studied for many nursing school exams using this approach.  I took the liberty to use this technique in creating this "Think Pink" message that I hope will impress upon every woman's memory what their individual responsibility is in terms of how they can safeguard their health as it pertains to breast cancer awareness!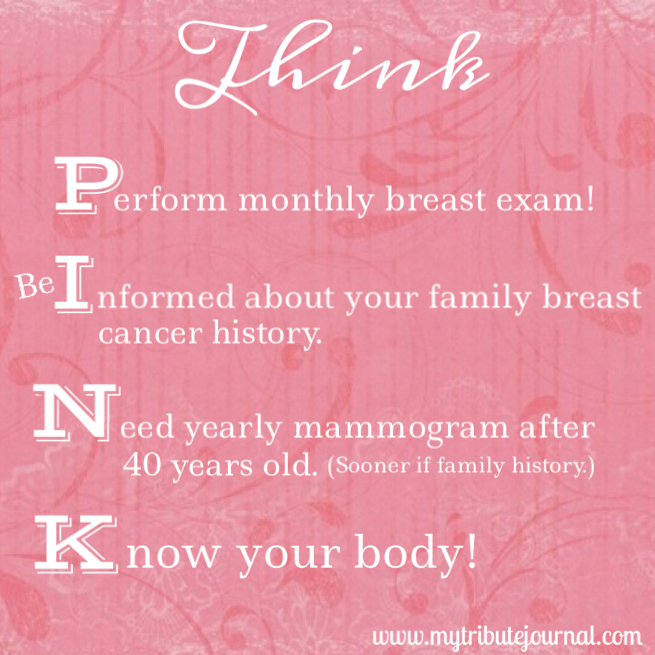 A self breast exam needs to be a priority on our monthly "To Do" list!  It is recommended that the exam be done approximately 5-7 days after a menstrual cycle.  Post menopausal women, or ones who have had a hysterectomy, will find that doing the exam at the same time each month increases the likelihood that they will be done regularly.  Most doctors recommend that breast-feeding women also perform a routine exam, ideally just after the baby has been fed.  The new machines at most medical facilities also make having a mammogram with breast implants less painful.  Many hospitals will provide some payment assistance when a scan is done on those without insurance coverage, and may even offer to do them free of charge.

Breast cancer prevention surgery for women with a family history of breast cancer has been highly publicized lately.  However, doctors have advised for many years that those who fall into this category be extra vigilant in taking the necessary steps to insure healthy outcomes!  My paternal grandmother fell victim to breast cancer, so my daughters and I are at increased risk.
The recommended age for yearly mammograms was recently changed from age 50 to 40 years old, since the occurence of breast cancer has been on the rise in younger women.  By doing self breast exams, along with having regular check-ups, more educated decisions can be made if subsequent care is needed.
I believe that being aware of what's "normal" for our own body is the best guide to help each of us know when something is not as it should be, so we can then seek further medical attention as required.
Think Pink…And Hunter Orange! 
If nothing else sways your determination to keep pace with good health options, maybe look around at your family, or keep a photo close at hand that you look at everyday to help remind you that it is worth every effort it takes to invest in a happy, healthy life!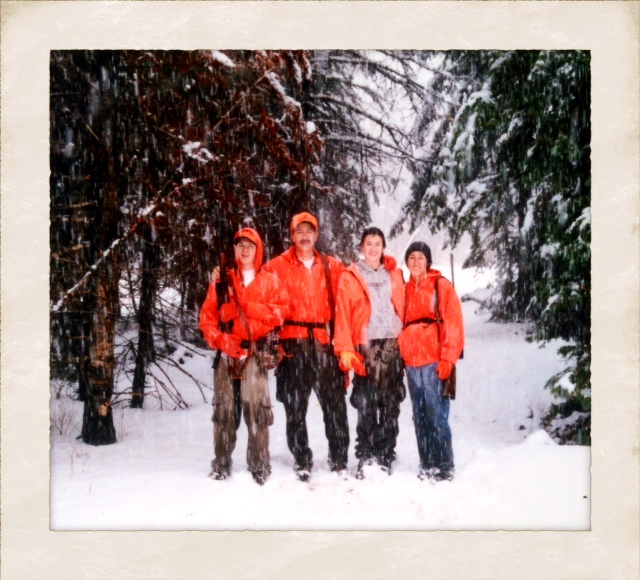 In honor of breast cancer awareness month and the first official day of the deer hunting season, I'd like to take the opportunity to tell my family how much I love them and that I am trying my best to be a good example of healthy living.  I also had my last mammogram this past August and got a clean bill of health!  (Although this picture was taken approximately ten years ago, the streaks you see are not due to the aging process–it's because my family was hunting in a snow storm!  I know, craziness!  I think I went shopping with friends that day!)
If you have an inspiring story concerning breast care awareness or breast cancer, I'd love it if you'd share it.  Sometimes another person's story is what helps us set better health standards in our own lives!
–Mary