My husband and I had one of those busy, run-around, project packed weekends, where when you finally plop down in front of the TV on Sunday night, you actually think that going back to work on Monday morning will provide a much needed restful reprieve!  Unfortunately, even with my husband's channel surfing finger in high gear, and a gazillion cable stations to pick from, there didn't seem to be anything all that interesting on TV.  (Considering how tired we were, I didn't think we were being an overly picky audience either!)  Besides, this is the time of year where TV shows start introducing their new "Must See TV" fall lineup, so we figured something might catch our eye!  Granted, the Halloween season is well underway, so there were a few programs featuring woeful vampires and witches–only not in a good way…eeeek!  My disappointment with our viewing selections made me nostalgic for the TV shows I used to watch with my family when I was growing up–and we just had three channels to choose from back then!  (Yes, I also walked ten miles to and from school in knee deep snow!  I'm sensing some major eye rolling going on!  Ha!)
My Childhood Must See TV!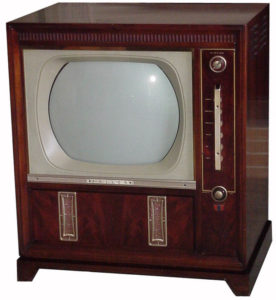 The television sets of my childhood proved to be somewhat of a decorating challenge for my mom…much to her dismay, lace runners and glass vases and figurines placed on top did little to conceal their bulkiness!  
Who can forget the first staccato cords of the music being played as a match lit the end of a fuse signaling the beginning of another installment of the original "Mission Impossible" TV series!  The mission leader, Mr. Phelps, (Peter Graves) brilliantly coordinated the flawless efforts of each secret mission where savvy know-how seemed to outshine any high-tech gadgets that were used!  There weren't too many young girls who didn't aspire to be as clever minded as Cinnamon Carter, (Barbara Bain) the only woman on the team.  (This was one show where even my mom would sit and watch transfixed, resisting the urge to pick up one of her many projects that she usually worked on while watching a television program.)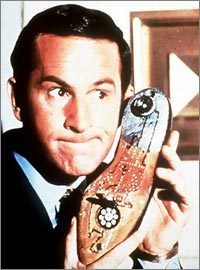 On the opposite end of the spectrum, was the show "Get Smart"!  Maxwell Smart, (Don Adams) was an endearing Private Eye Investigator, who along with his sidekick, Agent 99, (Barbara Feldon) taught us that we shouldn't take life too seriously!   Prior to the availability of cell phones, I think we all wished we had a phone in the bottom of our shoe!  Despite the corny satire at times, Agent Smart was sly like a fox; we laughed with him, not at him!
"Dr. Welby MD" starring Robert Young (of "Father Knows Best" fame, that TV series was before my time, but had been a show my mom loved) was a family favorite!  Had my father continued studying medicine in college, I'm sure he would have been the congenial neighborhood doctor portrayed in this show!   Yes, that's a young James Brolin, who joined the series after the first few years!  Consuelo Lopez, (Elena Verdugo) was their funny, but tough nurse/receptionist who helped bridge the generation gap between the two doctors with seeming ease, while keeping their egos in check so they focused more on their patients!  There was always an unspoken love story going on between Dr. Welby and Consuelo…but as my dad always used to say, "A good TV show leaves a few things to your imagination!"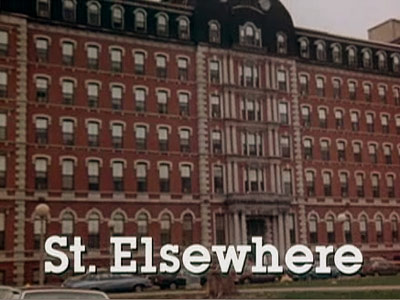 "Dr. Welby MD" might have set the foundation for my decision to go to nursing school, but "St. Elsewhere" launched my full blown desire to make it a career choice!
Long before he was a TV game show host or a judge on "America's Got Talent" Howie Mandell was a zany doctor on St. Elsewhere!  Who knew this TV series would prove be such a valuable stepping stone for launching the careers of actors like Ed Begley, Jr. Bruce Greenwood and Denzel Washington.  I have come to realize however, that "real life" at most hospitals is less dramatic and operates at a much faster pace than what's seen on TV, but the respect and camaraderie portrayed between the doctors and nurses in this heartwarming series, for the most part, is alive and well!
Speaking of witches, (the kind I like to watch) the magical powers that Samantha Stevens (Elizabeth Montgomery) had when she twitched her nose on the TV show, "Bewitched" are something we all wished we possessed as busy wives and mothers!  My mom used to comment on how she would have dealt with the devious mother-in-law character, Andora (Agnes Moorehead) if given the chance!  There's nothing quite like watching a good TV show together to see another side of someone's personality revealed!  (In her prim and proper way, my mom had a feistiness about her!)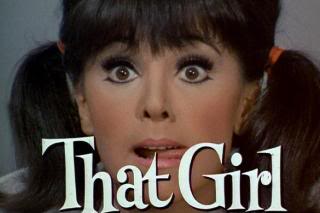 "That Girl" starring Marlo Thomas, was one of my very favorite TV shows that I usually watched with my dad as a young teenager.  Oftentimes, homework and other activities pre-empted a lot of TV viewing for me during the week when I was growing up, but Thursday nights were the exception with this fun Must See TV show!  "That Girl" was pretty innovative for the times then, since it featured a single, young woman living on her own, while seeking out her dream career!  Some of the funniest episodes had to do with her parents and the concern they had about their daughter living away from home.  This show often sparked some neat conversations with my dad!  (How I would love just one more with him now!)
What I'm learning now is…
My dad's favorite TV show was "Gunsmoke"!   It aired for 20 years and had many memorable characters like Marshall Matt Dillon (James Arness) and Miss Kitty (Amanda Blake)–and of course, who can forget Festus, (Ken Curtis) one of Marshall Dillon's quirky part-time deputies.  Once while we were reminiscing about watching "Gunsmoke" together, my dad told me that one of the reasons he enjoyed the show so much was that the characters showcased integrity and loyalty, among other traits, that for him best defined the way a person should live!
(Trivia fact:  Did you know that Peter Graves, one of the main stars in "Mission Impossible" and James Arness, Marshall Dillon in "Gunsmoke" were brothers!)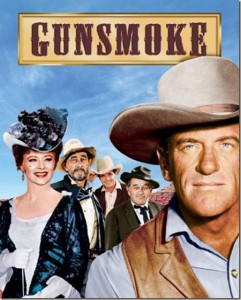 My dad also admired that Marshall Dillon went about his business in a steadfast fashion and without a lot of fanfare, yet he wasn't afraid to deal sternly, but within the confines of the law, (of course, we're talking cowboy law here) with those who tried to disrupt peaceful living on the western frontier!  
What I'm learning now is that my parents regarded our family life in much the same way, and believed that watching our favorite TV shows together was a privilege we earned and planned as a family by being conscientious in other areas of our lives.  They also took the opportunity to teach us that the programs we watched should be ones that built upon the good values they tried to teach us.  (Luckily, technology today makes it possible for me to watch many of my favorite TV shows all over again with my children and grandchildren!)
Most of all, a yummy treat should accompany a good TV show once in a while too!  Caramel popcorn is always one of our favorites!
My husband's channel surfing finally paid off on Sunday night–we caught the end of the amazing come from behind playoff game between the Detroit Tigers and the Boston Red Sox!
I'm curious to know what shows you grew up watching with your family!
–Mary