Leather Chair Reading!  Seedfolks!
This special summer edition of Leather Chair Reading might more appropriately be referred to as Wicker Chair Reading, since I usually go out on my patio to read in the evenings after work when it's cooled off a bit.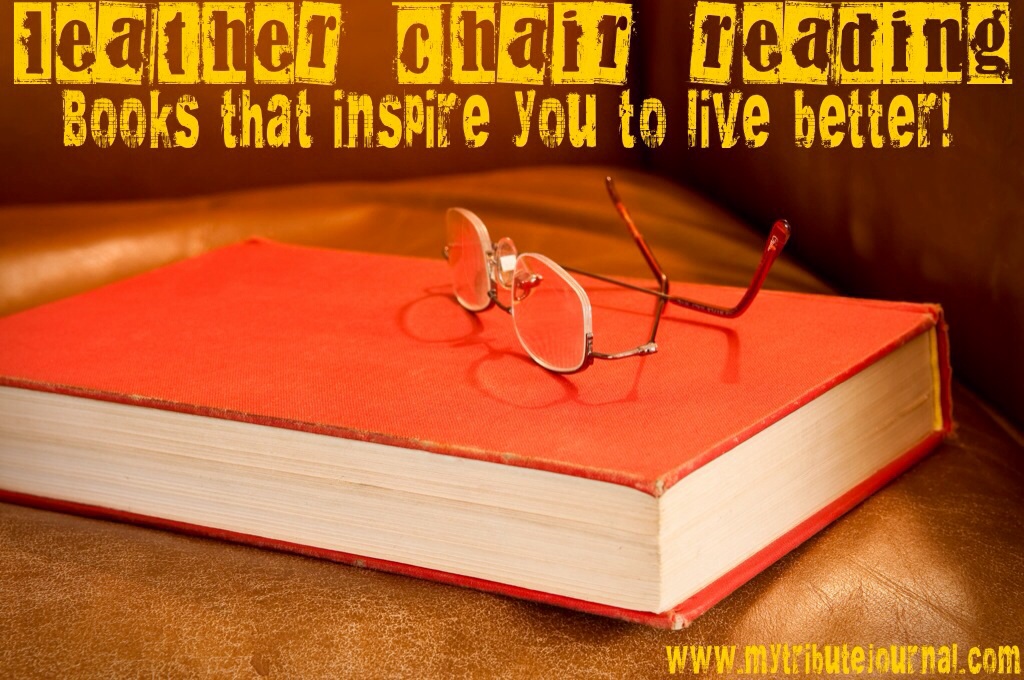 I know that most everyone is off celebrating their last "hoorah" so to speak, on this long Labor Day weekend, marking the official end of summer–and my guess is that reading a book isn't on the list of activities you have planned…but if you do find yourself needing a little breather to just kick back and relax and maybe pick up a good, quick read, I would highly recommend this little gem of a book!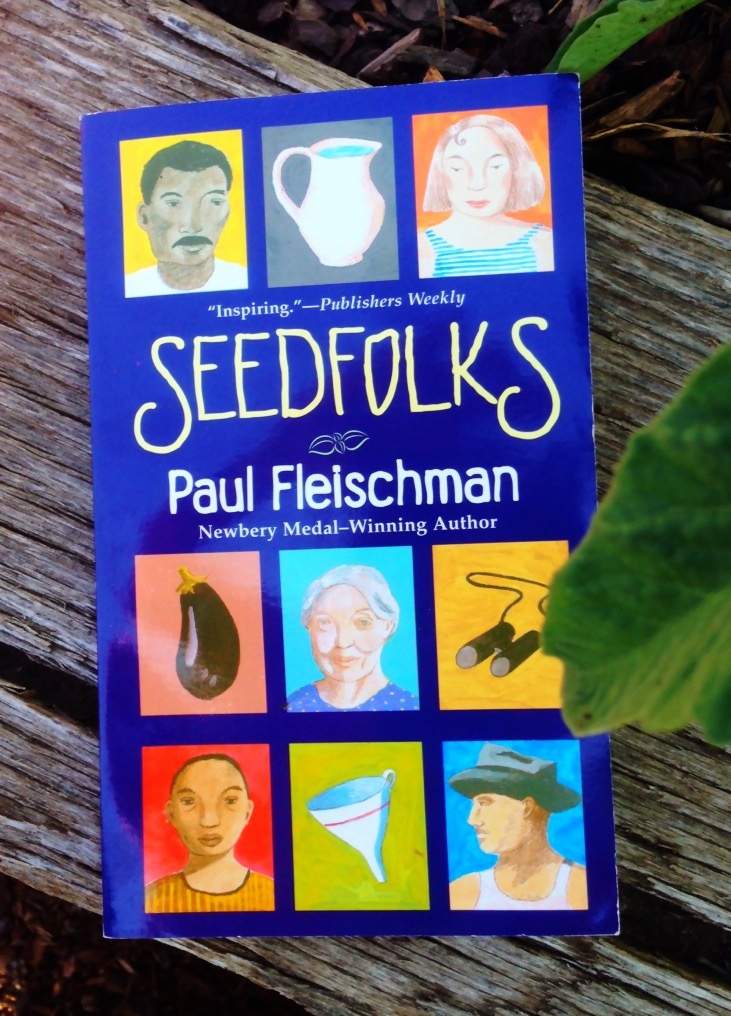 "A young girl clears a small space and digs into the hard soil to plant her precious bean seeds.  Suddenly, the soil and the people around her hold promise."

Seedfolks book sleeve overview
At the very least, Seedfolks timely message just might help restore your faith in the hope that as human beings we can learn to celebrate our differences and work together to help make this crazy, eclectic world we live in a better place!  Surely, that's not asking too much, is it…?!!
If you recall, I mentioned in this previous journal entry, that I'd recently joined a neighborhood book club.  This month it was my turn to choose what we read, and Seedfolks is one of my very favorite books.  I felt that the story and theme of this insightful book was a perfect pick for the end of summer.
It's always fascinating for me to learn about the author of a good book and how the storylines come about.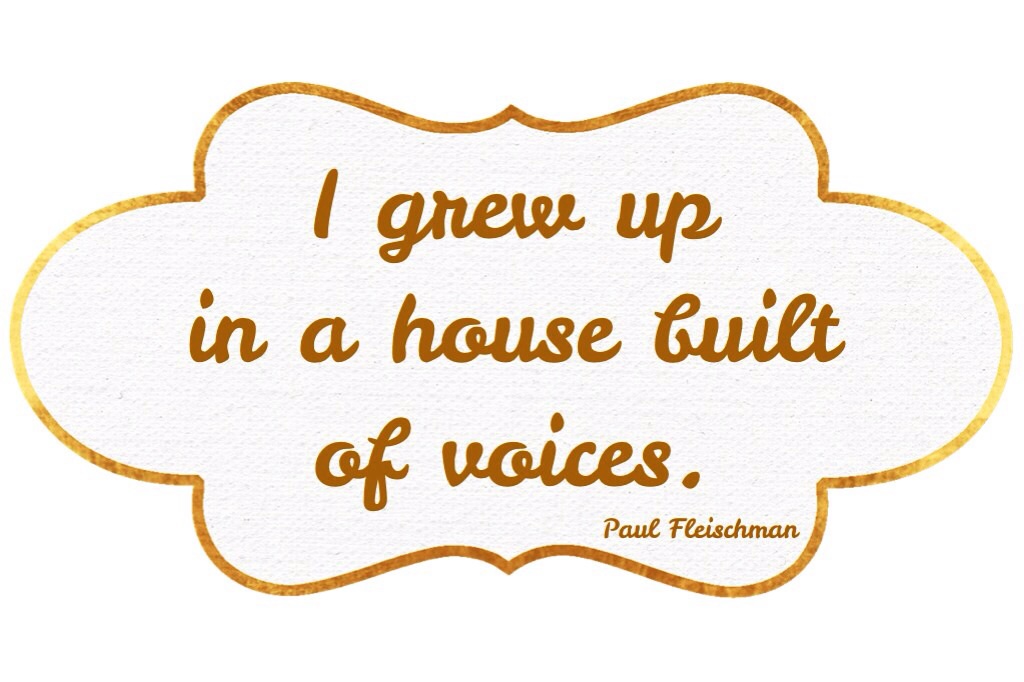 This intriguing quote is highlighted on Seedfolks author, Paul Fleischman's website as he describes his years growing up with a Newberry Award winning father, Sid Fleischman, who often read his books aloud to his family, chapter by chapter, as they were written.  Mr. Fleischman shares that while he may have learned to write from his father, he was no less a product of his mother, who took her gardening skills into the community where she volunteered at a therapeutic garden in an old veteran's hospital, showing men who'd returned from war how to raise vegetables and flowers, helping them to heal damaged psyches in the process.  His mother arranged book giveaways in cash-poor school districts, as well.  Such a unique background obviously helped provide the foundation for this incredible book.
Thirteen voices of varying ages and from all walks of life tell this amazing story about a garden that eventually transforms the neighborhood…from Kim, the little Korean girl, who first enters the vacant, garbage-filled lot to plant her beans as a way to feel closer to a father she never knew, to Sam, a retired social worker who still felt it was his job to bring people together.
"I start conversations in long lines, on buses and with grocery cashiers.  People see that I am friendly…if I'm lucky, I get them talking to each other.   Sewing up the rips in the neighborhood."  

Sam in Seedfolks  
Discussing all the characters at our book club, and what happened in their lives that eventually led to them each crossing paths and working together, left you wondering about them after that initial first year in the neighborhood garden.  That's the powerful impact of a well written book!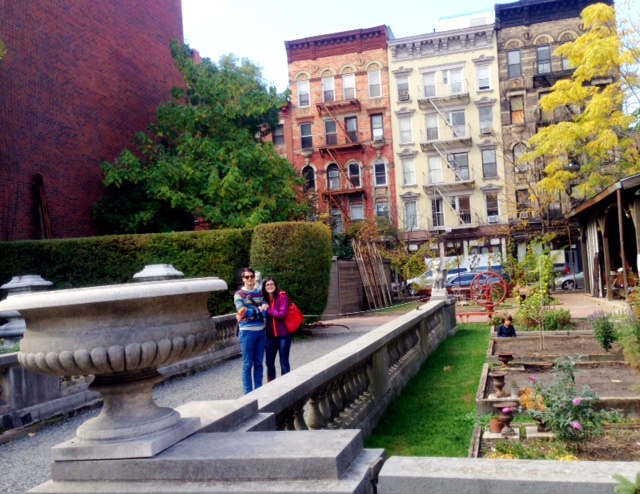 It's always fun to see evidence of community gardens when I visit my daughter and son-in-law in New York City.  You can see the plots to the right of this picture–this was taken in the fall when I went to see Mandi run in the NYC Marathon, so the gardens had already been harvested.  My friends tell me there are a few around here where I live too.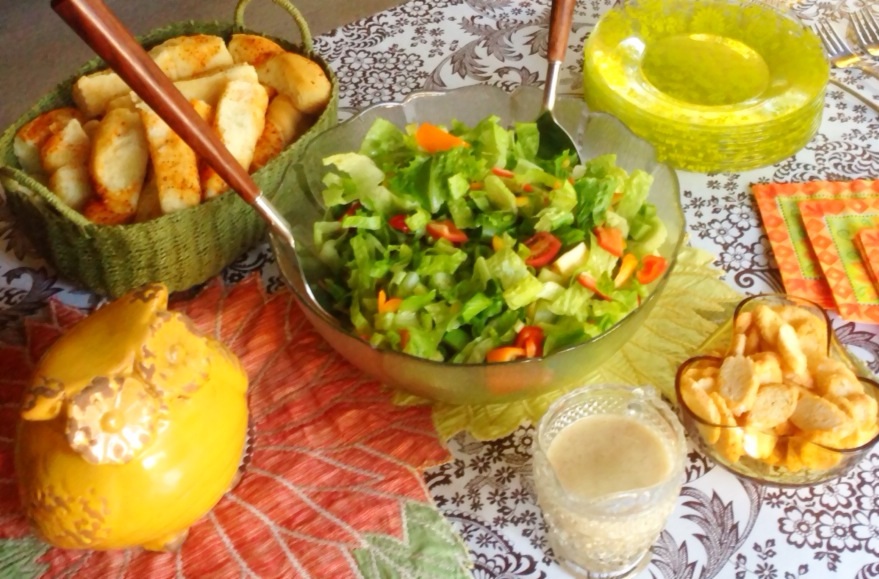 It seemed an obvious choice to serve a fresh salad with some produce from my garden at our book club.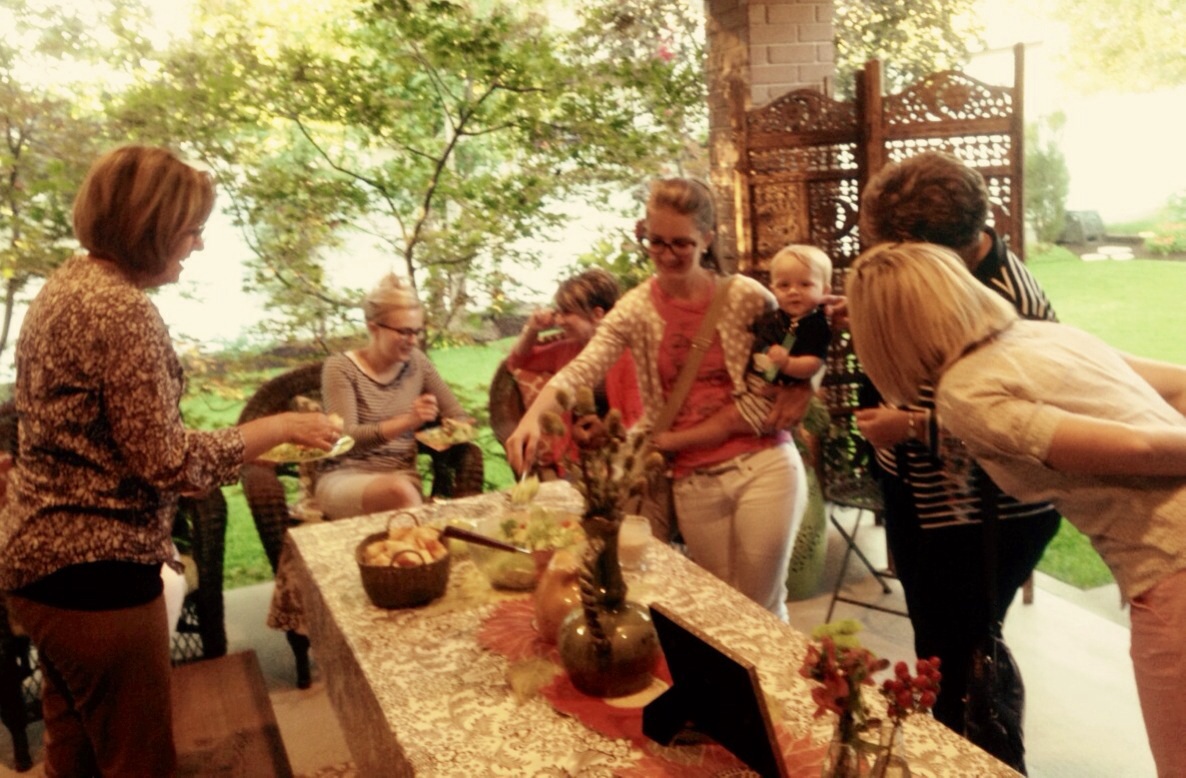 Being able to hear another's viewpoint on various books is always the neat advantage of having a book club–that, and enjoying time well spent with good friends and neighbors.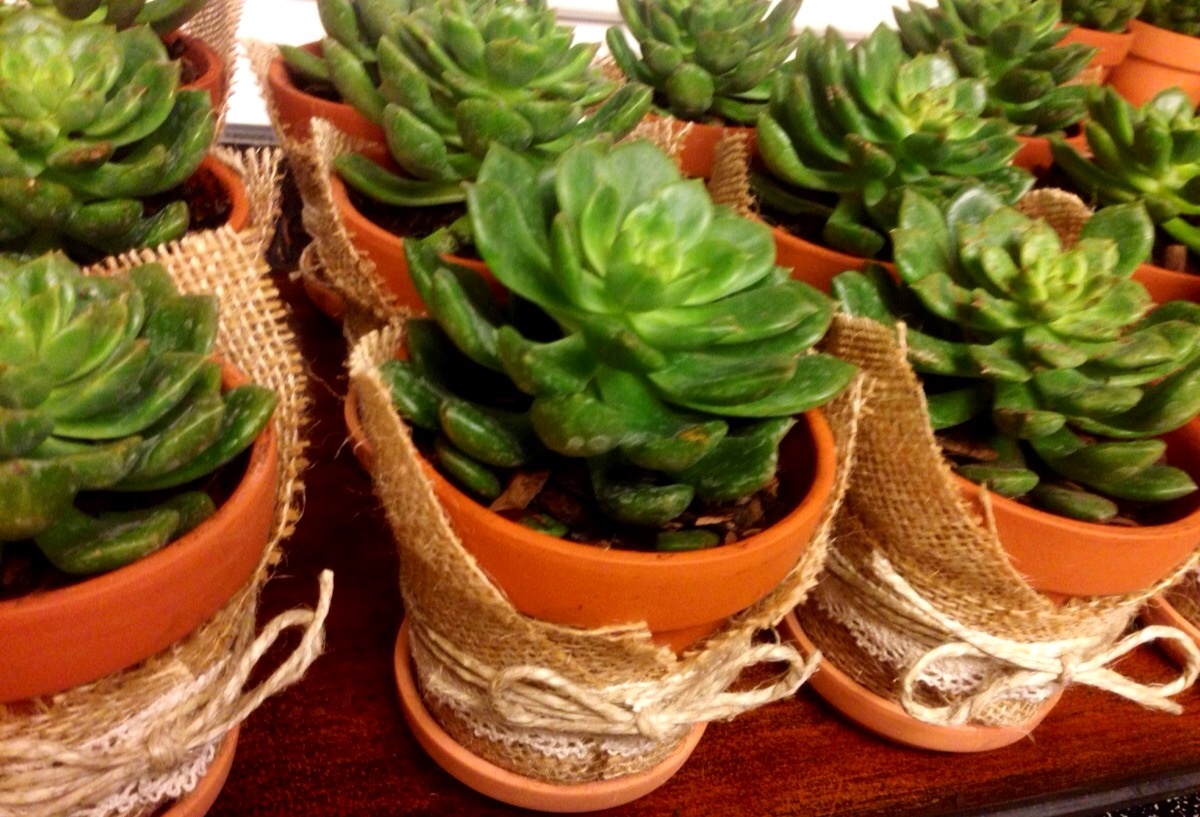 It's always fun to have a small reminder of the neat books we read and the great times we enjoy together at our book club.  
Some more ideas for gifts from the garden coming up soon in my next Garden Therapy journal entry.
Any good books you've loved reading this summer?
I'm hoping these Leather Chair Reading journal entries inspire you to pick up a good book, share it with friends and family, then get together and have a lively discussion about it afterward–it sure beats debating politics!
Happy Reading!
–Mary