Having Fun Doing A Few Of Their Favorite Things!
As parents and grandparents, I think we're all well aware of the fact that children's "favorite things" can change on a daily, if not hourly basis.  I still think it's fun to take time to talk to them and try to tap into a few of the things that make them really happy and then dedicate part of a day to doing those things!  (Obviously, the activities have to be within reason and really do-able, since they have vivid imaginations!)
I've done a couple of approaches to a "Favorite Things" day.  Sometimes I'll call a few days before my granddaughters come to spend the day, and ask what they'd like to do most at grandma's that week.  Makena is nearly five years old, so I imagine having her parents tell her that she has a phone call is part of the fun of planning a special day!  When Makena gets on the phone she is so grown up and darling as we talk.  She is thoughtful about the questions I ask, and I'll often hear Marli talking in the background wanting to say "Hello"!
Another fun way that works well, if you have a pretty good idea of what your grandchildren's favorite things to do are, is to make a few preparations ahead of time and then surprise them when they arrive at your home!  (I can  guarantee you that by having a few things set up and ready to go–no matter the game or activity, they'll quickly become some of their "Favorite Things" –at least for that day!)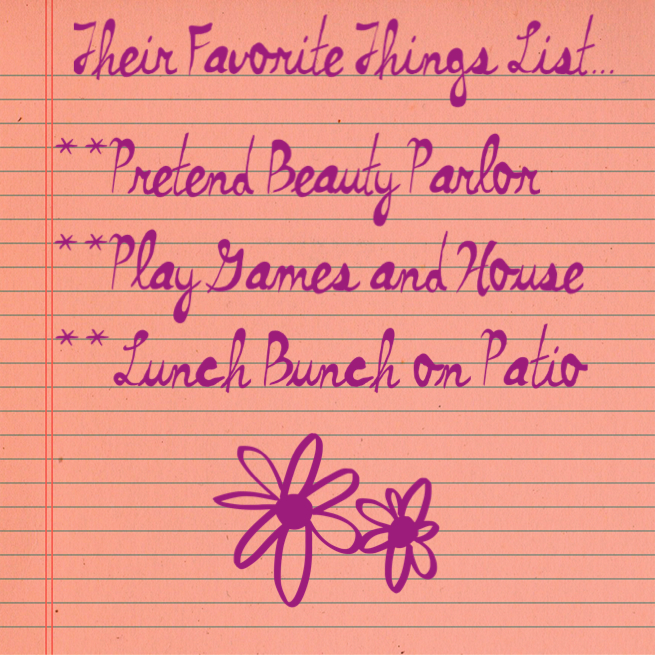 Since I am a relatively new grandma, it has obviously been awhile since little ones have played for any length of time in my home, so I've invested in a few key items to have in my playroom.  I look at acquiring these things as an investment in the memories that are made at "Grandma's House"!  If budget and space aren't too big of an issue, then it's definitely money well spent!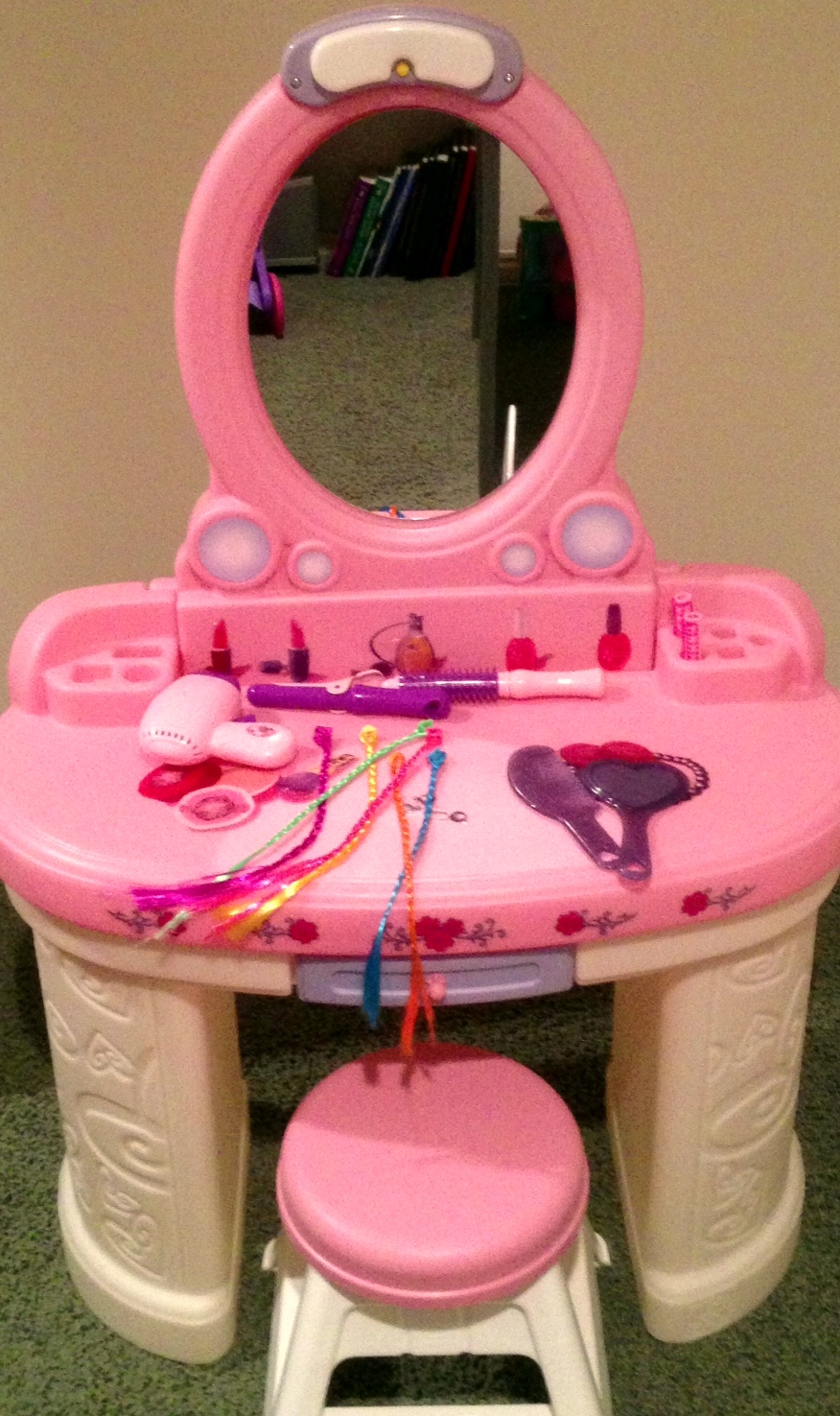 Makena and Marli love to play a variety of things at my house, but the one thing they love to play the most is "beauty parlor"!  They were so excited when I told them that a new item had been added to the beauty supplies!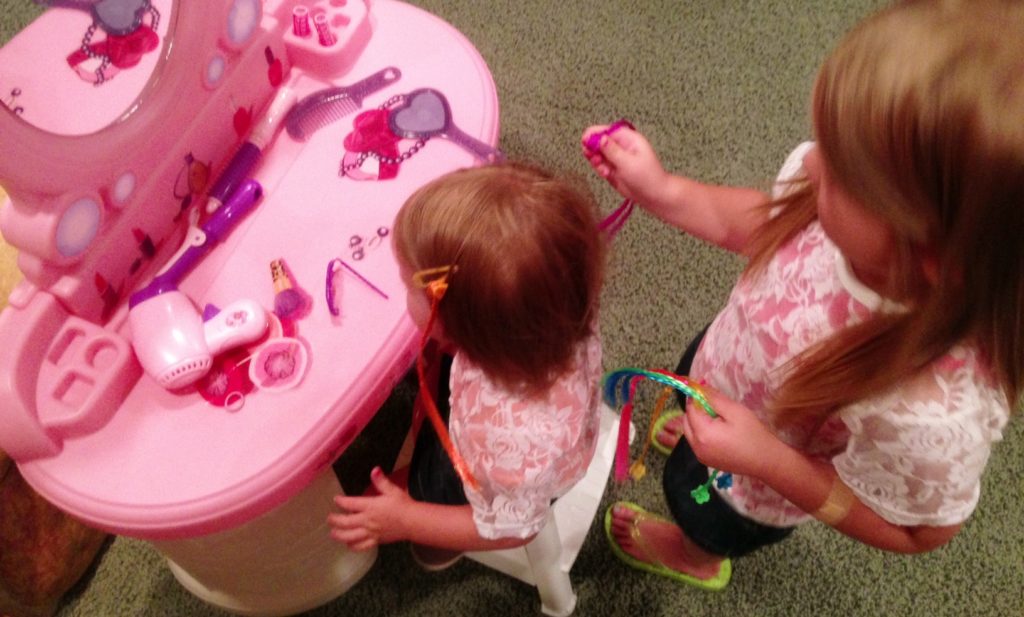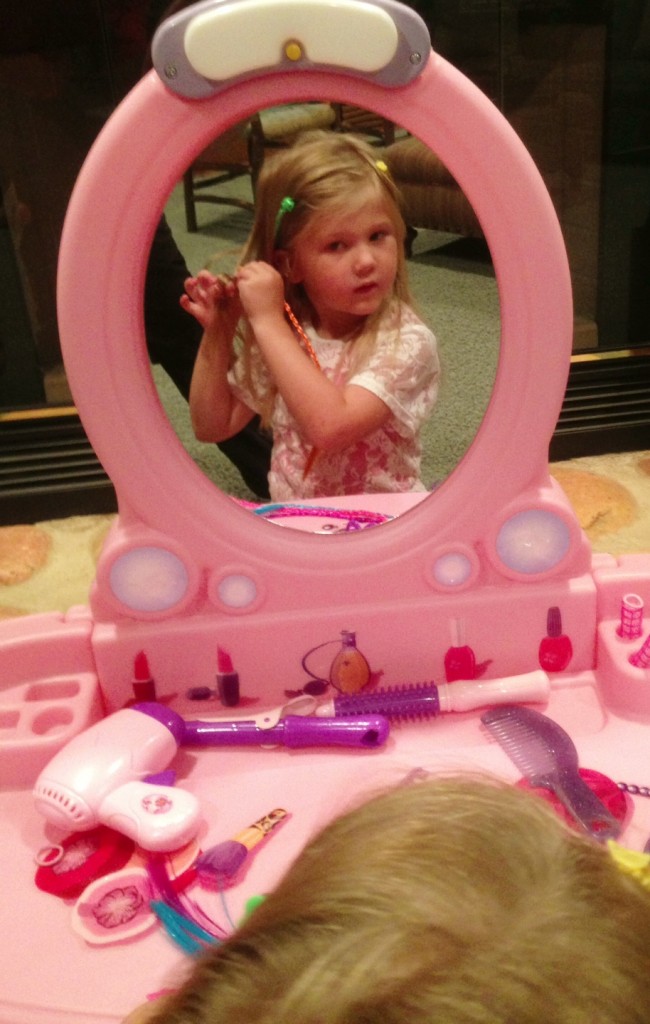 I didn't anticipate how much fun these colored braid clip-ons would be for the girls!  It's times like this that you start to realize that spending time doing their "favorite things" creates some of your "favorite days" with them! 
(Please note: The "mirror" part of these little vanities isn't real glass.  I also recognize that along with many other things, my camera skills are a work in progress!)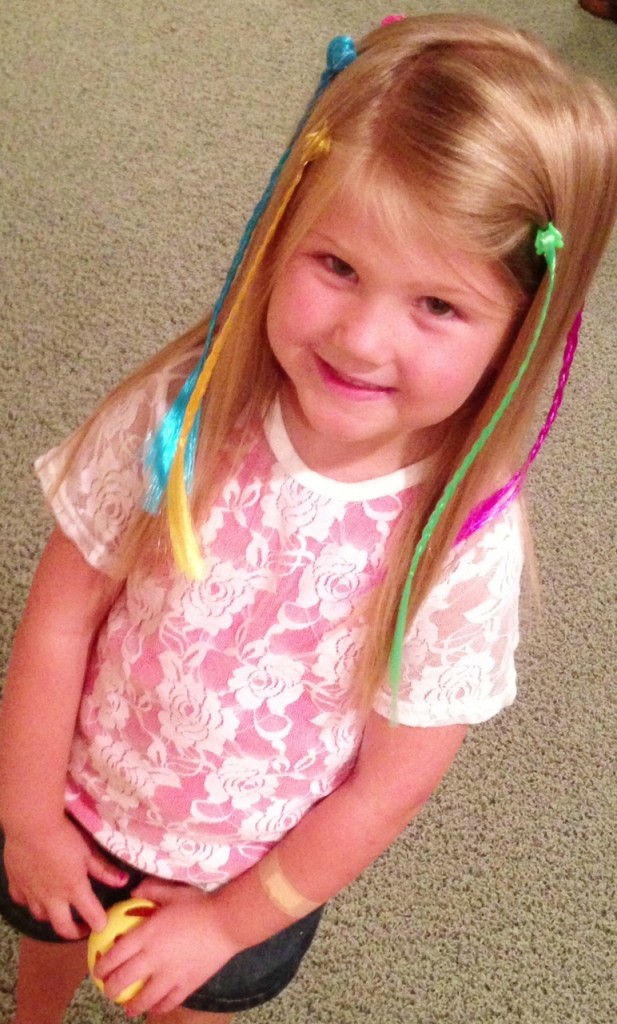 Makena and Marli wore the braids most of the day, and couldn't wait to show their mom!  I love this as a grandma–just like with your own children, not everything you do will always be a big hit; when it is though, I say embrace the moment! 
Makena loves games–and Marli loves to do anything that Makena does, so having a new game to play, or a twist on a familiar one, makes for a win/win situation!  Makena has a number of card games at her home, but I haven't really gotten too many for the girls at my house, so they weren't expecting to see one set out on their favorite table!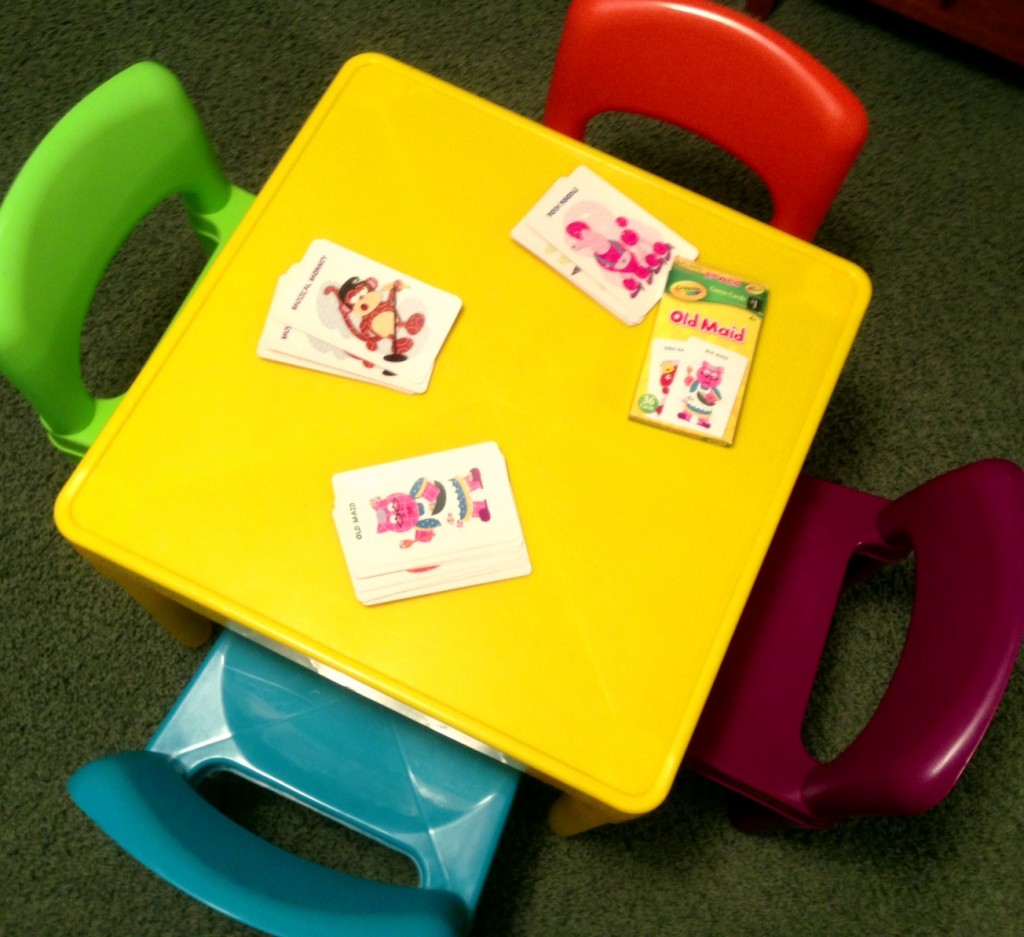 "Old Maid" is a classic game that children love!  
Having new cards with characters on them that are different from the ones they have at home, almost makes it seem like a new game!
Don't you remember having your favorite card that you always wanted to match…no surprise that "Posh Poodle" was definitely Makena's favorite! 
A smart investment I made is the little table and chairs set.  There are a lot of darling wooden sets our there, but realizing how often grandchildren will move the chairs from room to room and use them in a variety of different ways while playing, made a durable plastic set the way to go for me.  Your door jams and walls will withstand a few little bumps as well.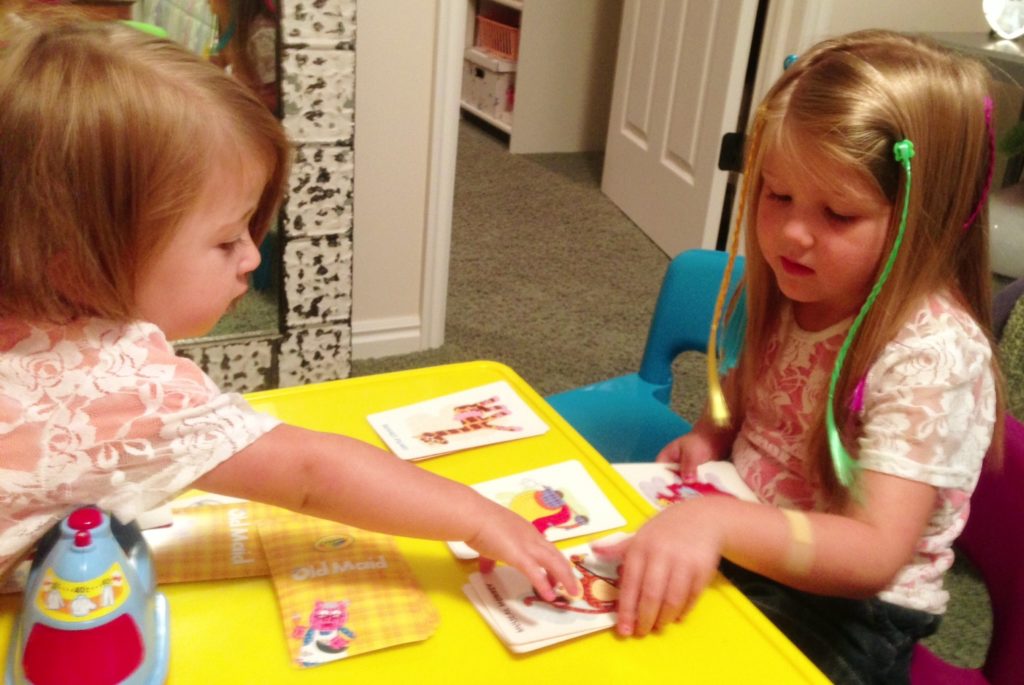 The unexpected moments are often the most hilarious…in the middle of our game, Marli went and got the toy iron and started to pretend she was ironing the cards!  It was a giggle inducing moment!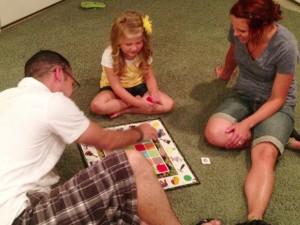 Makena especially loved that Uncle Jake and Aunt Whitney played games with her when they were here to visit a few weeks ago! 
Another of Makena and Marli's favorite things to do is have lunch out on my patio. However, I've found that sometimes they don't want to stop playing to have lunch.  Now when it's time to eat, I've started telling them that it's "lunch bunch" time and we all sit down together!  I have found with my little granddaughters, that it's a good idea to make lunchtime something fun to anticipate too.  This way, the girls are more likely to eat better.  (I also know that my daughter wants them to have a good meal and not snack too much, so I feel it's important to honor her wishes.)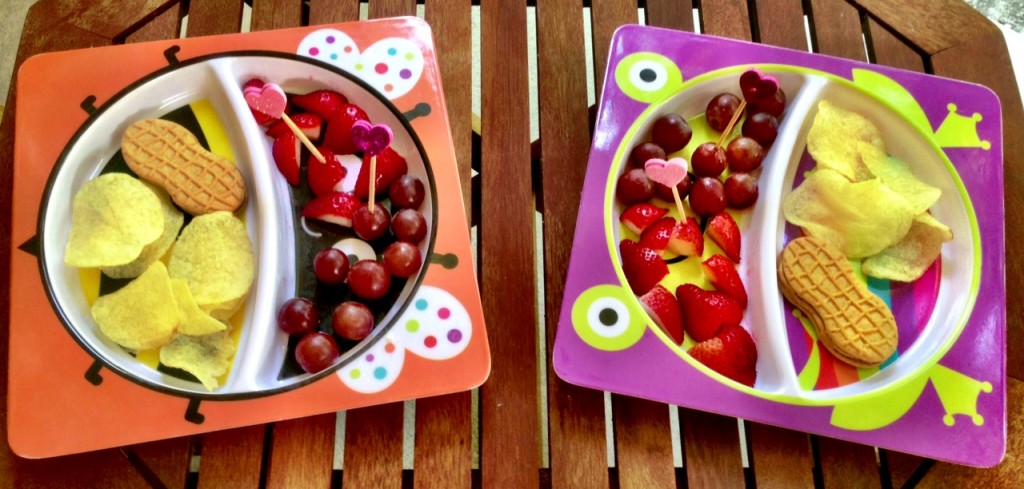 Finger foods are fun for every age!  (I love them!)  One thing that Makena and Marli love, is to eat their lunch with these little "heart attackers"!  (Nurse lingo again!)
I put some little felt heart stickers on the end of a toothpick and it makes for the perfect lunch utensil!  (This is actually something my own children loved too.)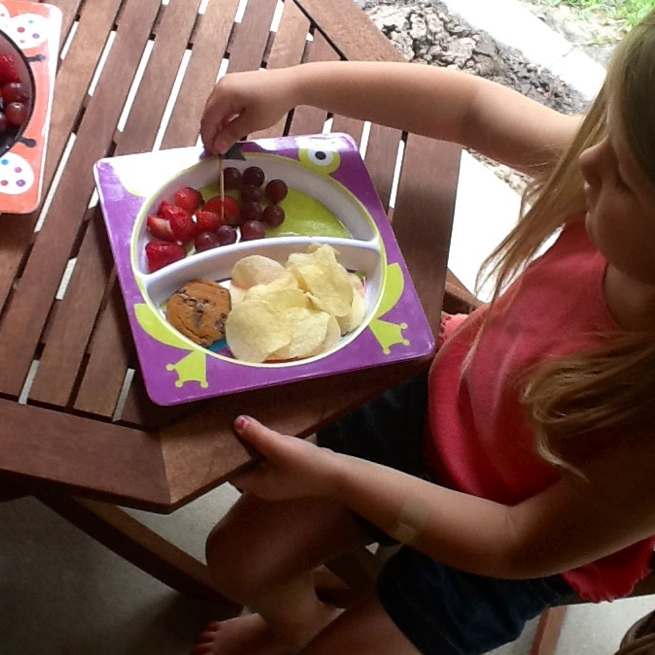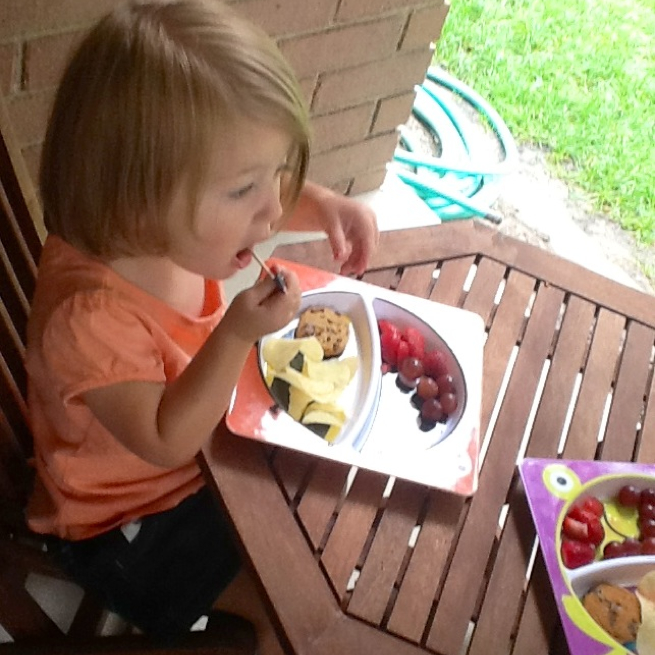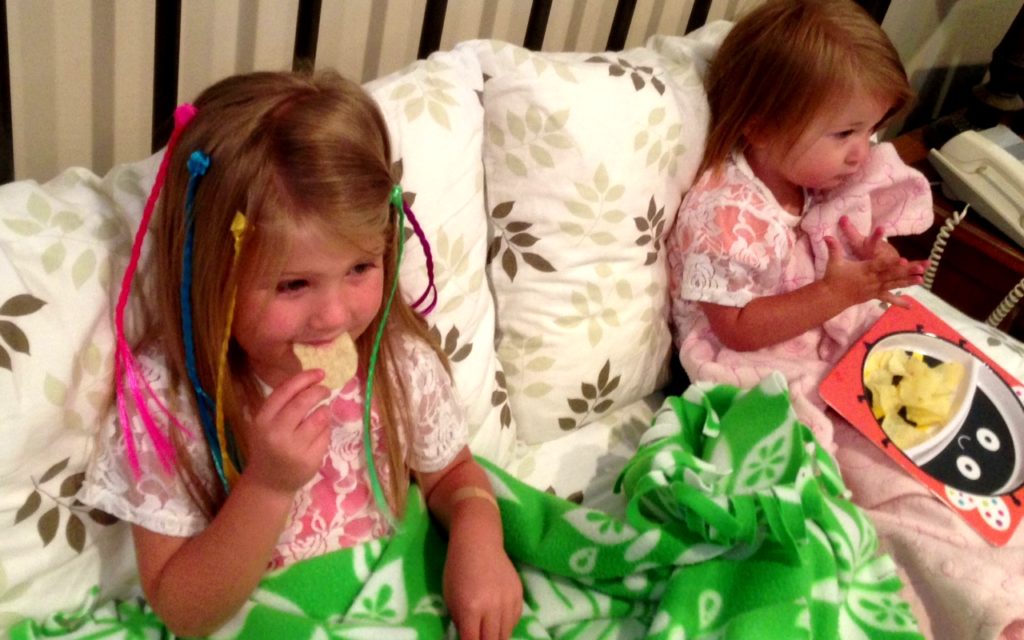 Makena and Marli ended up finishing lunch in my bed, since their favorite program was starting.  It's also a good time for them to have a little rest and quiet time!  (Grandma too!)
My dad always said there is nothing so precious as a sleeping child!  I wholeheartedly agree!
What "favorite things" are on your children's or grandchildren's list?  Any good children's toys or furniture items that you've invested in that you consider a "must have"? 
–Mary