Cookbook Challenge!  Down Home Cooking!
Along with barbecuing on his grill, dutch oven cooking is how my hubby loves to do a little down home cooking when we entertain family and friends during the summer months…I'm just happy to have him doing the cooking!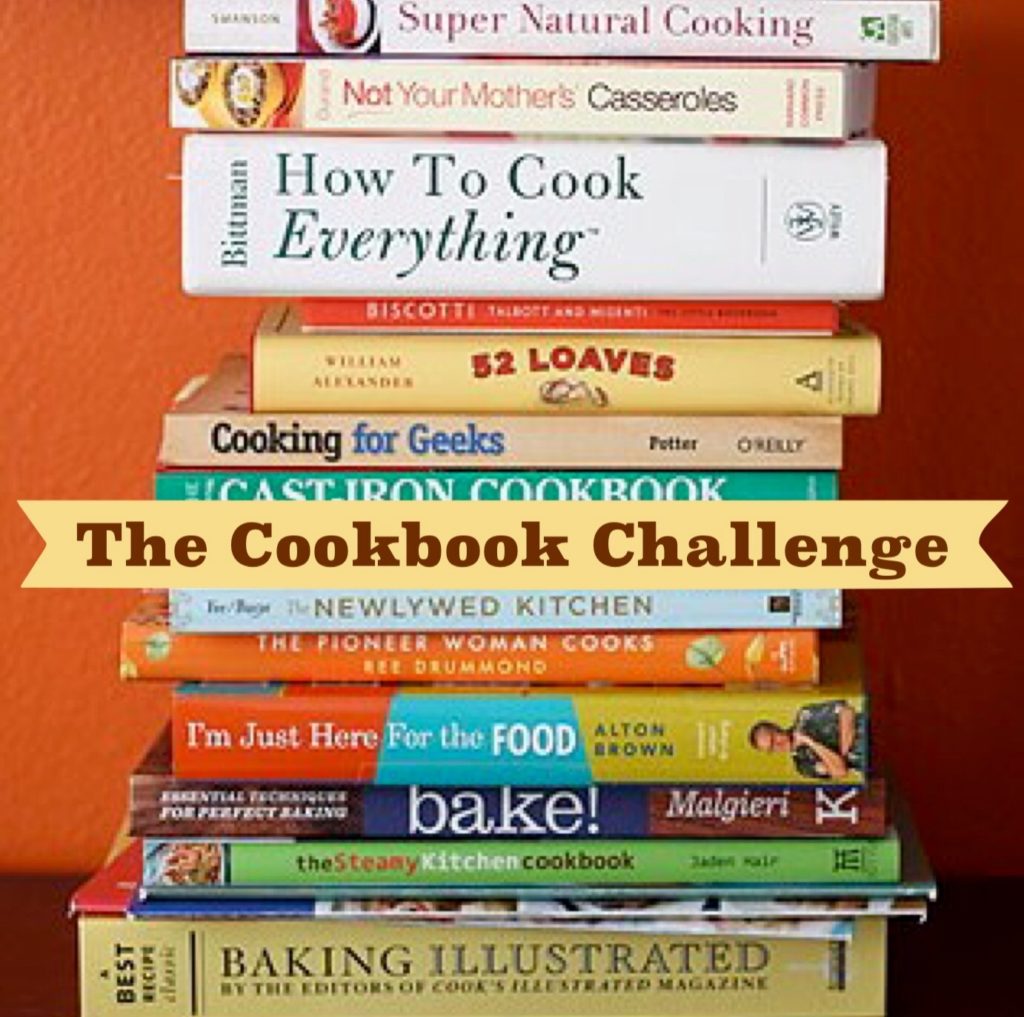 "Meals and memories go hand in hand at our house!"  Tribute Journal  
Today's cookbook challenge is from the cookbook, Bear Bottom Bliss, by the Shoults family, owners of Bear Creek Smokehouse, located in the heart of East Texas Piney Woods farmland; they are commonly referred to by locals as the first family of smoked meats.  This cookbook is a collection of over 70 years of family recipes handed down from generation to generation.  I gave this cookbook to my husband for Father's Day–I especially love the stories of family and faith that go along with the delicious recipes that are shared!  While most of the dishes call for traditional cookware when you bake them, it's been fun to see my hubby adapt some of them for Dutch Oven cooking.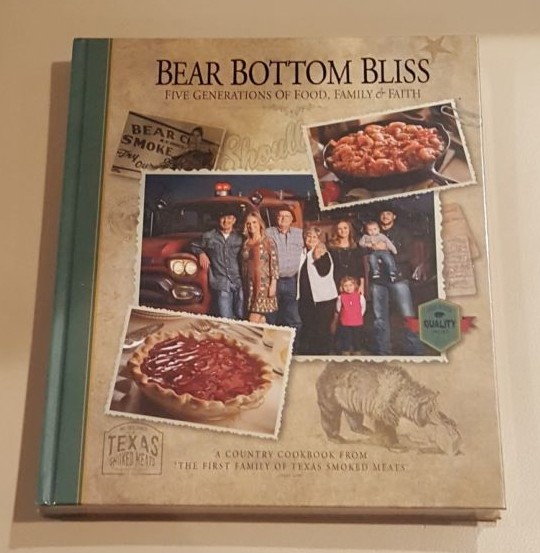 "This cookbook features down-home, soothe your soul, easy to prepare recipes."  Bear Bottom Bliss 
Nellie Shoults, the outspoken matriarch of this distinguished family business, offers a fair warning to those purchasing this charming cookbook, "Bear Bottom Bliss is NOT a cookbook with smoked meat recipes…we can't give away all our secrets, now can we!"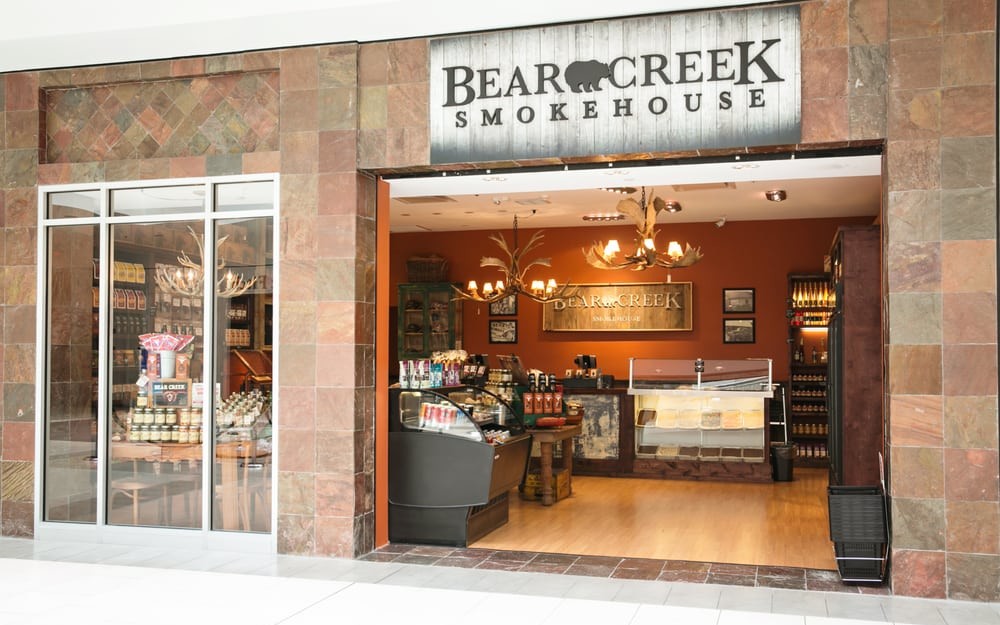 (via Bear Bottom Bliss Cookbook)
"Bear Creek Smokehouse is always about family and quality…it always will be!"  Nellie Shoults 
While every recipe pictured in this beautifully formatted cookbook from "East Texas Casserole" to "Stir-Fried Cabbage" is culinary eye-candy, we decided to make the "Au Gratin Potatoes and Ham Bake" recipe since we were having a patio party with typical barbecue fare.
Au Gratin Potatoes and Ham Bake  (Makes 6-8 servings)
1 1/2 cups heavy cream
1/2 cup milk
2 tablespoons flour
1 teaspoon salt
Fresh ground pepper to taste
1 cup diced ham
(It recommends Bear Creek Smokehouse ham–we used our local store brand)
1 cup sharp cheddar cheese
4-5 large sliced Russet potatoes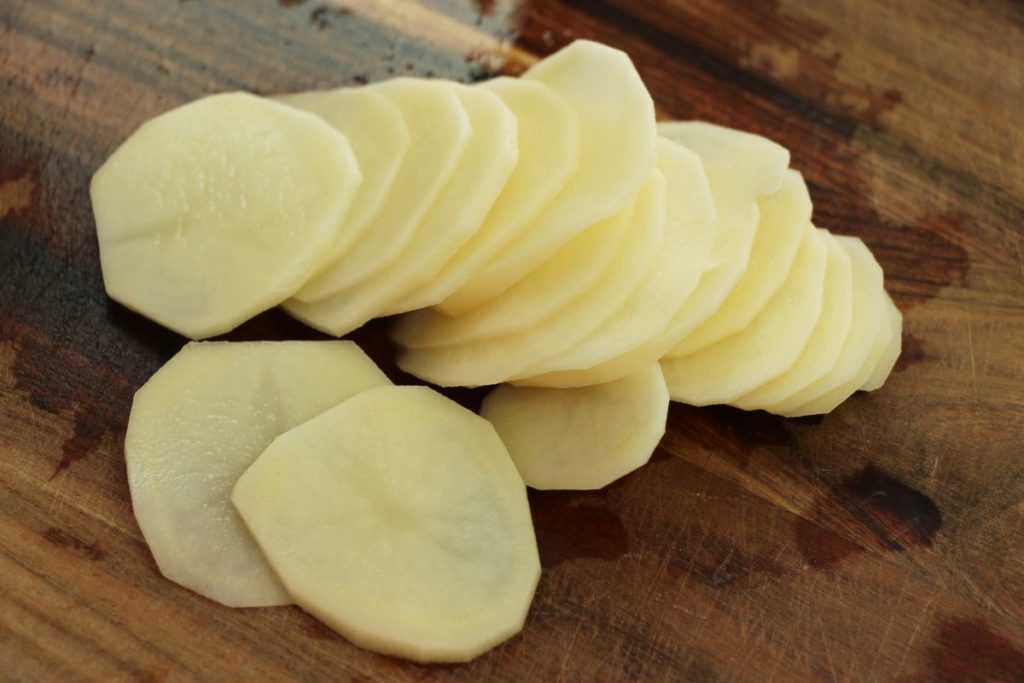 (We like to slice the potatoes pretty thin to make sure they will be fully cooked.)
In a mixing bowl, whisk together milk and flour, then stir in cream, salt and pepper.  Set aside.  Place 1/3 of the potato slices in a baking dish or Dutch Oven.  Add 1/2 diced ham.  Pour 1/3 cream mixture over potatoes.  Repeat layers ending in cream mixture.  Cover with foil and bake for 30 minutes in a 400 degree oven for 30 minutes.  Remove foil and bake for another 20 minutes.  Add shredded cheese and bake until it is completely melted.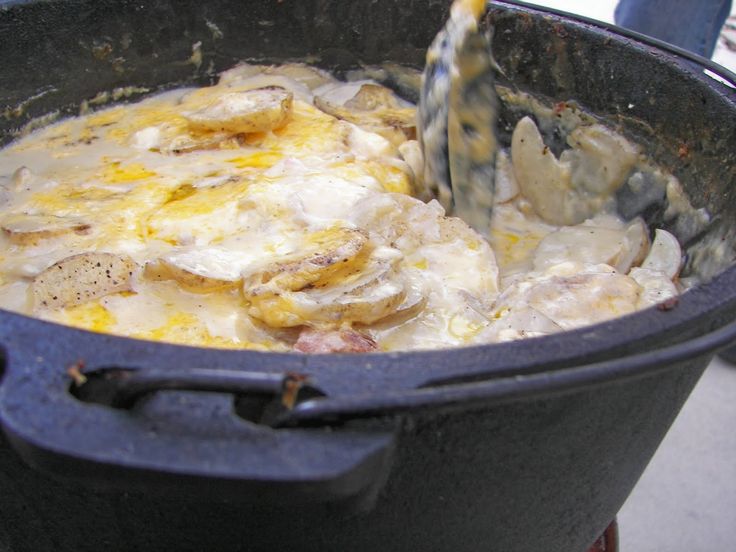 Cooking this recipe in a Dutch Oven makes it extra savory, since the ham flavor diffuses into the sauce.  You'll add about 10-12 hot briquettes to the top and bottom of the Dutch Oven and bake for approximately 1 1/2 hours. 
(You can also get my hubby's Dutch Oven BBQ Ribs recipe here.) 
And for dessert…
Bear Bottom Bliss Zucchini Bread  (Makes two loafs, 16-18 slices)
3 cups flour
1 teaspoon salt
1 teaspoon baking powder
1 teaspoon ground cinnamon
1 teaspoon finely grated nutmeg
1/4 teaspoon ground cloves
2 cups sugar
1 cup chopped pecans or walnuts
3 eggs
2 cups grated zucchini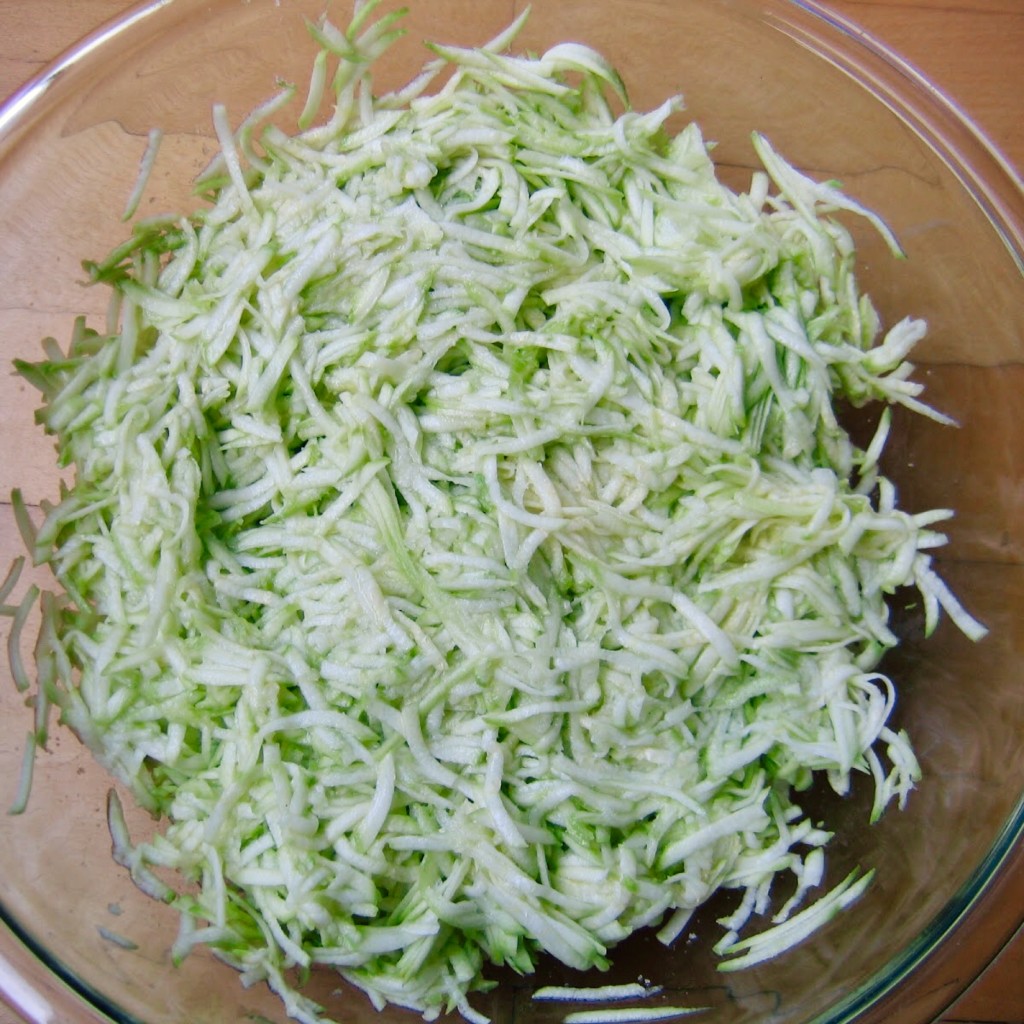 (I personally like to peel my zucchini before I grate it, but it isn't necessary.)
1-8 oz. can crushed pineapple, drained 
1 cup vegetable oil
2 teaspoons vanilla
In large bowl sift the first eight ingredients.  Set aside.  In another large bowl, beat eggs until foamy.  Stir in zucchini, pineapple, oil and vanilla.  Add flour mixture one cup at a time to egg mixture.  Stir with a spatula until blended.  Fold in chopped nuts.  Evenly divide batter into two loaf pans.  Bake in 325 degree oven for 35-40 minutes or until bread is golden brown.  Remove from oven on wire racks and let cool for 10 minutes before removing bread from pans.  Continue cooling loaves until they are room temperature before slicing.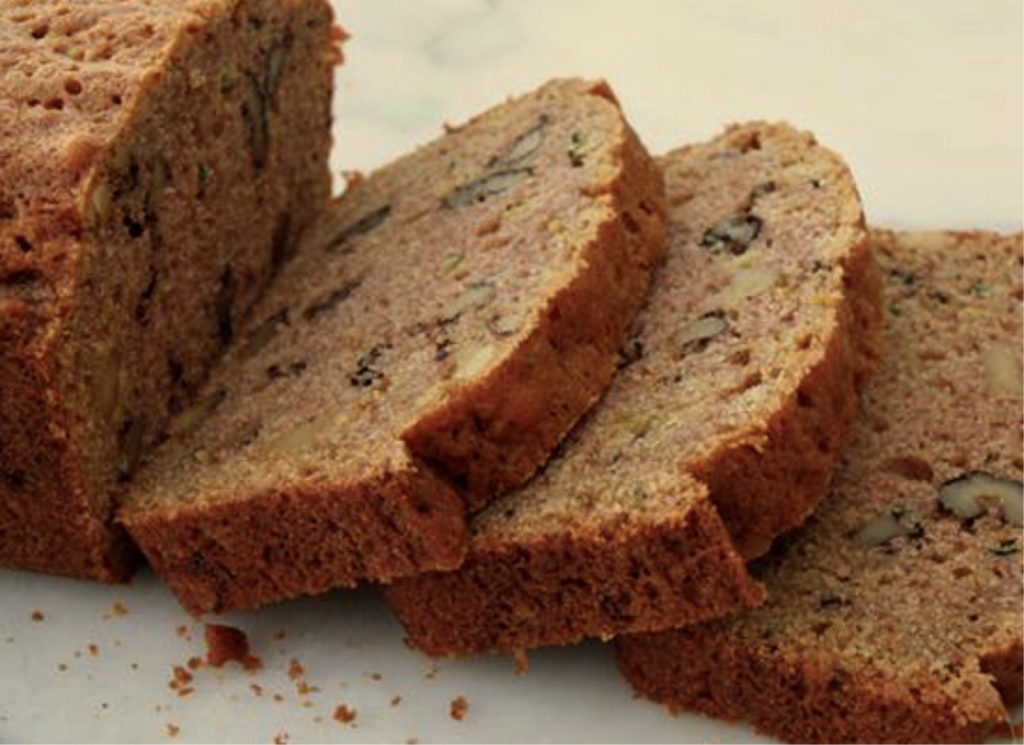 The surprise ingredient of crushed pineapple makes the Zucchini Bread so moist! 
Bear Creek Smokehouse was named "Family Business of the Year" by the U.S. Small Business Administration in 2013.  They were then invited to serve some of their smokehouse selections to many state directors and congressmen in Washington D.C.   After that experience, their business and the recipes they shared became more nationally renowned.  As you can read in their cookbook, the Shoults family face many of the challenges associated with running a small business, but they're quick to say that first and foremost, it's about being devoted to one another as family members and loved ones!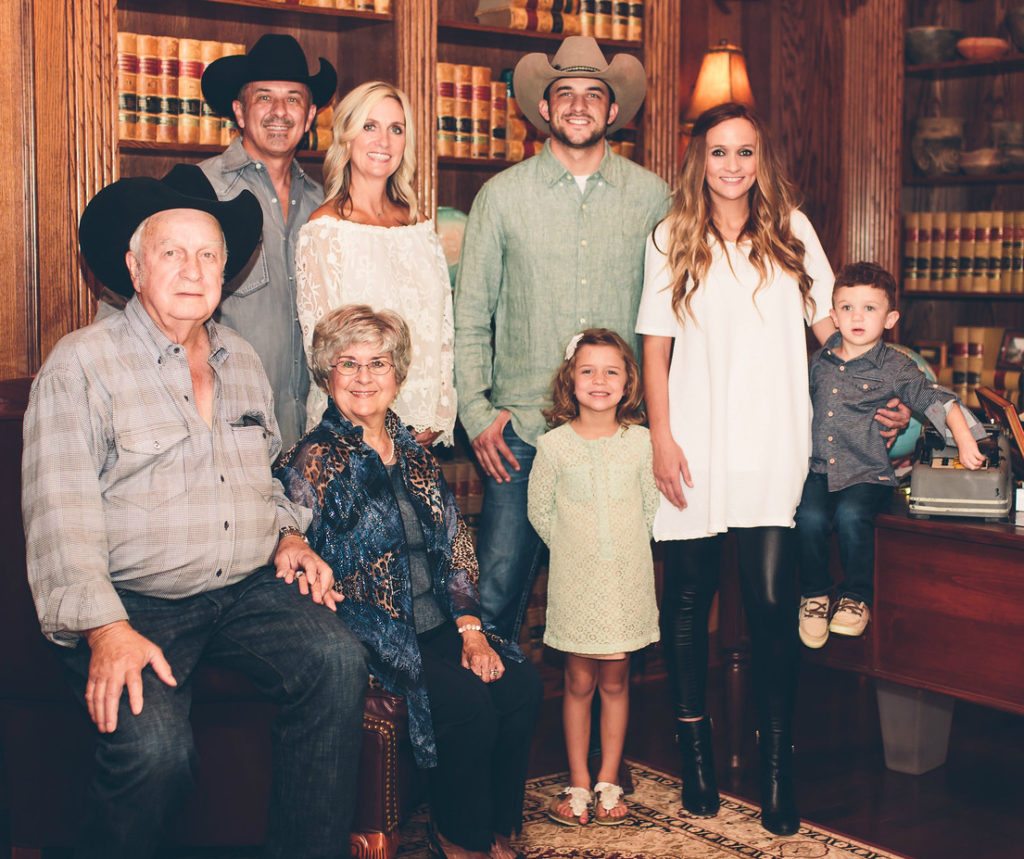 (via Bear Bottom Bliss Cookbook)
"We feel this labor of love reflects all the joy that is so much a part of the five generations of the Shoults family and our cooking traditions here in Bear Bottom, Texas." Introduction to the Bear Bottom Bliss Cookbook
While many of us may not run a business with our families, we can certainly find ways to pay tribute to the traditions and work ethic of those who came before us.  Since he came from a large, rambuncious family of nine children, my husband fondly recalls sitting down to hearty, homemade dinners prepared by his parents; he feels he honors them best when he gathers his own family around the table to enjoy a good meal, fun conversation and lively laughter!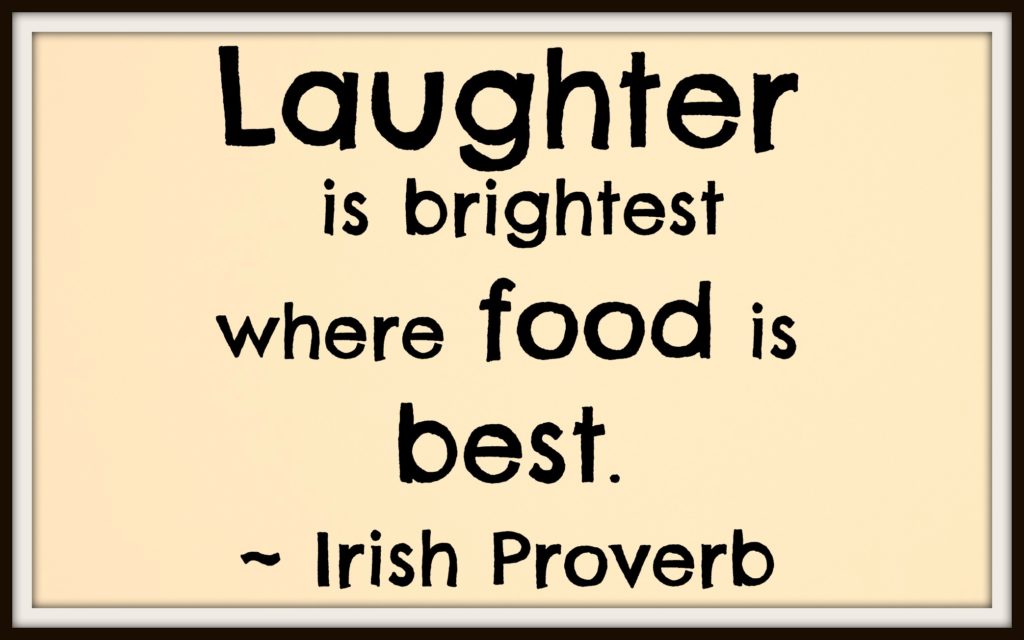 If your family published a cookbook, what kind of recipes would be featured?
–Bon Appetit, Mary