Cinderella Days!  Backyard Water Fun!
My oldest granddaughter, Makena will start kindergarten in a few weeks, so I've felt a little panicked about getting in as many fun summer activities as our "Cinderella Days" can hold!  (I often found that to be the case when my own children were young…all of a sudden August would sneak up on us, and there would still be so many things left to do on the summer fun list!)  Since the tales of backyard water fun when their mom was growing up, along with Uncle Jake and Aunt Mandi, are pretty legendary, the girls decided to put me to the test to see if I could live up to all the hoopla!  (There's also a pool and splash pad at the townhome where they are living while their new house is being built, so the pressure was on to live up to their expectations!)  Makena had taken swimming lessons this summer, and Marli always seems ready to brave any new adventure put before her, so I knew it was safe to expand their backyard water fun beyond that of running through our basic yard sprinkler!  It seemed like the perfect time to purchase the water caterpillar I'd seen recently at the store, as well as introduce the girls to water balloons!
Legendary "slip and slide" water fun in the making!  Makena and Marli's mom was about 10 or 11 years old–some 20+ years ago!  Seems like yesterday–sigh!
All ready for backyard water fun–complete with sunscreen!
I think I had them at"water balloons"!  While waiting for the morning to get a little warmer, Makena and Marli pretended their water ballons were their babies!  Their mom did the same thing many times when she was young!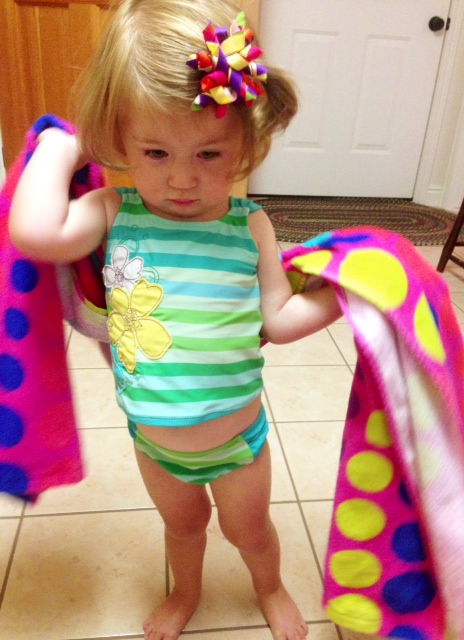 "Miss Independent"!  When we were ready to go outside, Marli wanted to put her towel around her shoulders like Makena.  I tried to help her, but knew right away that my help was not wanted!  I love this picture!  Her strong determination will help her go far in life, but in the meantime, it may just drive her parents a little bit crazy!  (I believe it's called payback!  Ha!) 
Makena easing into that first chill of the water…
…she quickly got used to the water and was soon aiming it at me!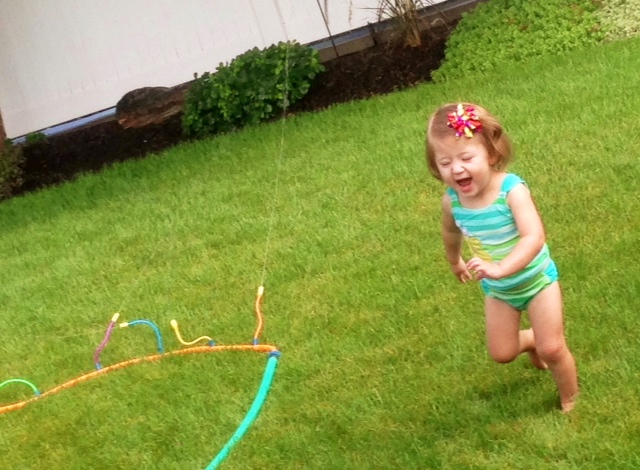 Marli's sheer abandonment was infectious and a delight to watch!  I'm thinking that perhaps this should be required therapy for anyone who has had a particularly stressful day!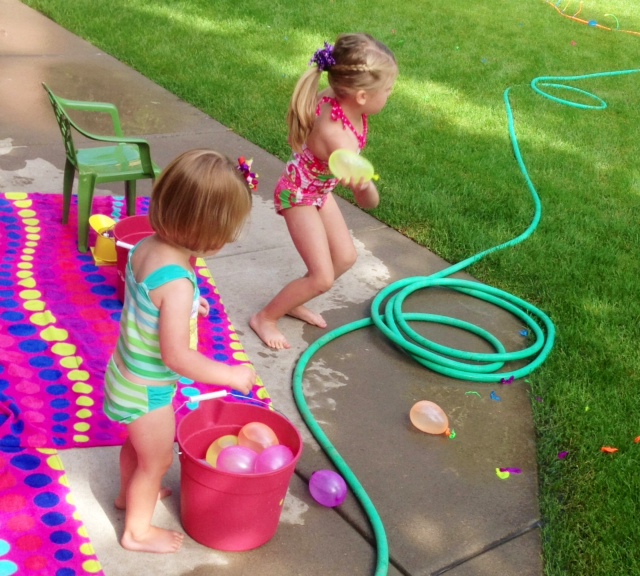 Water Balloon Toss!  Originally, I had thought I'd have the girls see how many of their balloons they could get in their buckets set a little distance away, but Makena came up with the idea to see how far we could throw each one out into the yard!  She was also cute to show Marli how to throw the balloons harder!  If I've learned anything as a grandma, it is to be flexible–often the best outcomes to an activity are when you let grandkids take their ideas and run with them!  Our balloon toss was so much fun!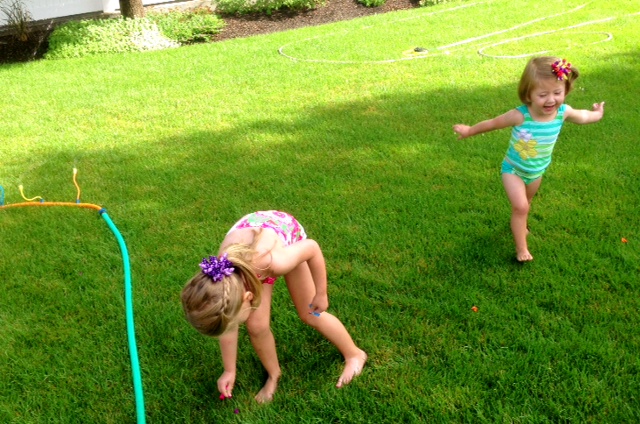 What a great helper!   Without even being asked, Makena helped me pick up the remaining pieces of the water balloons–so awesome!
Having so much fun is a lot of work!  After I turned off the water and pulled in all the hoses, I turned around to find Makena sitting quietly, wrapped up in her towel.  When I asked her if she was okay, she said, "Grandma, I just need to rest a minute!"  Magic words to a tired grandma's ears!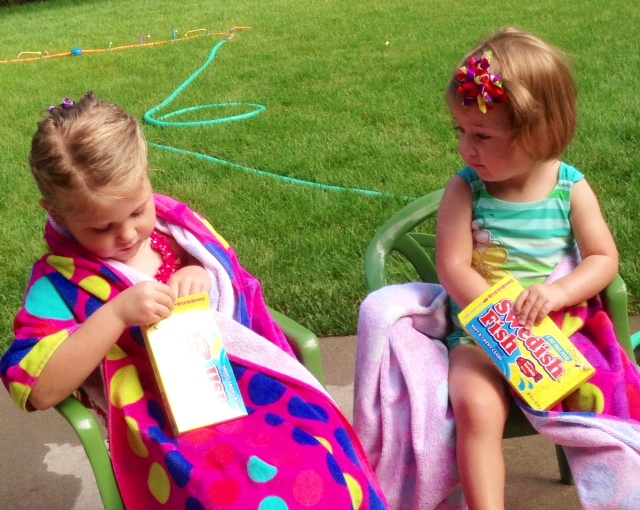 Pure Bliss!  What fun it is to watch two cute sisters enjoying a treat and one another's company!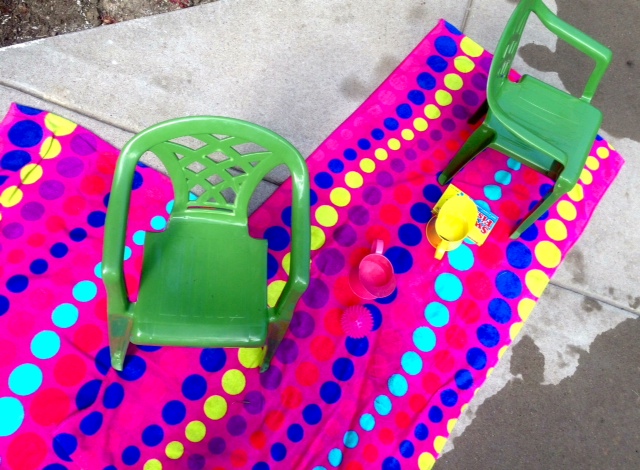 Polka dot beach towels and children's lawn chairs!  For me, there was nothing that said all was right with my little corner of the world than these items!  (I even surprised my husband with a couple of leftover water balloons when he got home from work!)
I wish everyone the best as you make your end of summer plans!  I would highly recommend somehow including water balloons!
–Mary