Laboring On Labor Day…Or Not!
"…but let's not work all Labor Day weekend!"  I probably sounded a little like a whiny child when I uttered those words (and a few others) to my husband as we once again worked in our yard to slowly restore some semblance of order after the summer long construction mess!  Yes, I will admit I was feeling a bit of the martyr syndrome, since we really hadn't been able to get away on a vacation this summer due to all the "projects" going on around our home!  (Lounging by the infinity pools in Puerto Vallarta seemed like eons ago!)  Besides, I grew up with a father who among other things, taught me to live my life with "moderation in all things" and it seemed that these outdoor jobs, although necessary and desired, were taking up much more than their fair share of our time and energy!
The unseasonably hot, end of summer heat even started to get to my husband, (along with my woeful bantering, I'm sure…) so today, Labor Day, we shirked the million and one things we could have done to "labor" around our home and headed up to the much cooler, beautiful mountain resort town of Park City, a short drive from our home!
At lunch, when we stopped to get a bite to eat at one of our favorite spots, the clever phrase on the t-shirt of one of the servers caught my eye!  The simple yet profound message, not only made me chuckle to myself, but jarred my senses a little!  I live nearby some of the most beautiful places in our country, and many people travel a from a long ways away sometimes to come and vacation here!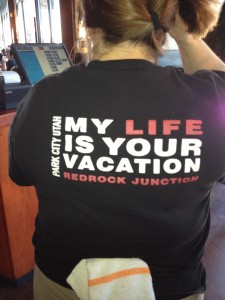 Here's a glimpse into my Labor Day epiphany!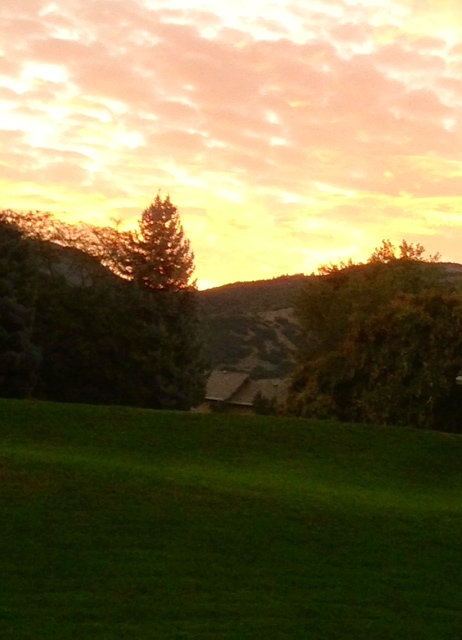 Even before my insightful lunch, I couldn't help but be in awe of the cotton candy skies during an early morning walk!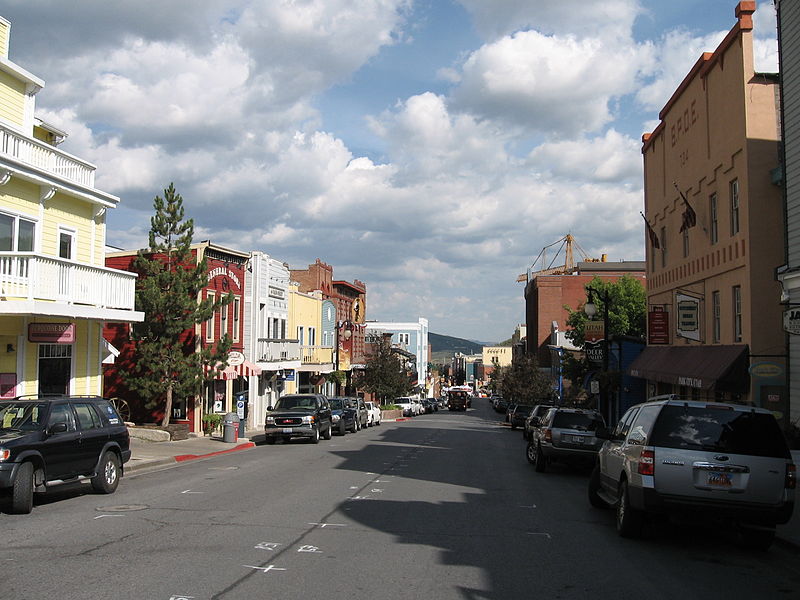 We enjoyed a short honeymoon in Park City on a long President's Day weekend during college!  The eclectic quaintness of the Historic Main Street in Park City is still pretty much the same as it was years ago, despite the fact that homes and businesses heavily populate the areas all around it.  It's always such a treat to go back and wander through the fun shops there!
The historic Park City barn was once a dairy farm, but later the citizens of Park City purchased it to maintain the integrity of the entry corridor into Park City.  It's one of my most favorite sites!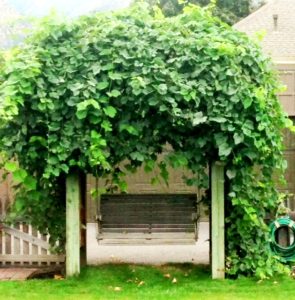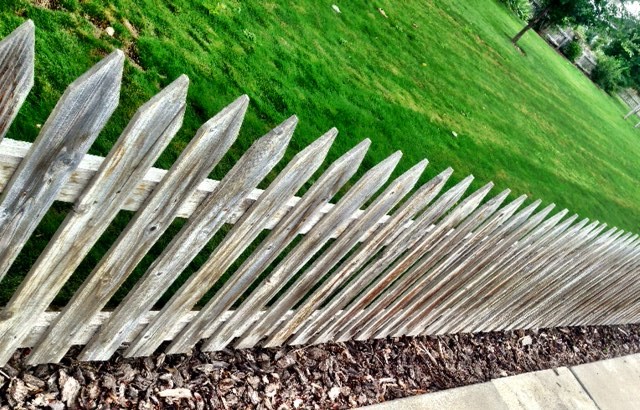 Many of the small, vintage homes and lovely gardens are like taking a step back in time!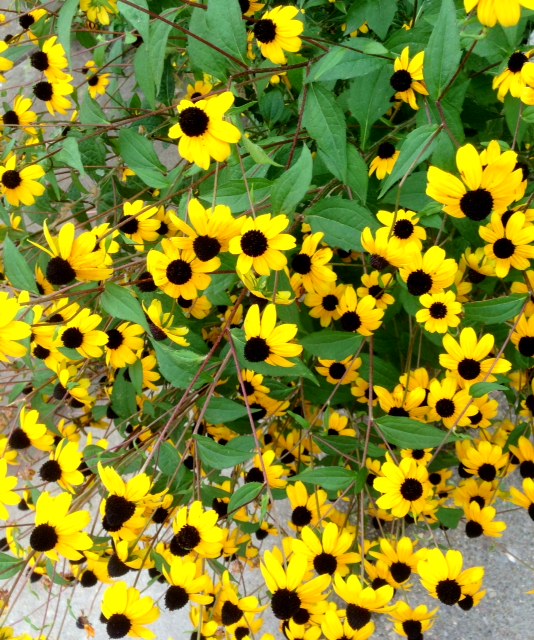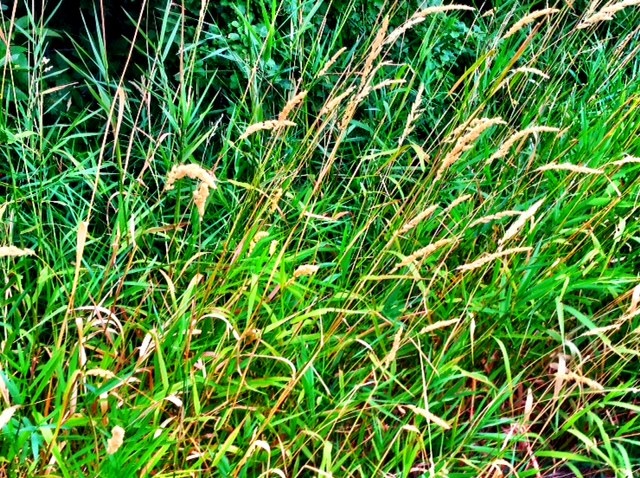 The flowers and foliage are so vibrant in the mountain air!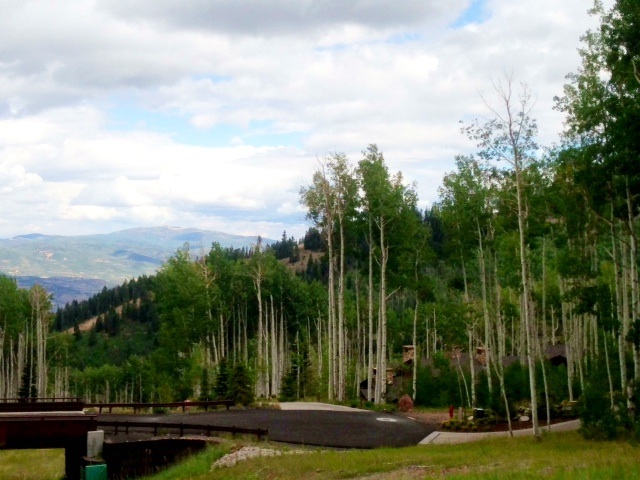 The amazing mountainside views almost leave you breathless!
What I'm learning now is…
My father stated in his history that he always loved to travel and see what was on the other side of the hill or mountain, so to speak, but he loved the beautiful mountain range that encompassed the valley where he lived and raised his family the most!  What I'm learning now is that although I love to travel like my dad did, I do find I am the most happy when I'm at home surrounded by loved ones–even when there is work to be done!       
The beautiful view of the trees and mountains I see when I look out my back door…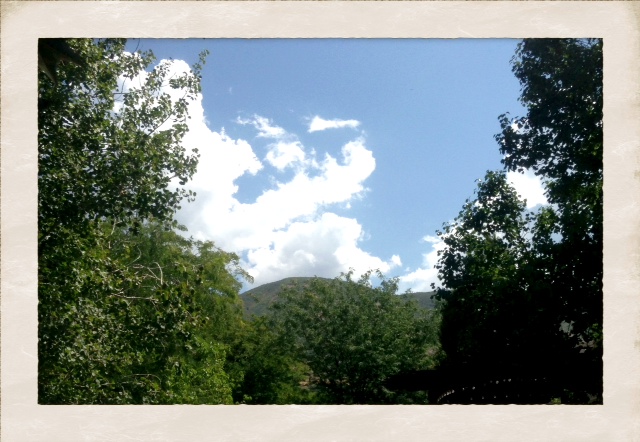 …and yes, the tools and yard work are still there waiting!
Do you have any Labor Day traditions?  What are some of the neat things you do around your hometown?   I'd also love to hear how you best balance your time at home between work and play!
–Mary