Cinderella Days!  A Few Of Grandma's Favorite Things!
A little while ago, I spotlighted some of my granddaughters favorite things, and although I am a fairly new grandma, it hasn't taken me long to acquire a few of my own "favorite things" and "must haves" that help me better cherish this coveted role even more!
Munchkin Snack Catcher
Even with the very best of intentions in mind, I experienced a few mishaps of spilled cereal and crushed crackers on my kitchen floors before I found these Munchkin Snack Catchers, a little gem of a container that is perfect for toddlers on the go who want their snacks as mobile as they are!  They're good for promoting a bit of independence too–and we all know how important that is to a child–since they can reach in and get their own snack whenever they want it!  I imagine that this would also be perfect for saving errant snacks from escaping in the car or at the store when busy moms are running errands with their little ones who need a treat to pacify them.  Happy child, happy mom–right!?!
Buy a few fairy costumes at the dollar store, gather some of your old Halloween costumes, along with any jewelry or other accessories you might have around the house, then sit back and watch the world of "make believe" appear before your eyes–better yet, join in on the magical play time for some of the best fun of your life!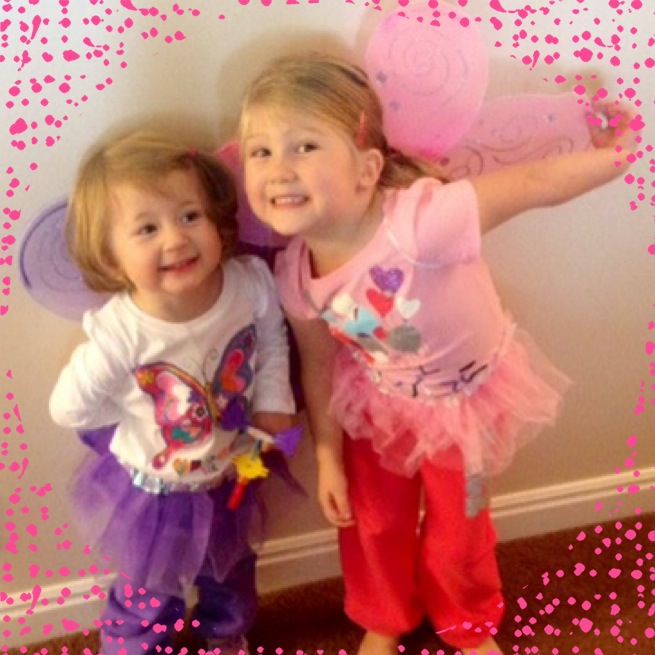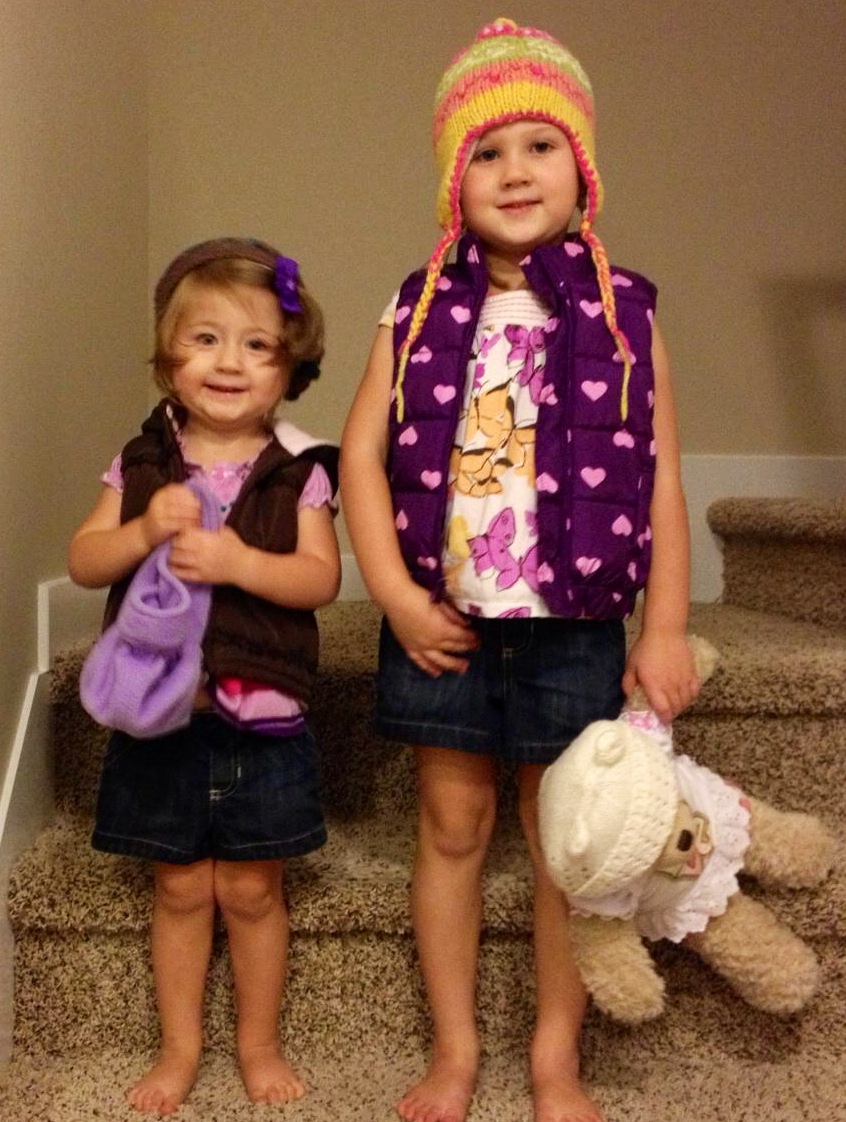 This is a funny picture my daughter sent me of the girls after a dress up session at home!  
 Play Tents!
The ultimate "make-believe" world for most children is a play tent!  I can even remember playing for hours on end with my cousins in makeshift huts made from a card table and blankets when I was a child!  Hands down, this is one of Makena and Marli's most favorite things to do!  This Pacific Play Cottage Tent is easy to assemble, stands 58 inches tall, and is roomy enough for the girls and all their "stuff"!  (There's a wide variety to choose from online and at department stores.  It's a bit of an investment, but well worth it–I still pull out my old card table and a pile of blankets on occasion too!)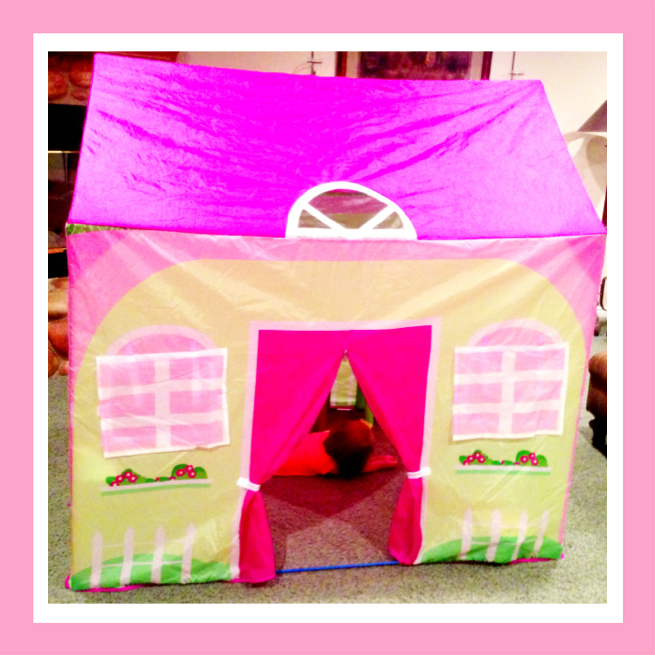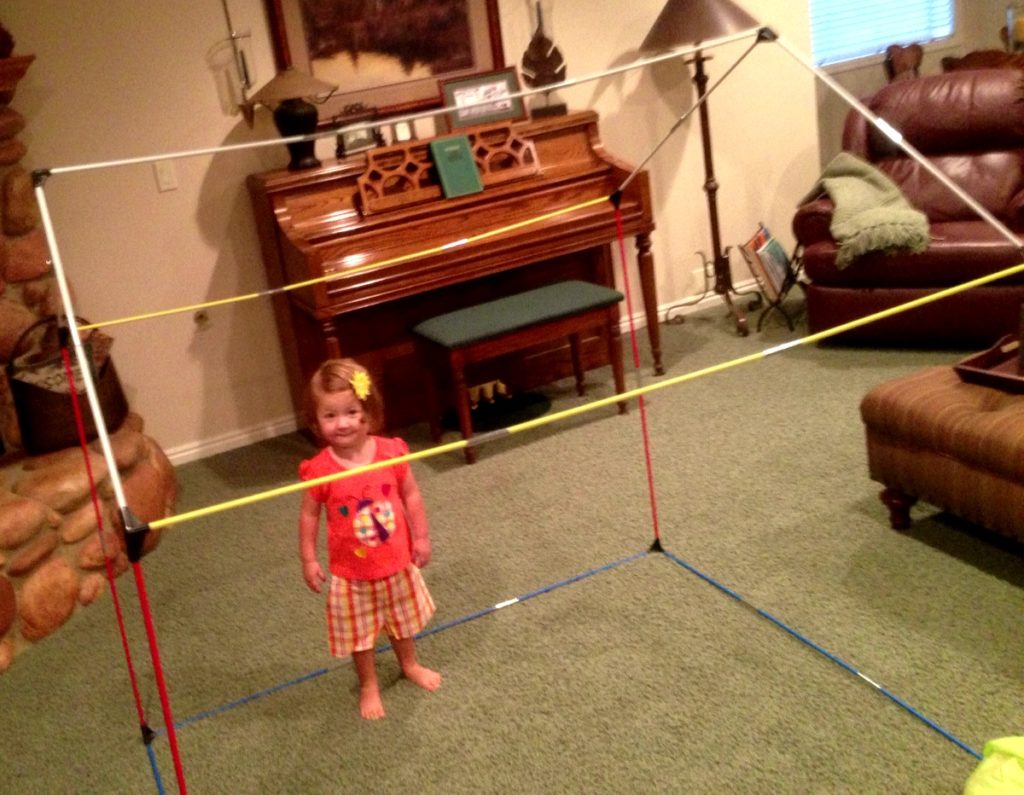 Makena and Marli think putting the tent up is part of the fun!  You just assemble the outside structure, then simply align the fabric tent piece over the poles.  The tent also comes with a nice bag to neatly store everything away when you're done playing for the day.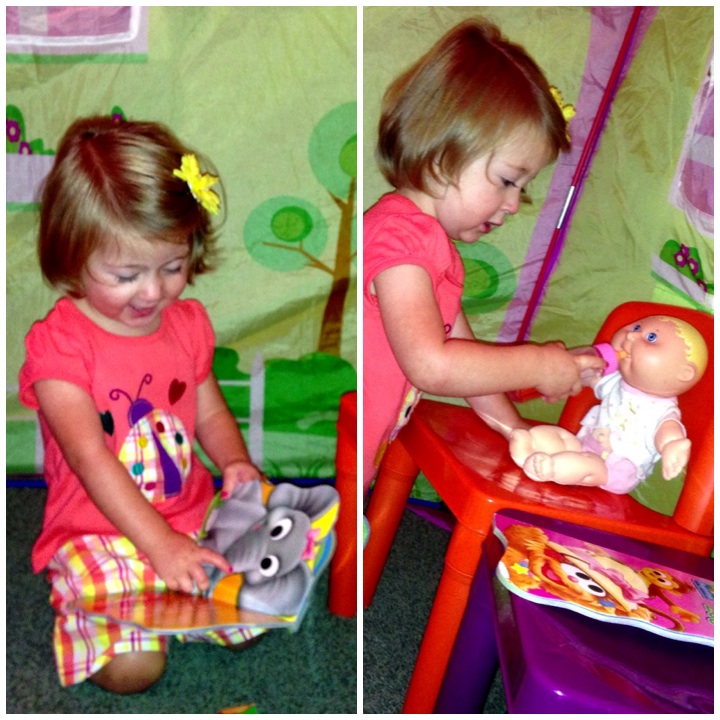 Oh, the stories this tent could tell–the ones I have overheard will be treasured forever! Occasionally, Marli has even fallen asleep and had her nap inside the tent after we've read books!
Books And Story Time! 
Speaking of story time–there's nothing like cuddling up together while reading some fun stories!  I loved collecting neat books with my kids, (I still do) and now Makena and Marli take turns picking some of these same books off the shelf for us to read!  I've started a collection of some great new books that the girls have selected at the store and added them to my home library, as well.
Now that Makena is in school, I love that she wants to read some of the books to Marli!  Marli's cute, animated version of these same stories is hilarious!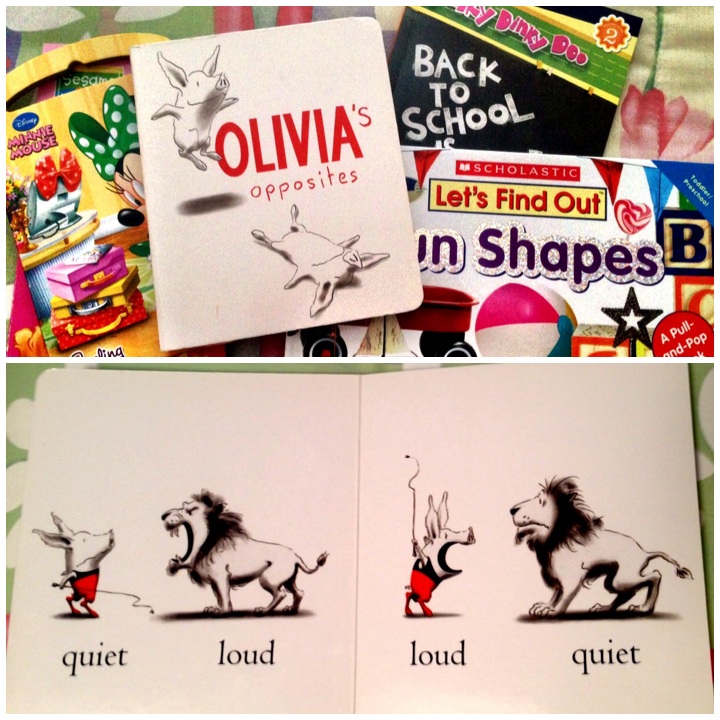 Whether it's one of their favorite "Olivia" books, or a classic Disney story, one of my very favorite things to do with my granddaughters is read books with them! Makena loved when we read "Pinky Dinky Boo: Back To School" this summer, right before she stared kindergarten!   
Miniature Dishes and Play Food!
My kids are all much better cooks than I am–I'm sure it must be due in part to all the countless hours spent cooking and baking with their miniature Tupperware dishes!  Ha!  These dishes have certainly withstood the test of time and now my granddaughters love playing with them too!  We've also enjoyed "mini meals" on them together for our lunch!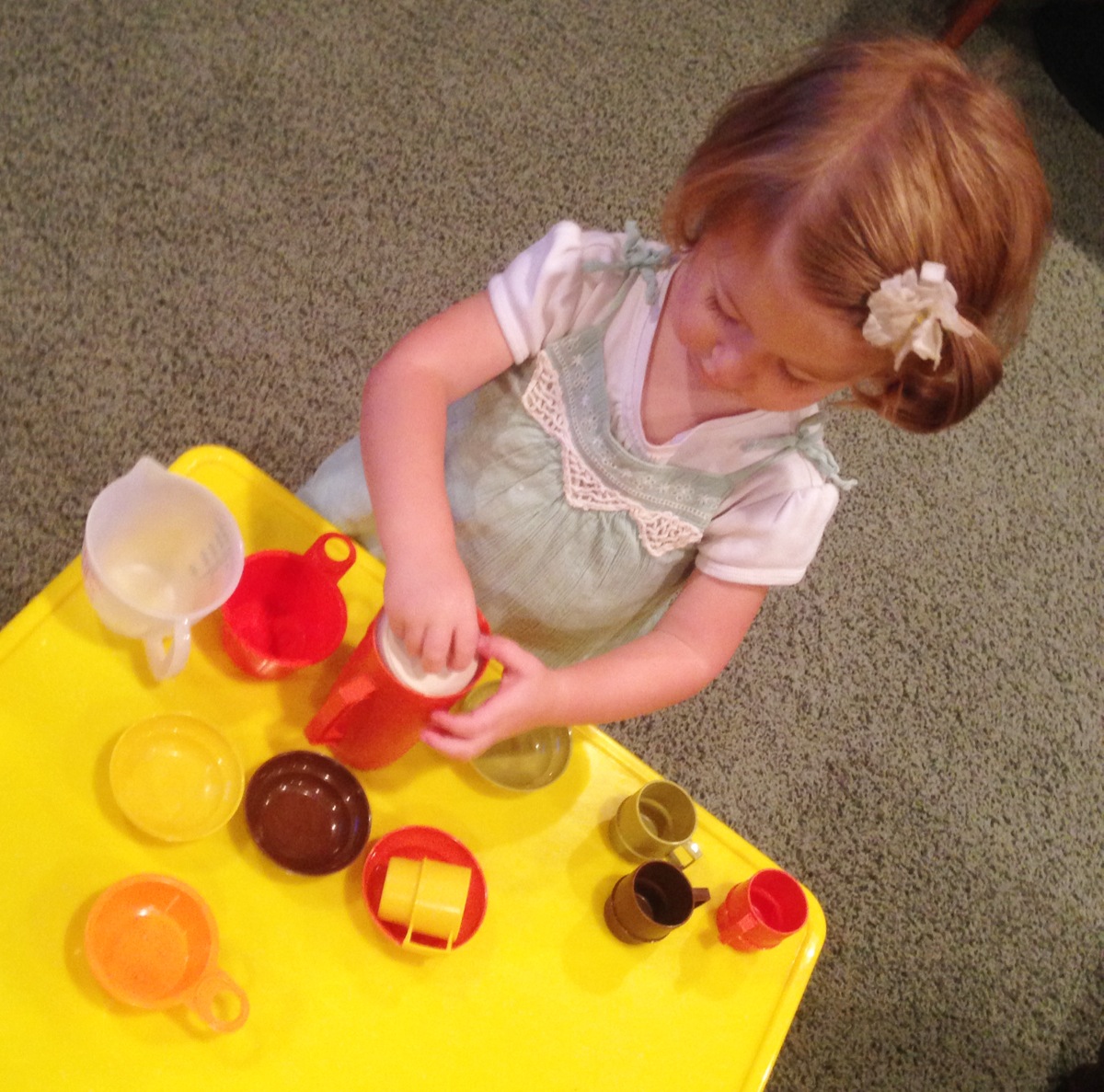 Mess Free Arts And Crafts!
As good as my children have gotten with their cooking skills, I'm afraid I might have stunted their creative painting and craft energy a smidge, since I usually didn't want to deal with the mess!  Ugh!  However, now that Crayola has come out with their new line of mess free, invisible craft paint, I have expanded my horizons on this front with my granddaughters!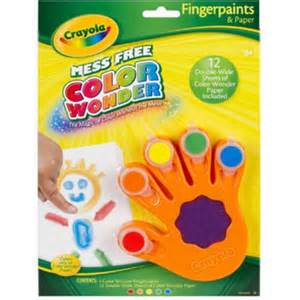 This product comes with special paper that activates the paint colors–otherwise it is just clear gel that doesn't stain.  I just know a very smart mom or grandma invented this–wish it had been me!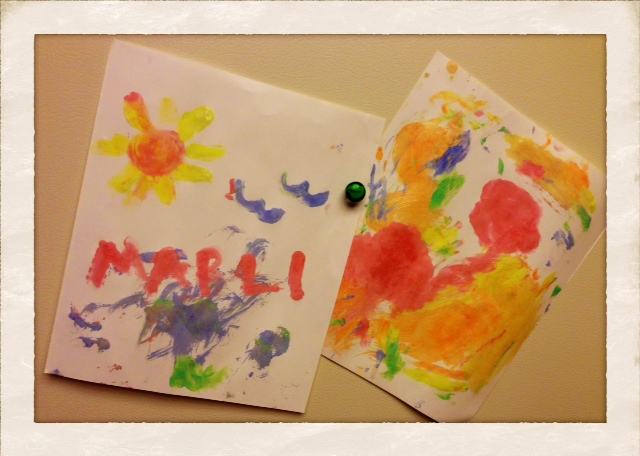 Like a lot of things, my most favorite thing about being a grandma is something I didn't appreciate as much as I should have when I was a mom…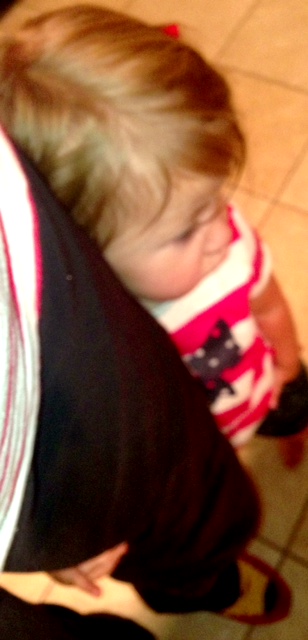 …I'm so grateful for second chances to really cherish wonderful leg hugs!  It's hard not to look down and wish these sweet girls could stay this young and innocent forever and ever!
What are a few of your favorite things that you love to do with your kids or grandchildren?  Please expand my horizons some more!  
–Mary