Best Caramel Popcorn!  A Favorite Family Recipe That's Sure To Satisfy Your Sweet Tooth!!
As promised, my family's favorite caramel popcorn recipe!  This was what my mother loved best to satisfy her sweet tooth!  It's a yummy, easy recipe…and yes, a bit addicting!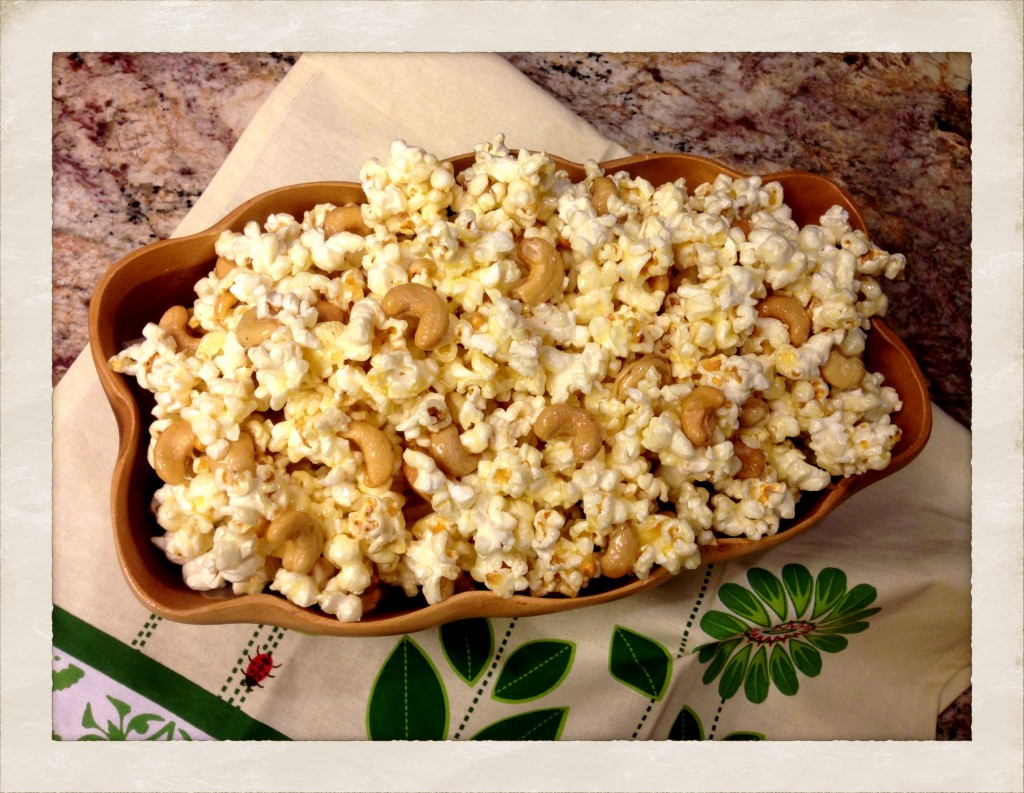 Soft Glazed Caramel Popcorn with Cashews:
Prior to making caramel, pop 2 regular sized bags of natural (no salt or flavoring added) microwave popcorn.  Empty into a large mixing bowl and let cool, picking out any kernels that didn't pop.
1 cup light Karo syrup
1 cup granulated sugar
1 cup butter or margarine
2 cups whole cashews
Stir all above ingredients together (except cashews) in a medium-sized sauce pan until the mixture comes to a soft, rolling boil over medium/high heat.  Continue stirring for 3-4 minutes.  (A sure way to check that the caramel ends up being the soft consistency you want, just drop a spoonful of the caramel into a cup of cool water.  It should form a gooey ball.  I have never had it fail however, if I just boiled the mixture for the 3-4 minutes that the recipe recommends.)  Make sure the popcorn and cashews are tossed together well in the mixing bowl, then stir in the caramel glaze, making sure that all the popcorn gets lightly coated with the mixture.
Let the warm popcorn set for a few minutes to cool, then enjoy this scrumptious treat as you have a fun game night! (One of our favorite games growing up was "Yahtzee"!  Keep a damp napkin handy or the dice get a little sticky!)  It's especially good for a weekend movie night, or you can wrap some up to give as gifts!  (Warning: You're sure to earn the title of most "favorite neighbor"!  Oh, it's a good idea to wrap popcorn in wax paper first, then place in gift sack.)  If you do have any left over caramel popcorn–store it in a seal-tight, plastic container to keep it soft and fresh!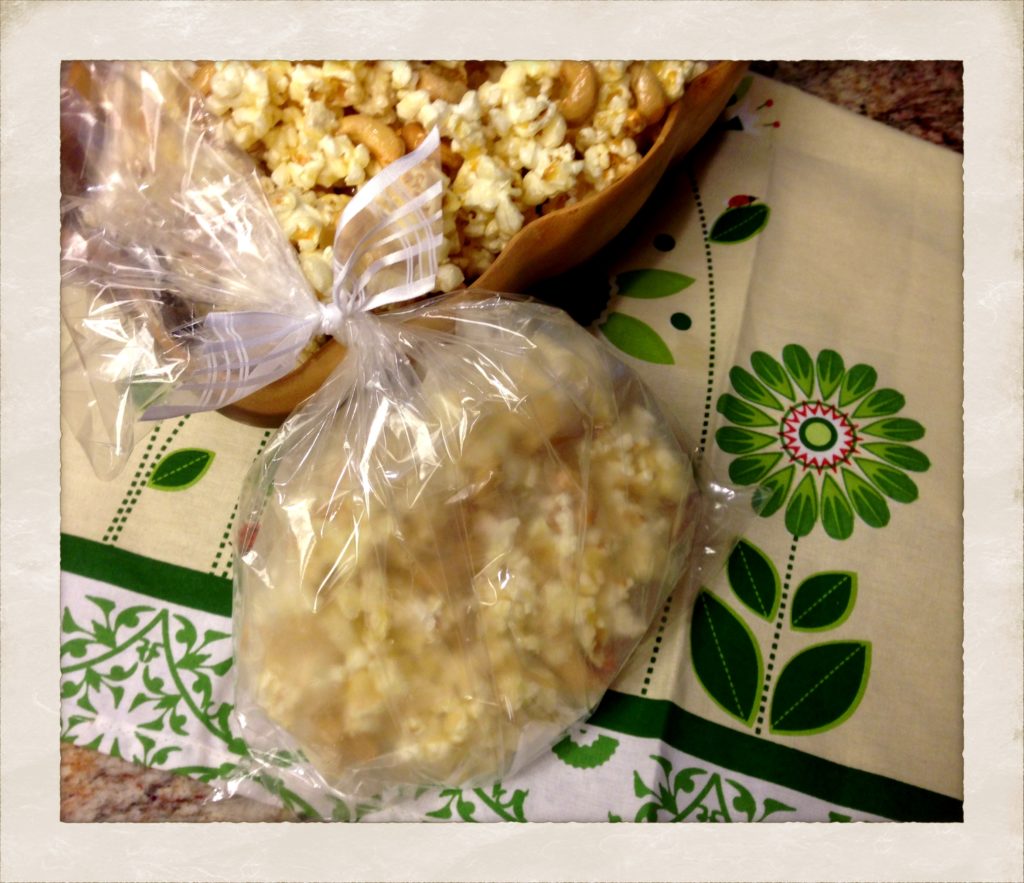 My granddaughter Makena, is a new generation of appreciative caramel popcorn connoisseurs!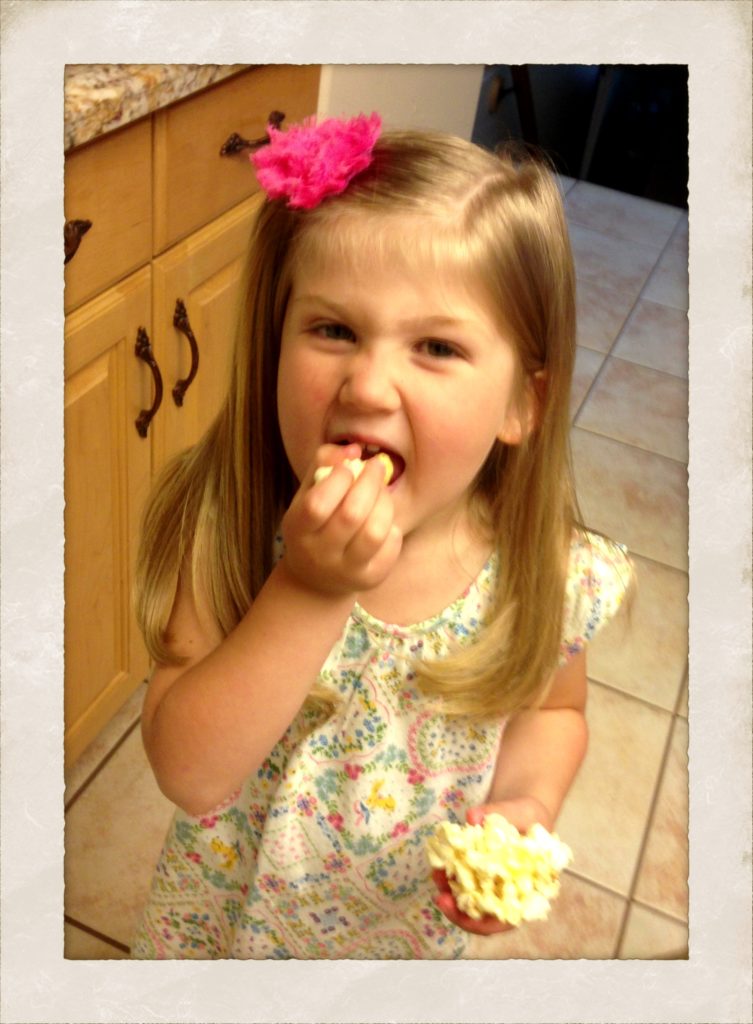 To this day I think of my mother every time I make this recipe!  We could have had licorice ropes, M&M's, or any other assortment of goodies spread out for a festive game night, and all I ever remember my mom munching on was the caramel popcorn with cashews!  In fact, like any good mother, she usually threw a veggie tray into the mix!  Enjoy!
If you make this caramel popcorn recipe, let me know how you liked it.  I'm sure you could get creative and add other yummy things to this caramel popcorn recipe and it would be just as good, we just happen to like the cashews best!  What are some of the game/party treats your family likes best?
I've also had a few email requests for a copy of my mom's reading "The Meanest Mom"!  I'll have that ready to post in a couple of days.  Be prepared to have the best laugh!
–Mary