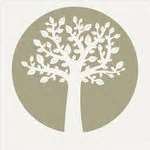 Building Character–Be Inspired By Your Family Tree
I never knew my paternal grandparents personally, since they passed away even before my parents were married.  The stories my dad shared about them always left me feeling a little awestruck at the close-knit bonds and deep respect my father felt for his parents and other relatives that helped settle the small town where I also enjoyed a wonderful childhood.  My dad recorded in his history that his father was six years old when his family left Norway to settle in America!  He writes that through the years, he came to realize that without exception they were honest, hardworking, thrifty people….."I don't know of one that I'm ashamed of or that I would hesitate to have my name linked to theirs…my family name became a source of pride to me and motivated me to watch myself so that in my living, I didn't do something foolish to impinge upon the respected name my relatives had made!"

Since I was close to my dad, I always loved to hear the stories he shared about his own father.  My dad was the oldest child, so he became especially close to my grandfather as they worked together around their home and farm.  I love this particular portrayal of my Grandpa Jorgensen.
"My father and I had a special relationship with each other.  As I grew older, we spent much time working together both at our home and at the family dry farm.  I enjoyed working with my father–he was smart and capable of caring for the work by which he earned a living.  He was physically very strong and when on the job, he was seemingly able to do two men's work."  My dad further elaborates on the extent of his high regard for his father.  "Because so much of farm work was hard labor, tiring and requiring physical strength, dad was always a welcome companion.  At the farm we spent endless hours discussing every subject imaginable!"   Almost makes you want to jump on a dusty John Deere tractor if this type of relationship is the ultimate outcome!  I said "almost"!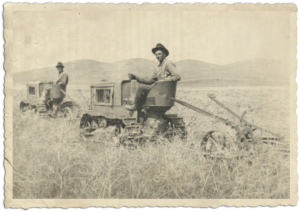 In an added appendix of my father's history, there is a written account by my dad's Uncle John, my grandpa's younger brother.  He pays a tremendous tribute to his brother's character!
"Nick was ten years older than me.  As I remember him, he was a clean living young man, no bad habits as I recall.  He was a hard-working man all his life.  As a teenager he was slim and not very tall.  Some of the neighbors used to talk to mother about this, they 'sayd' to her that she worked him too hard, but when he started growing he became taller and bigger than any of his boyhood friends."  My dad's Uncle John goes on to relate more about his brother, my dad's father:  "He was very good to the needy and helped many caring for their sick and when death entered the homes, he was one of the first to help.  He was very popular with the young people of the town, he could have had almost any girl in town…but he groomed his horse and with a fine buggy, he would drive pretty regularly to see his girl, Mary Barnes."  Mary Barnes became my Grandma Jorgensen.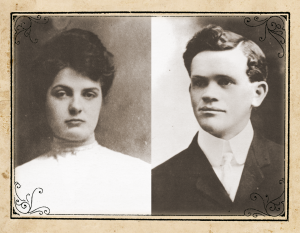 Mary and Nicholi Jorgensen
Building Character Is An Ongoing Discovery Of What We Really Are
Obviously, what we find admirable in our ancestors is only part of the puzzle to building our own unique characters.  Hopefully, we are always in the process of evolving, while honoring the people and experiences that helped establish our core values.  My father was a man of little pretense; what you saw was what you got!  He was the real deal–he wasn't often swayed to do things just to be "popular"!  One of my most favorite stories in my dad's journal illustrates this point perfectly!  It makes me chuckle every time I read how he depicts the incident!
"One day Coach 'Flash' Nielsen asked me to help care for the equipment and things in the athletic department.  I immediately listed for him several other boys who would be better choices.  The foul smells of the locker room had long before caused me to shun the place.  Also, I've always been rather neat and orderly with my person and things; I had no ambition to be picking up after the heroes of the football field and basketball court."  (My dad enjoyed participating in many sports on a more casual basis.  However, he was always good for a fun night out on the town!)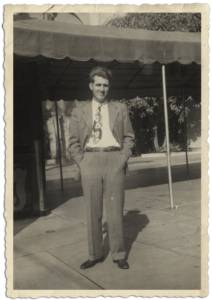 I wish I could say that throughout my life I was as resolute in standing my ground, particularly when it came to things that didn't seem to have any real significant consequence on the outcome of what was most important in life!  Unfortunately, that's not always been the case.  I'm glad that time and age have served me well in helping me understand, in a more precise fashion, who I really am!  (Hooray for the "perks" of getting a bit older–and hopefully wiser!?)
My dad states in his journal that one of the main reasons he finally listened to my mom and "chose" to write down some of his life's experiences was that he had   "…enjoyed many things in life which perhaps only the very wealthy, or the most politically and socially strong and spiritually blessed people of the past have experienced…"  Since he didn't necessarily see himself in any of these categories, that seemed reason enough to make a written record for those that followed after him.  In turn, maybe he'd help them glean, by some small measure, a glimpse into what they might be capable of achieving for themselves!
          —Learn from the past.  Plan for the future.  Live for today!–
What I'm learning now is…
When going through the process of living, we tend to believe that our experiences and viewpoints in life may not have any real impact on the generations yet to come!  But when thinking in terms of our families, what I'm learning now is that more than ever before, there seems to be a real need to feel connected and loved!  Who knows, we might even come to learn why we have some of the quirks that we do.  (In thinking about this, I'm often reminded of the stories we see highlighted in the news about people who are seeking after lost loved ones, as in this heartwarming story.)
What relatives do you share similar traits with the most?  If asked, what do you think a close family member would write about you?  (I know, this is hard to wonder about!)  I'd love to hear your family stories!
I hope that at the very least, this entry inspires all of us to keep some sort of journal so that future members of our family tree can read about our lives someday!
–Mary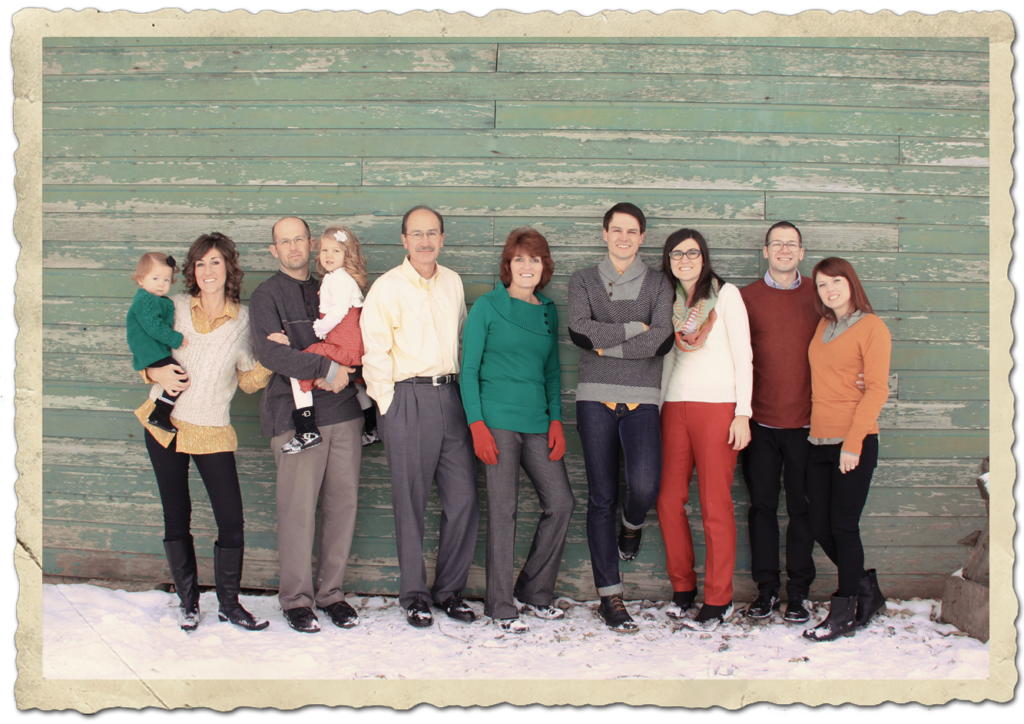 Much love to some of the special "branches" of the Wilding Family Tree.  I am most fortunate to share in your amazing "life stories"!  Best blessings to all!