Happy Anniversary!  Things I've Learned From My Parent's Marriage!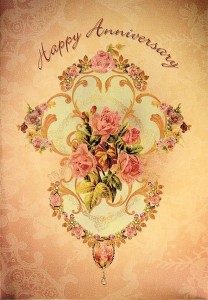 A True Love Story!
My parents were married on June 14, 1946, sixty-seven years ago today!  It's sometimes hard to imagine our parents being young and in love, but when I read about my dad and mom's courtship, (they even had a cool word for dating back then…)I know I am reading about a true love story!
In each of their personal histories, my parents both share fun glimpses into the beginning stages of their relationship and subsequent engagement and wedding.  The genuine friendship and kind regard they had for each other helped to nurture a marriage that lasted over 50 years!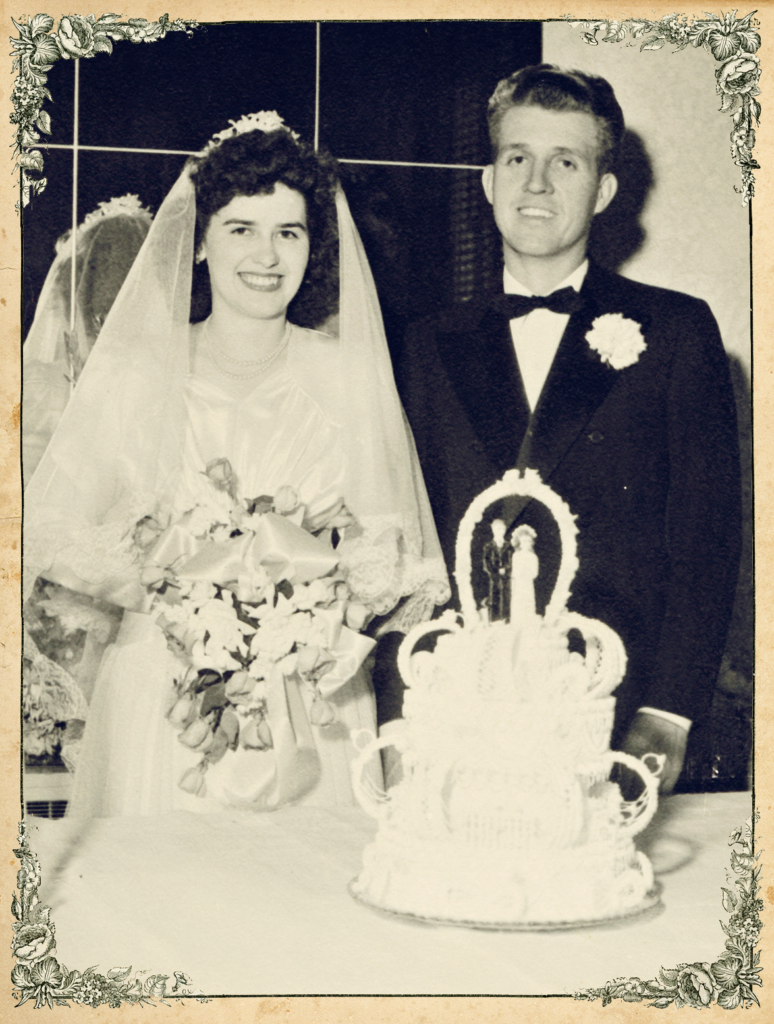 I love the things my mother wrote about the first time she met my father when they were both teaching at the same school.
"I attended the high school faculty party held at the end of the first week of school in Logan Canyon.  I met Roy Jorgensen for the first time at this party.  (I would later learn that he had already seen me at my graduation the previous spring.)  Roy was so good-looking and so much fun, his eligible-bachelor status surprised me.  Roy called me a few days later for a date to ride with him over to Bear Lake to get some lumber.  My dad was worried we wouldn't have enough to talk about on the long ride to and from Bear Lake.  My dad worried in vain, Roy and I visited very comfortably the whole time!  I enjoyed Roy's company so much that I cancelled several dates during the fall to go with him."
It's as equally fun to read my dad's perspective of this exciting time in my parent's lives.
"At the time I met the young woman who would later become my wife, I was dating another girl steadily…but there was no magic there for me."  
My dad goes on to tell how heavy rains had shut down the farm work for a week, so he decided to go into town and hear the commencement speech of a literature professor he admired.  (My dad was a wild and crazy guy when he had some free time!  Ha!)
"I arrived at Old Main Auditorium early and got a good seat on the main floor.  A good program followed, including an address by Merle Mecham, a most attractive young lady who represented the graduating class as their valedictorian.  I was impressed by her and enjoyed learning that during the upcoming school year she would teach business at South Cache High School, where I also taught.  I think the summer was a little brighter because of this experience; although for some reason, I never concerned myself that she might have scads of boyfriends!" 
My mom also tells the story of how my dad proposed…
"I went with Roy to a college basketball game in early February…after the game, while we were still in the car, he asked me to marry him.  Roy loved to travel and told me he would love to see the ocean breeze blowing through my hair on our honeymoon!"
I have to admit, that was a pretty smooth move on my dad's part!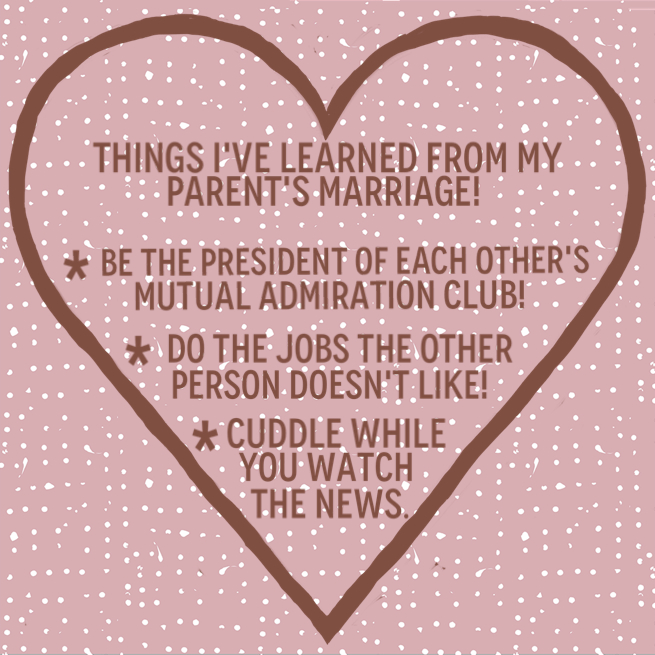 My parents were always good to speak kindly of each other–not only in public, but around their children!
Dad vacuumed and mom dusted; dad swept out the garage and mom did the laundry!  My parents were a great give-and-take team!
Come ten o'clock, even as our family got older and homework and other activities were still going on, my dad and mom would say good-night and then sneak away to watch the news and talk about their day!  I'd often go to their room just to say good-night again; seeing them all cuddled up made everything seem all right with the world!
What I'm learning now is…
Anyone who is married knows that it is a lot of work!  What I'm learning now is like any other job or project they did together, my parents made the "work" look fun!
I'd love to hear what your parent's taught you about marriage or what you've learned on your own by being married and working hard at making it great!   
–Mary