Garden Therapy!  Gifts From The Garden!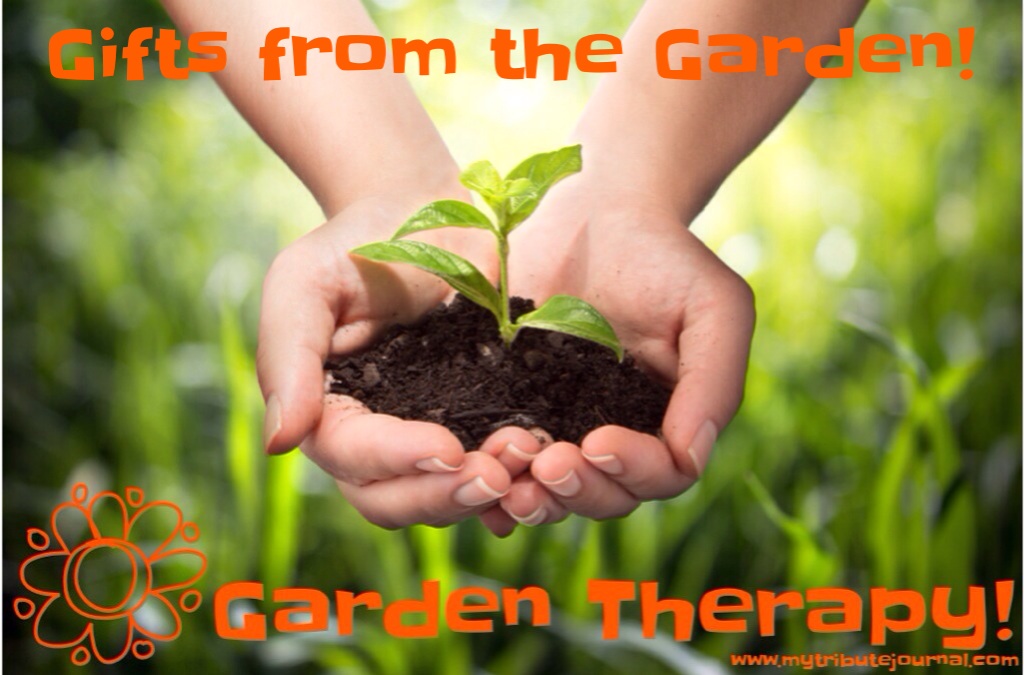 Perhaps one of the things I love about gardening is the instant gratification…you plant a few flowers or vegetables and within a fairly short season you reap the rewards!
Harvesting Garden Gifts!
When I was a young girl and worked with my grandma in her garden this time of year, she used to joke that if you didn't watch out, and turned your back for too long, your front porch would soon be littered with the abundant zucchini crops of your well-meaning neighbors.
I learned from my grandma and my mom that gifts from your garden are perhaps best given in smaller, more frequent doses–and with a bit of thoughtful consideration.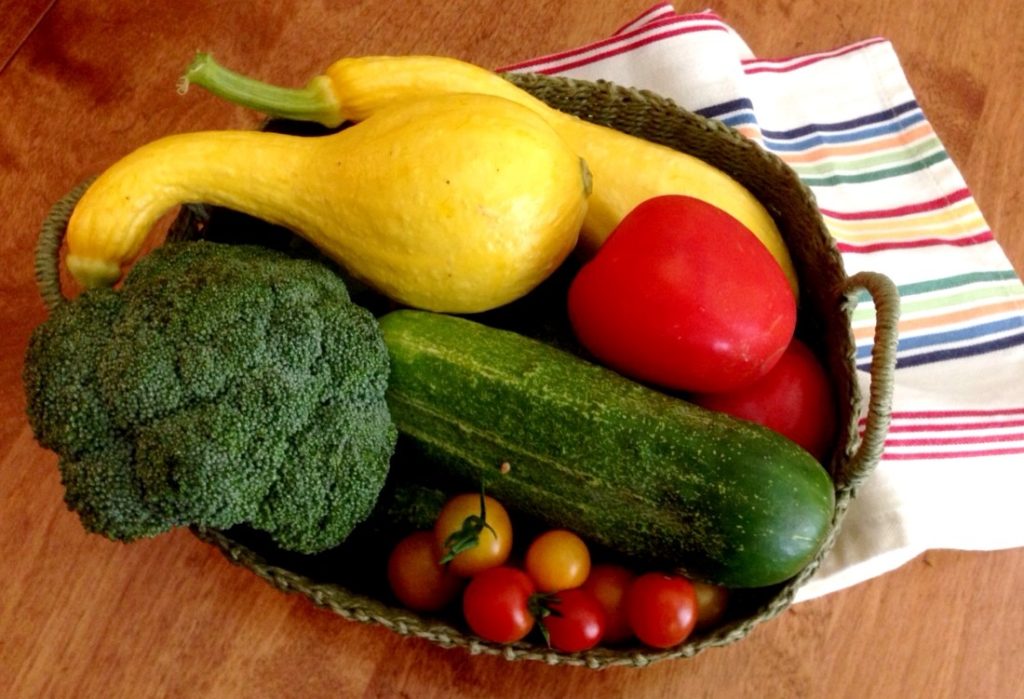 In her garden shed, my grandma always seemed to have an endless supply of charming woven and wire baskets that she'd arrange her colorful produce in–these eclectic treasures were a special gift in and of themselves.  My grandma also carefully trimmed excess leaves and vines from the vegetables or fruit before washing them off good.
Both my mom and my grandmother would often include homemade samplings of some of the things they gave out in their baskets–then along with the recipe, they'd provide enough extra ingredients so that the lucky recipients could try their hand at recreating their own version of these tasty treats!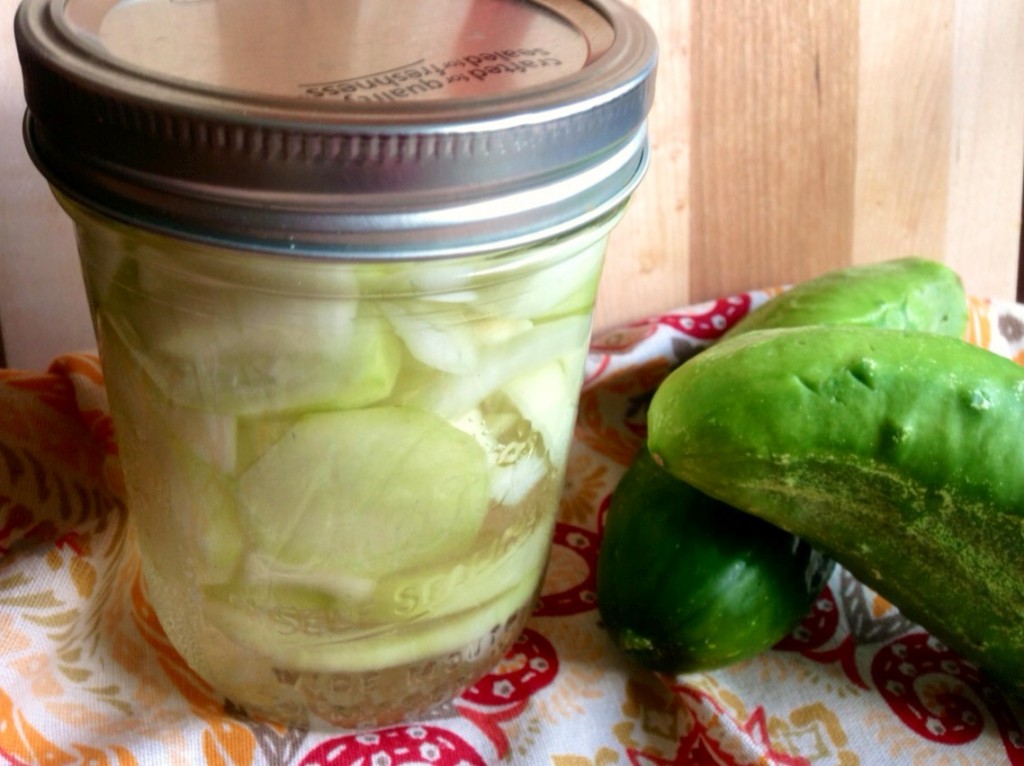 My mom's "Pickled Cucumbers" were always a big hit!  They are so easy:  You just peel and slice 2-3 small cucumbers, (I find that fresh garden cucumbers seem to have fewer seeds, so they work best for this recipe.) then with the cucumbers, add about a third of a thinly sliced onion, salt and pepper to taste, then place in a pint-sized jar.  Add a 3 to 1 ratio of cold water and white distilled vinegar.  Then let the cucumbers marinate overnight in your refrigerator before serving.  There's something about the tangy flavor of these cucumbers that people seem to love!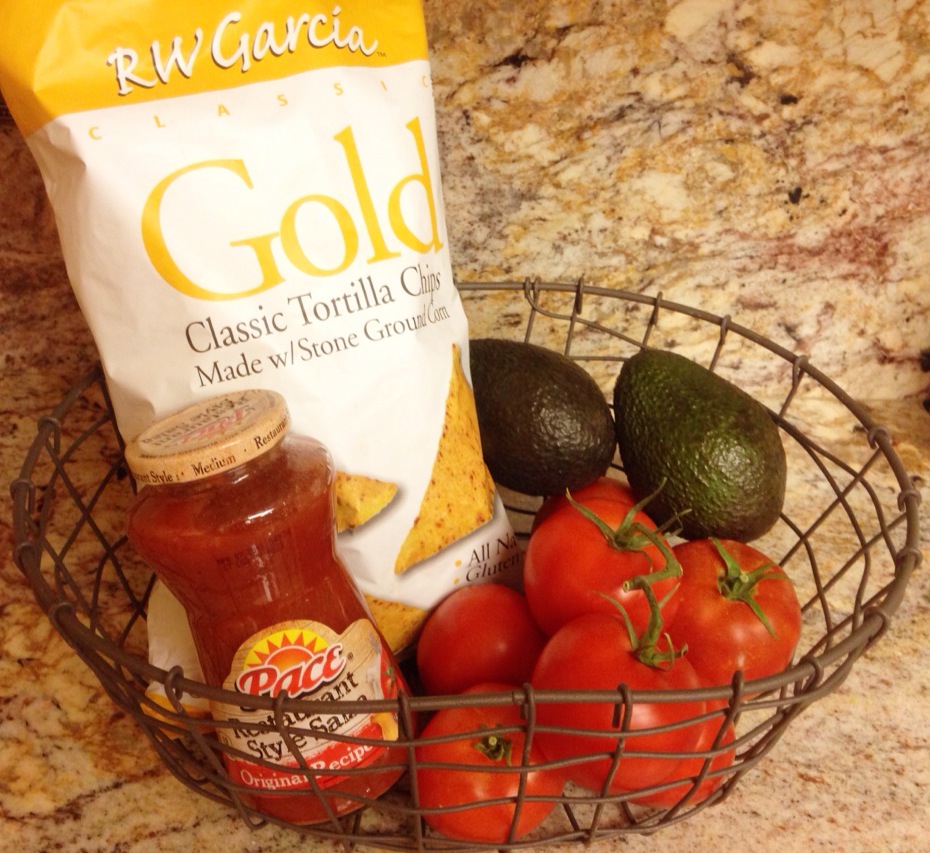 One of my very favorite garden gift baskets to give includes a bag of my favorite tortilla chips, a bottle of salsa, and instructions to add fresh diced tomatoes and ripe avocados to the salsa for a great semi-homemade snack!  (Giving homemade salsa would be great too, I just didn't get around to making any this year.)  This is a Wilding household staple!
Another favorite gift from the garden is this layered salad in a mason jar.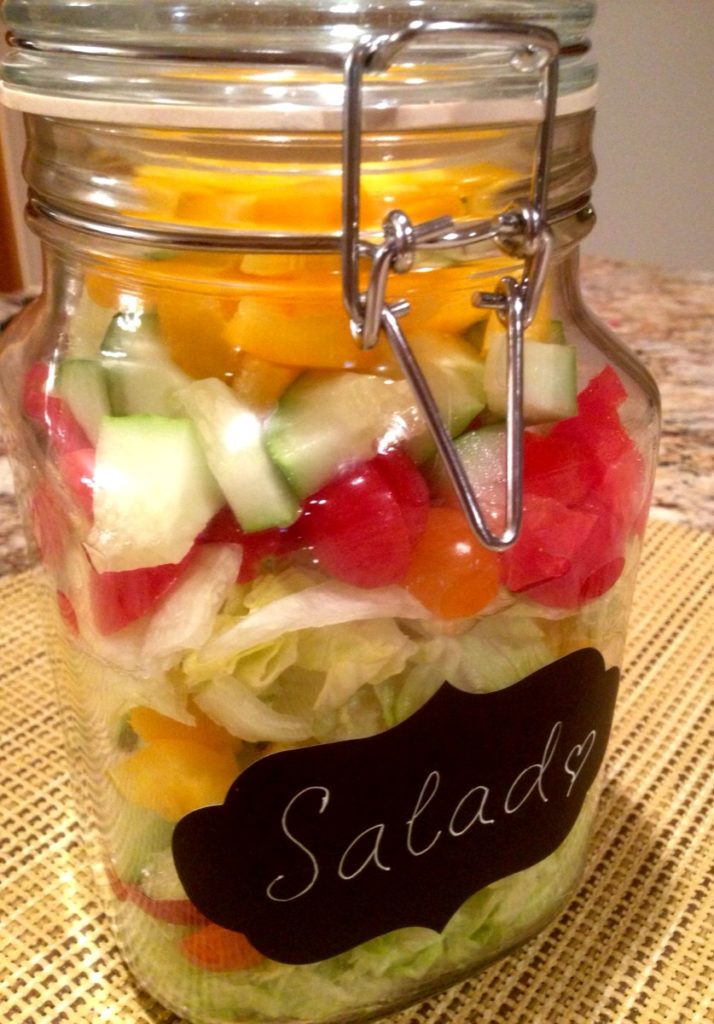 Chop up lettuce and any other fresh garden vegetables you like in a toss salad, then layer them a few times in a large mason jar.  Give with a bottle of dressing and maybe a loaf of bread or a bag of rolls and you've got a fun dinner for someone–all they will have to do is pour the salad into a large bowl and they're set.  I like doing it this way, since I find that eating out of individual serving jars is a little awkward.  It's also hard to get the dressing down to the bottom too.  But hey, go for however you like to do it best–I just like the idea of serving fresh garden veggies in fun, creative ways!   
My grandma, in particular, taught me that it was also nice to include a little jelly glass jar of freshly cut flowers or a potted plant of some sort tied up with leftover scraps of lace and ribbon with my garden gifts.
Here are a few of my updated versions of plant and flower gifts from the garden that my grandma used to make.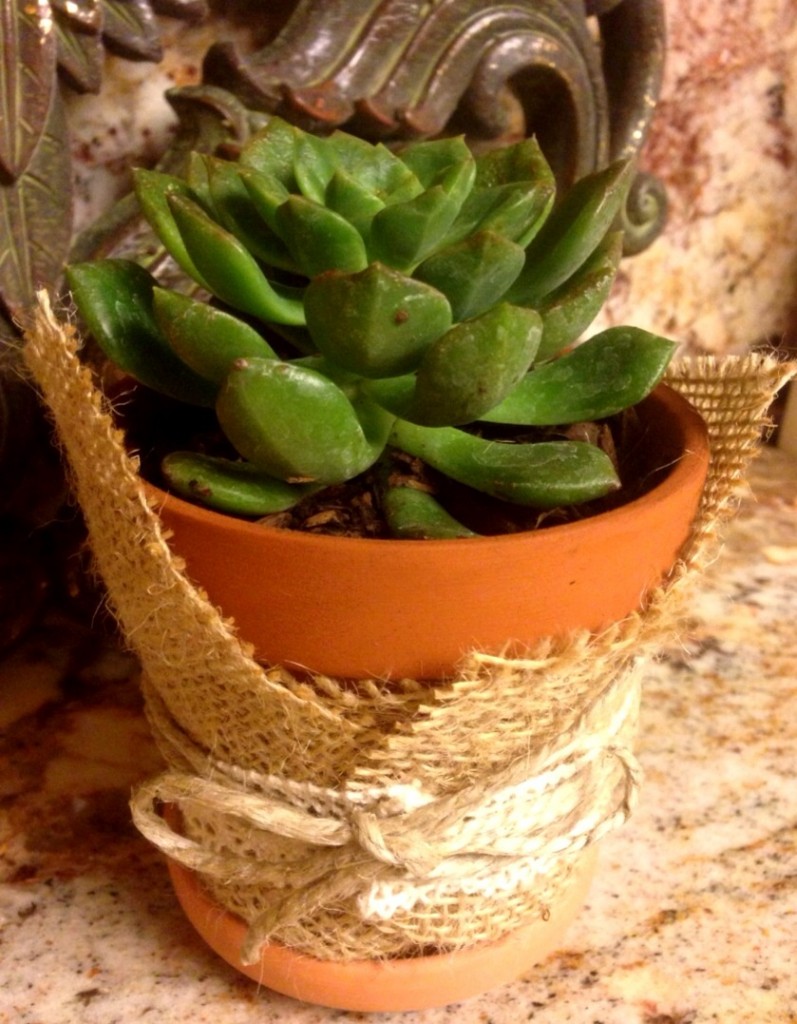 It tickles me that "Chicks and Hens" and other succulent plants that were popular when I was growing up are so trendy again.  However, my sweet grandma would shake her head to think that burlap is all the rage now!  I simply wrapped a small rectangle piece of burlap, folded over at a 45 degree angle, around the base of this small clay pot and secured it with some vintage lace and thin jute rope.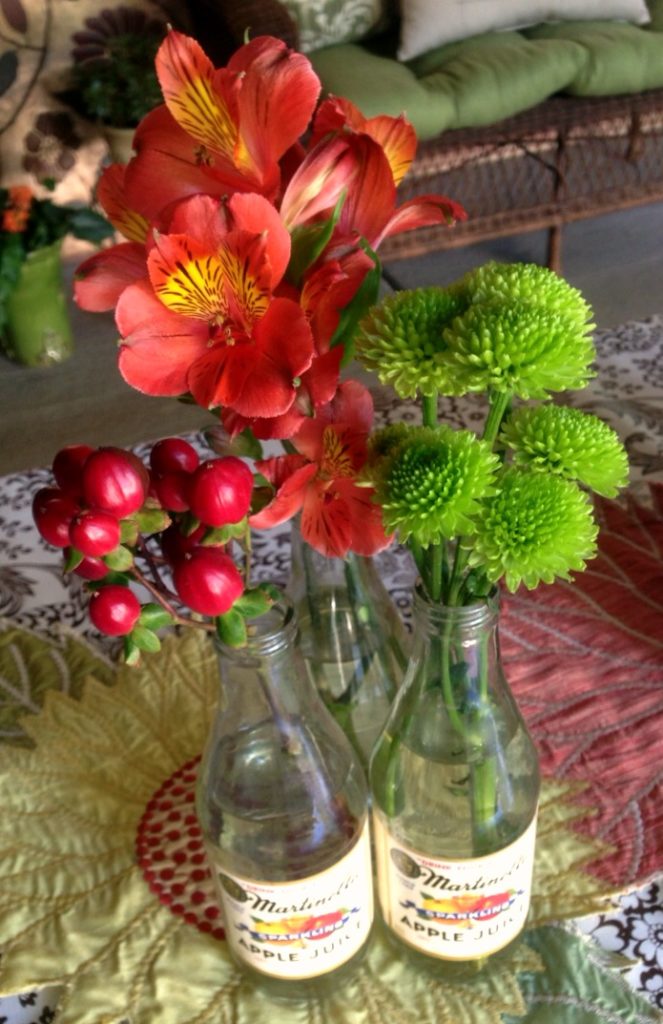 In trying to follow the example set by my mom and grandma, I like to have a few novelty bottles and vases on hand, then when needed, I can add some fresh flowers and combine them with a fun treat for a great impromptu gift for that special someone on any given day!  My mom was a big proponent of giving little gifts on days other than the ones set aside for those usual kinds of celebrations.   
Recently, I discovered a really simple way to recreate the aged, floral patina look of some of my favorite clay pots that were once stored in my grandmother's old gardening shed.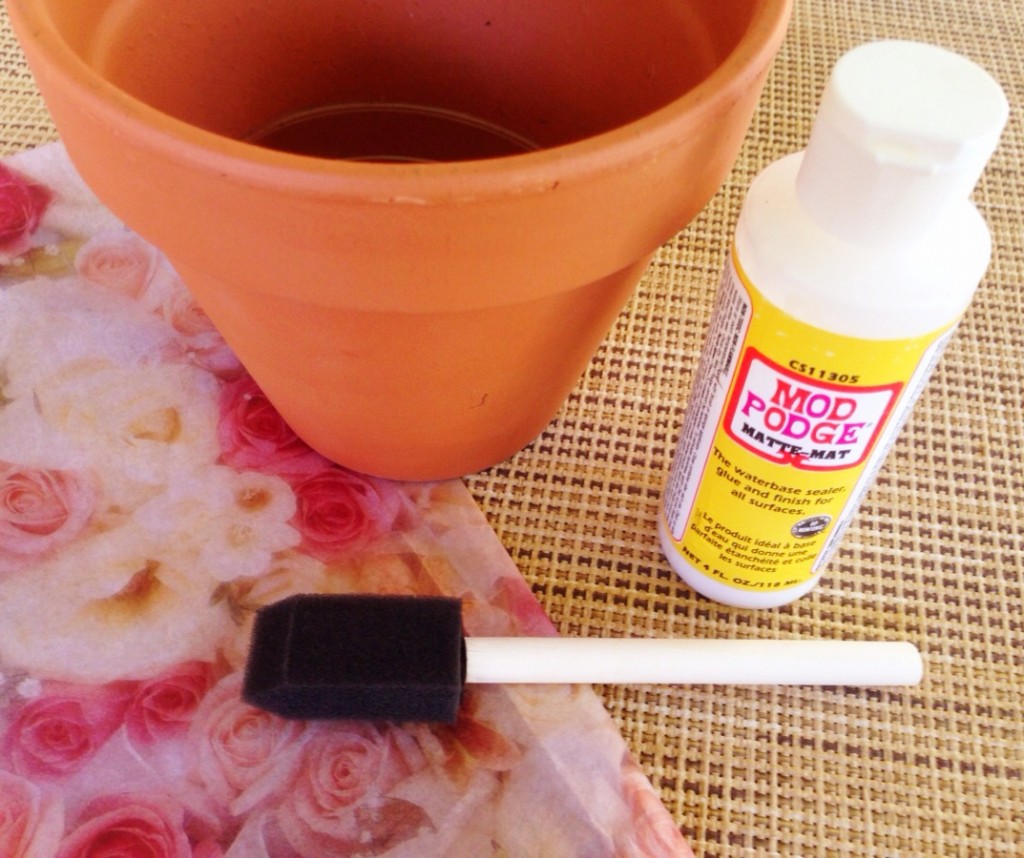 The only supplies you'll need is a clay pot, a bottle of ModPodge, a sponge applicator and some decorative tissue paper.  
Apply a coat of ModPodge directly to the pot itself, then carefully smooth tissue on top of ModPodge. (There will be some creases, but this just adds to the overall look.)  Apply another coat of ModPodge directly on tope of the tissue paper.  The ModPodge will appear milky white, but it dries clear.  Dry pot overnight.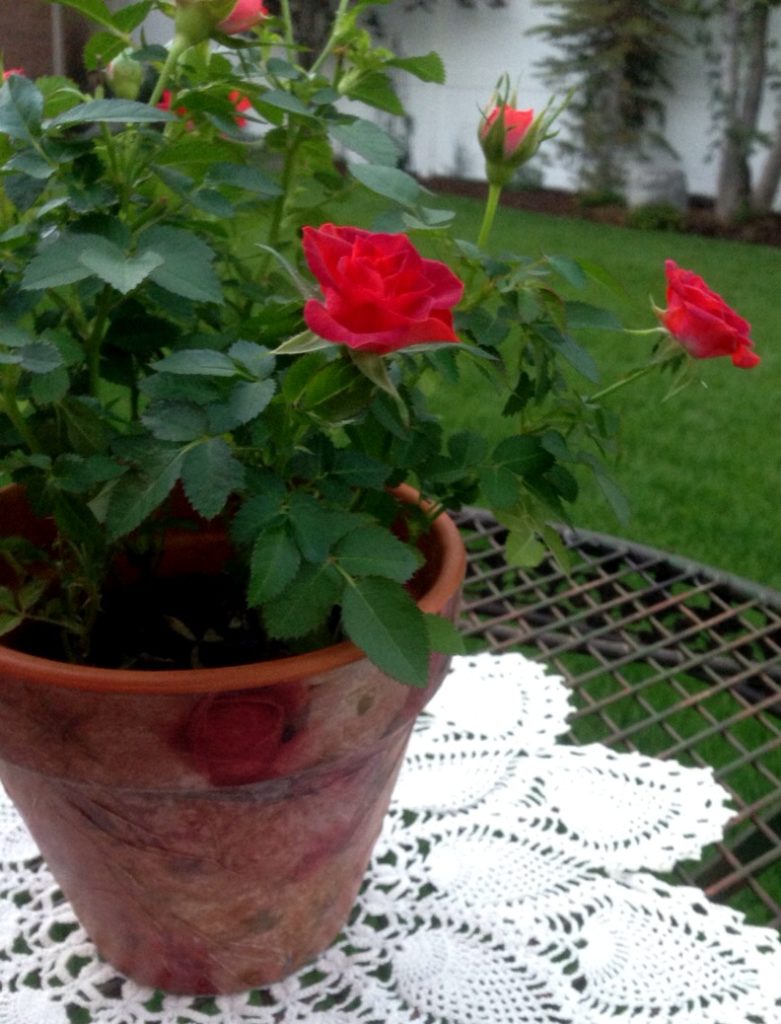 The subtle design of the tissue paper gives the clay pot a classic vintage look that I love.  Add some flowers and it will definitely provide a unique gift from the garden–maybe for yourself!     
My daughter-in-law used this same technique using fabric–then she gave this cute pot to me!  It's such a unique look–I love this so much!
Even though it's quite small, my husband and I enjoy our garden's crops this time of year…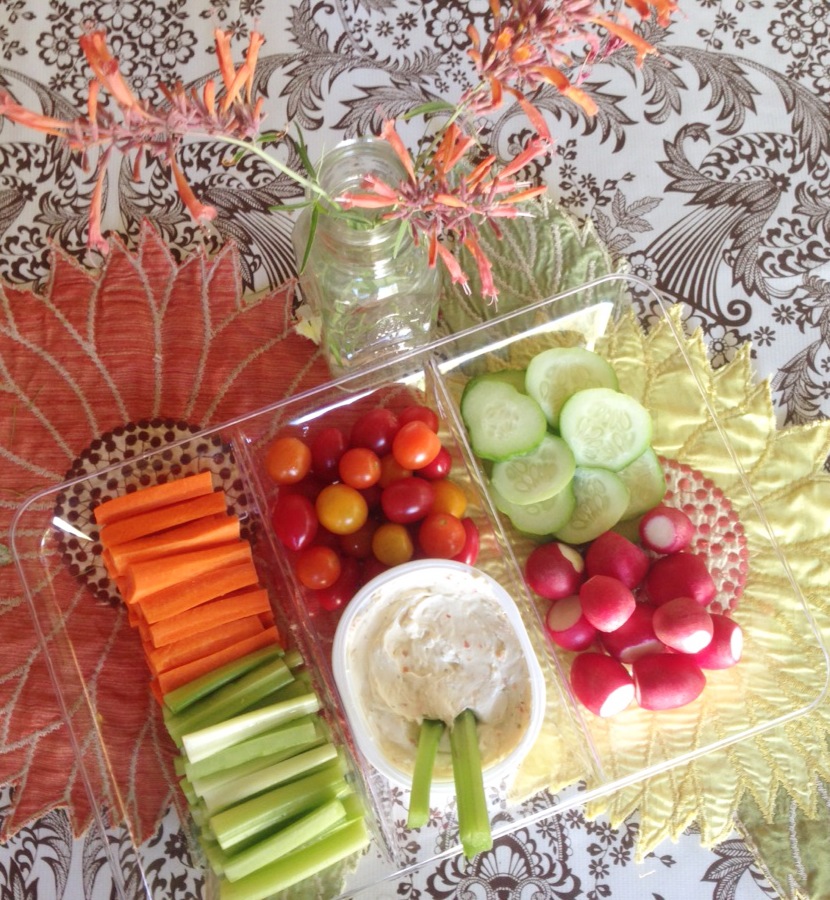 …especially when we slow down long enough and take the time to prepare and serve the vegetables!  Now there's a head smacker for you!  Ha!  Our new favorite veggie dip is "Vegetable Garden" cream cheese! 
My ever wise grandma often quipped that–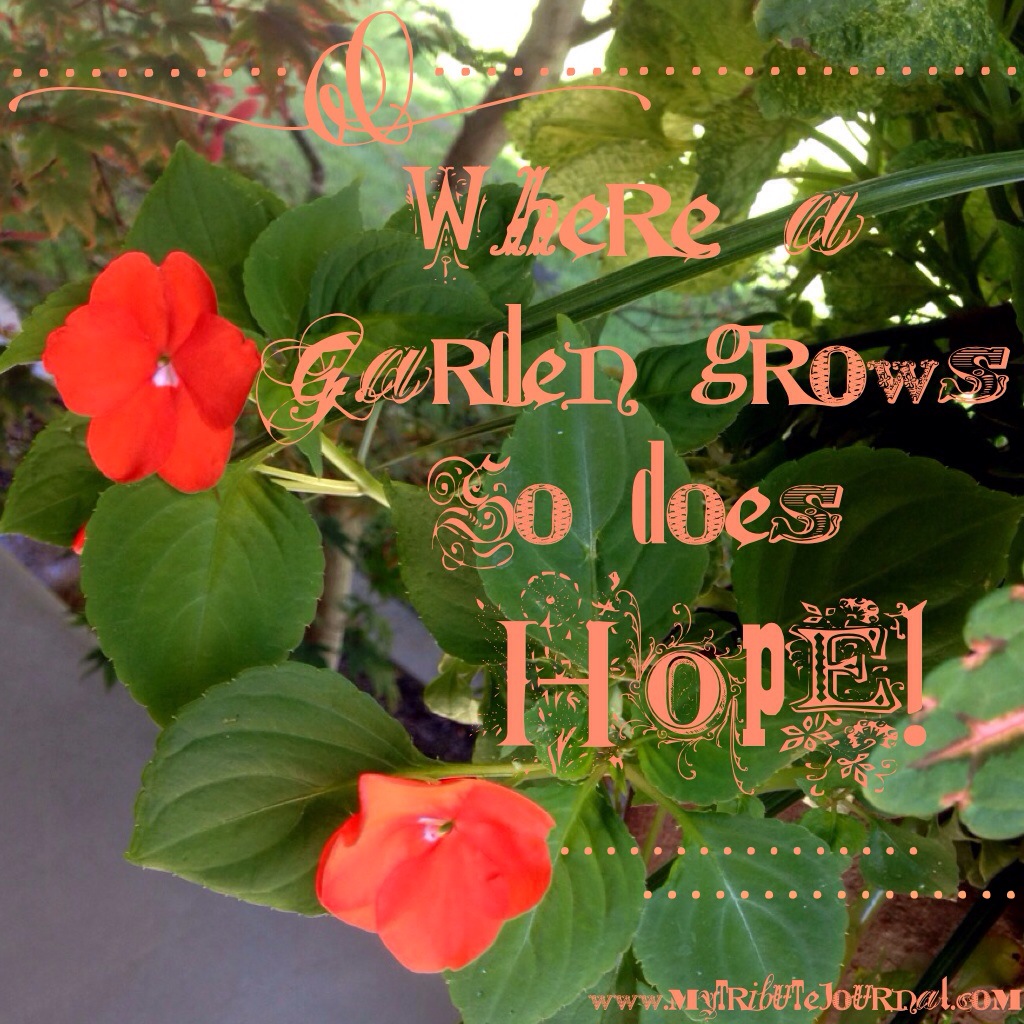 Hope for new experiences in life.

Hope for abundant living and giving.

Hope for sharing it all with those you love!  
What I'm learning now is…
My dad used to joke after being lightly reprimanded by my mom for snitching some goodies meant for neighbors, that if anything was in a fancy jar or on a gilded tray–it wasn't meant for him!  When it comes to gifts from the garden, it's good to learn the "make two-take one" rule of thumb, that way everyone stays happy and healthy!
I would love to hear about any special garden memories or stories you've had that you'd be willing to share.  Any fun garden gifts you have given or received? 
Coming up next is the recipe for my mom's secret ingredient peach jam! 
–Mary