Fun Fall Treats And Desserts!
Besides all the miniature, bite-sized goodies that are abundantly available now, ("miniature" means they're devoid of calories–right?) I have a few other fun fall treats and desserts I love to make this time of year!
Caramel Popcorn:
If there is one "go to" treat recipe that I make more often than most others for party events, our family's favorite caramel popcorn recipe is it!  I just want to forewarn you, this recipe is very addictive!  You'll find the recipe here in this previous post.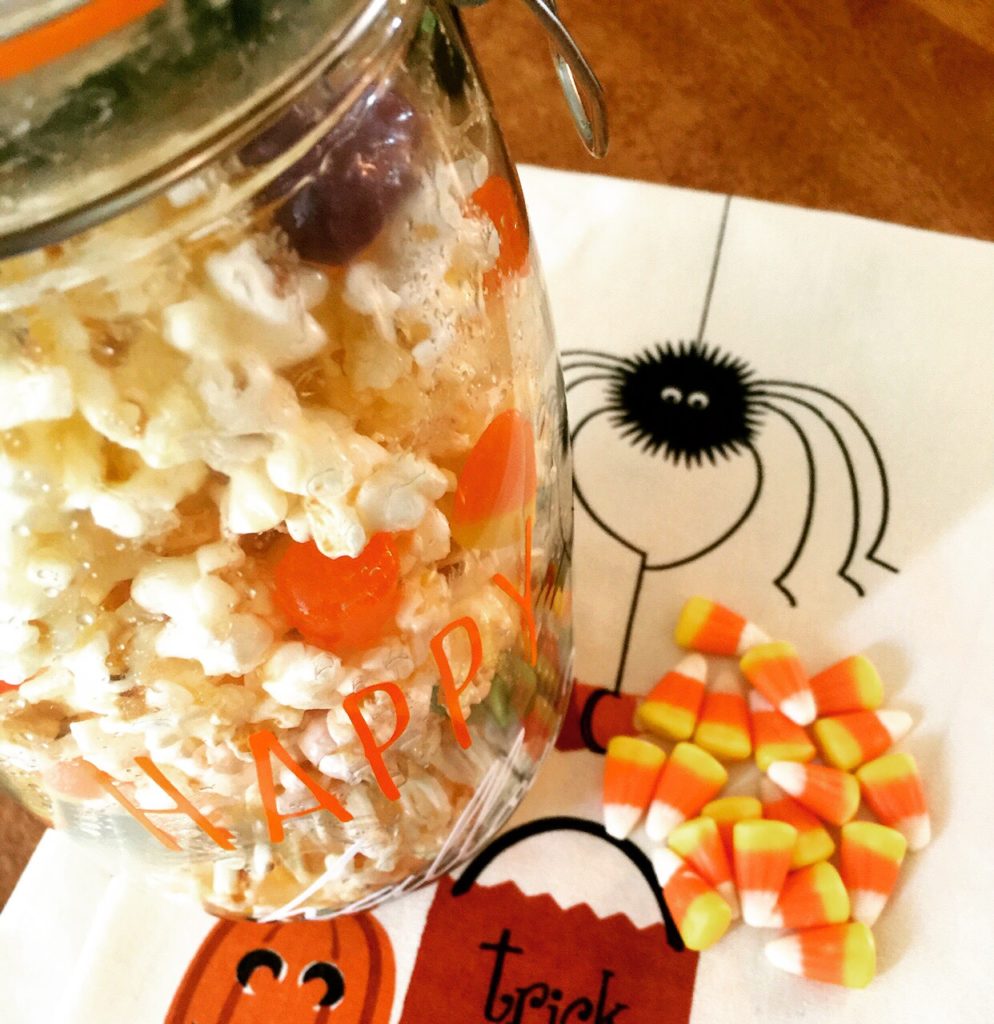 You can give this caramel popcorn a festive, Halloween flair by adding spiced gum drops and candy corns instead of the cashews that the regular recipe calls for. 
Oreo Spiders:
As if Oreo cookies aren't beloved enough already, (I know they are a favorite of my granddaughters) try turning them into spiders and that love is enhanced all the more with young and "old" kids alike!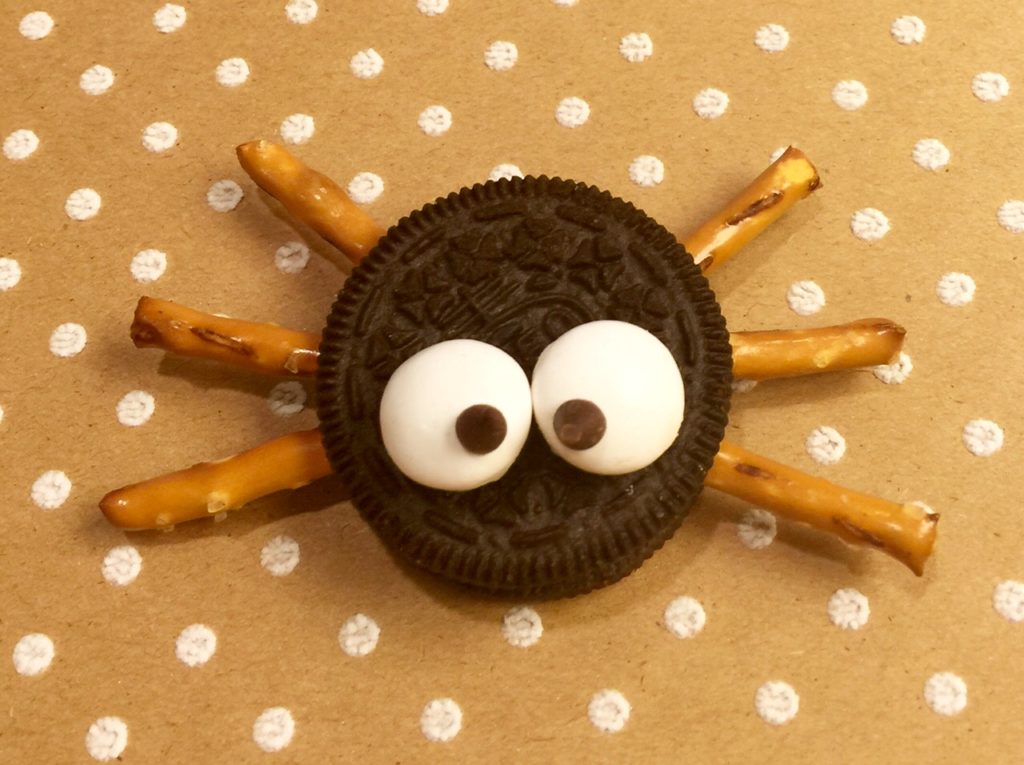 All you'll have to do to create these fun guys is insert some small pretzel sticks into the frosting on the sides of the cookie, then use any small, round candies for the eyes–I like to use the white M&M's in the fall candy corn flavored packages and mini chocolate chips for the center of the eyes–I stick them on with honey.  These are a hit with my granddaughters.  (I've also seen the legs made out of thin black licorice ropes, but I like using the pretzel sticks.)      
Pumpkin Chocolate Chip Cake:
Fall is the time that many of us start craving pumpkin and chocolate chip match-ups in all their varied and lovely forms, but my daughter recently shared a recipe with me that is one of the easiest and most delicious pumpkin and chocolate chip pairings of all!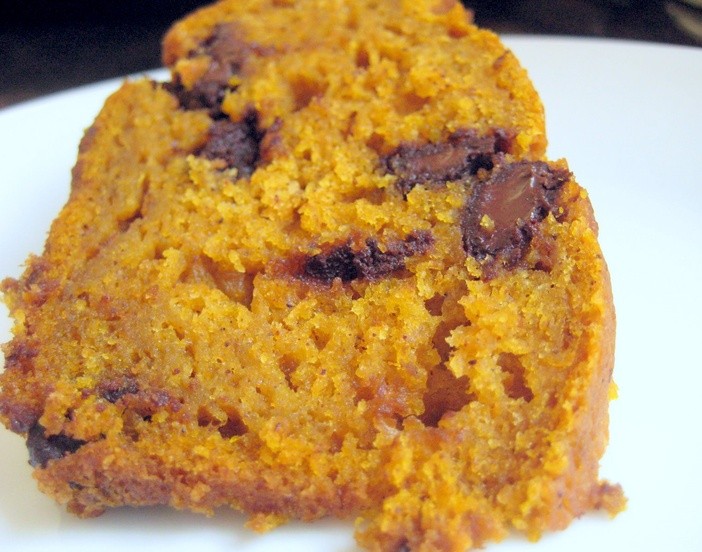 To make this moist, yummy cake, all you'll need is three ingredients.  Just stir a small can of pumpkin puree (15 oz.) into one spice cake mix, then add one 12 oz. package of chocolate chips.  Bake mixture in a greased 9×13 cake pan for 20-25 minutes in a 350 degree oven.  Serve warm with ice cream.  (You can make this same mix into cookies, bread or muffins.)
Dried Apples:
Come fall time, the apple season is on full force, and one of my favorite "healthier" treats is cinnamon, dried apples.  If you don't have a fruit drier, it's well worth the investment!  The recipe my husband and I like to use is here in this post.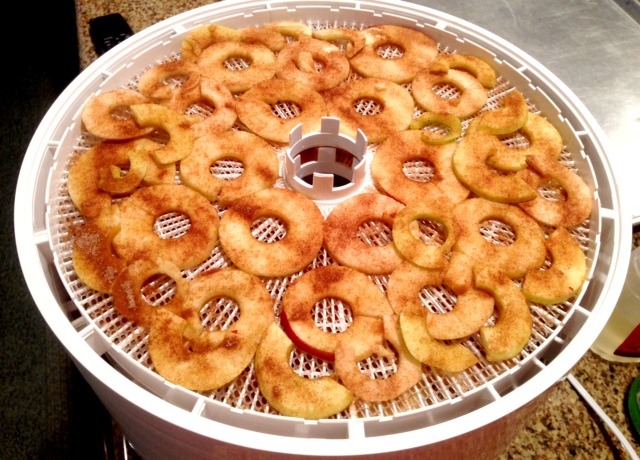 I love how these dried apples turn out a little chewy and just lightly sweet–they are delicious!  You can bag them in a decorative cellophane sack with a fun bow for a great gift too!
Pumpkin Roll:
Although I tend to love all the fun fall treats and desserts this time of year, if I did have to pick a favorite, I think it would be my mom's recipe for pumpkin roll!  Get the recipe here.
Although pumpkin roll may seem like a lot of work to make–it's really very easy, and such a perfect dessert for this time of year!  I like to serve it with hot caramel sauce drizzled over the top, but it's also good with whip cream too!  So good! 
I have heard that the average person puts on about 5-10 pounds this time of year with all the upcoming holidays…so why I try to mostly eat healthy–it's worth it to me to spend some extra time in the gym so I can indulge a little!  Besides, we're all very familiar with how the saying goes…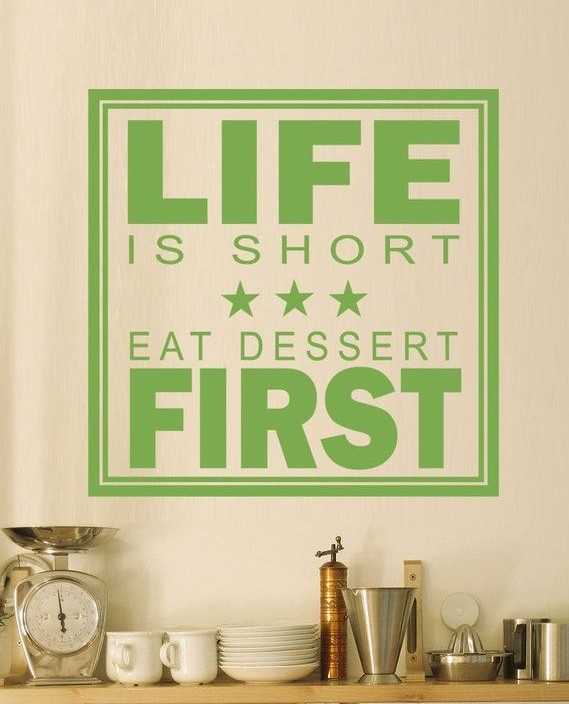 Happy Eating!
I'm always looking for some great new fall recipes, so please share what some of your favorite treats and desserts are for this time of year!
–Mary