Creating Your Home Sweet Home!  Floral Decor!
Depending on where you live, your spring weather might still be a little bit too fickle for planting flowers outside…but that doesn't mean you can't consider a little floral decor inspiration for inside your home!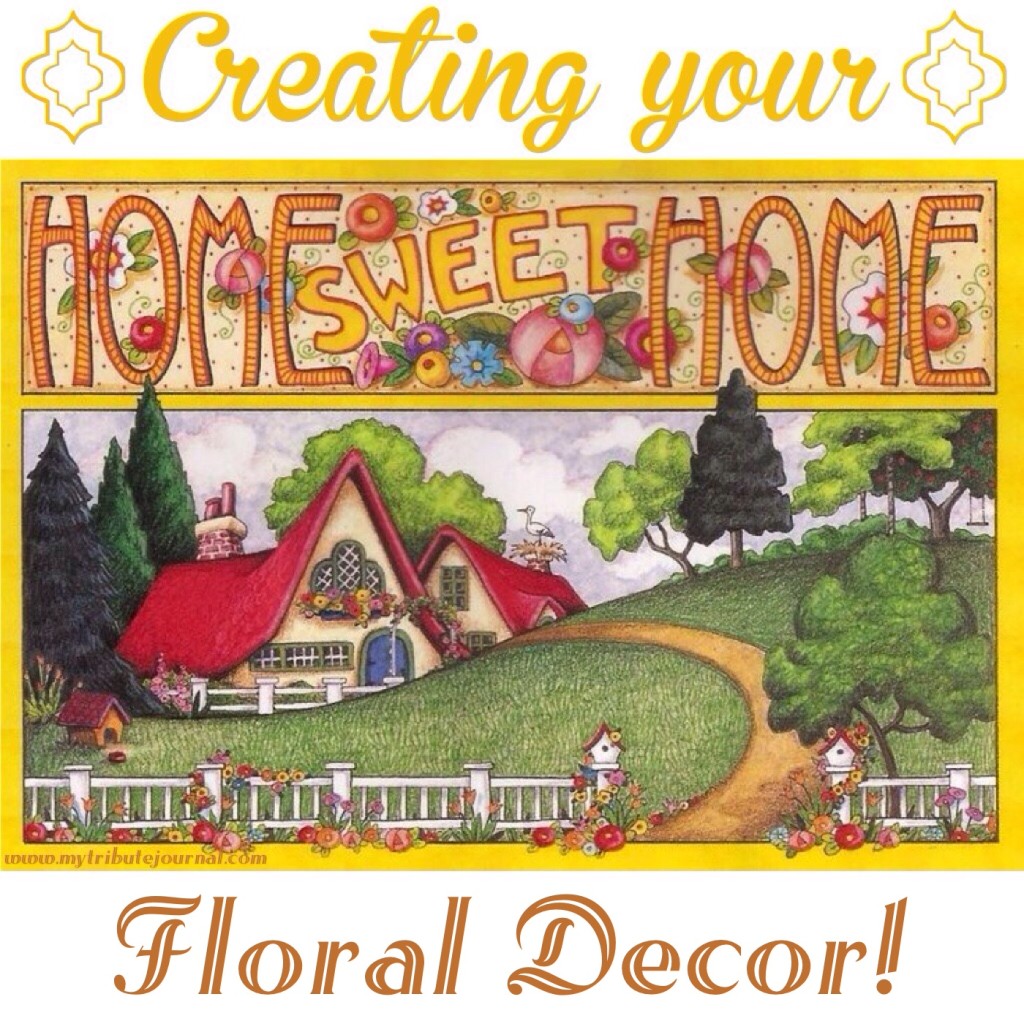 When we were first married, any talk of floral décor seemed to conjure up scary visions of flower velour sofas and baskets filled with dusty, plastic flower arrangements in my husband's mind!  But then again…in those days his idea of good interior design often resembled a log hunting cabin in the mountains without a single flower in sight!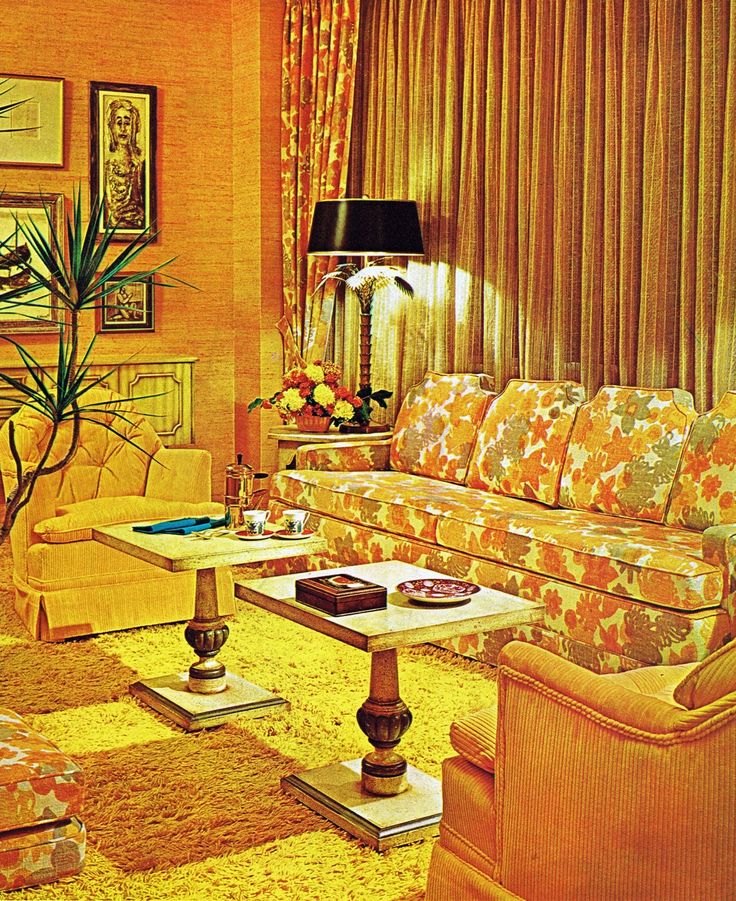 There's a saying that goes… "Be faithful to your decorating taste, because nothing you love ever really goes out of style!"  I am so thankful that our decor tastes evolve!
(Fun fact–my mom used to have some gold tables in her living room, much like the ones pictured above.  I remember some great conversations and good times gathered around them with family and friends…so although our tastes may change over the years, I'm sure glad the memories last!) 
Floral Décor That Isn't Scary!
As an experienced designer, my daughter, Malia, will usually recommend creating a good balance when it comes to certain design elements.  With this in mind, here are a few things to consider when adding floral decor to your home.
• A Little Goes A Long Way!
Like any other design statement, the use of too many flower features can be a bit overwheming…like most things in life, moderation when decorating is a good rule of thumb to follow.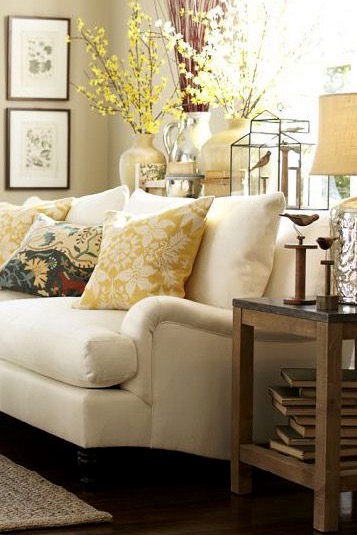 (via Home Decor)
Using a neutral wall and furniture palette makes it easier to add extra floral detail to your room, like the pictures, pillows and other accessories shown in this room.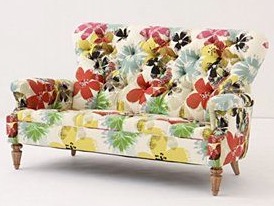 (via Anthropologie)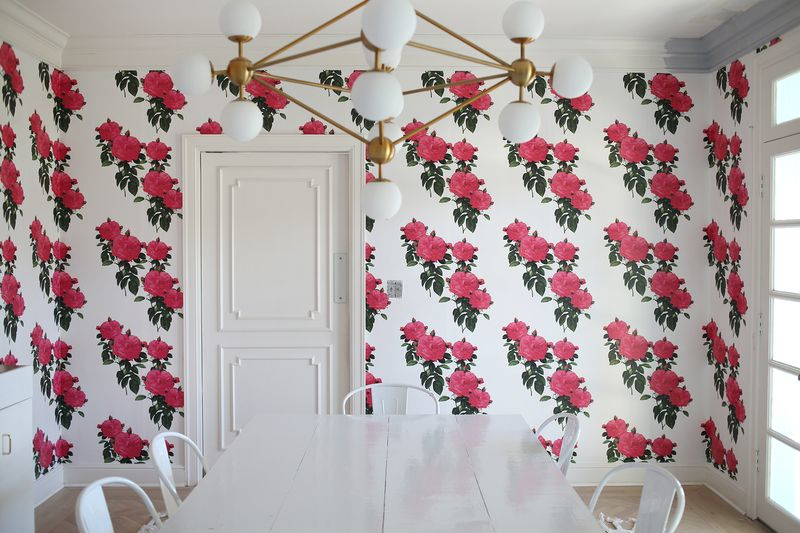 (via A Beautiful Mess)
Should you decide to go bold with a particular floral design element, like the sofa or wallpaper above, it's usually a good idea to keep other decor features more simple and understated.
• Explore The Many Forms Of Floral Decor!
If you're just not ready to commit to more permanent, pricier items like wallpaper and large furniture pieces, there seems to be plenty of other options to consider when it comes to adding some unique floral decor to your house.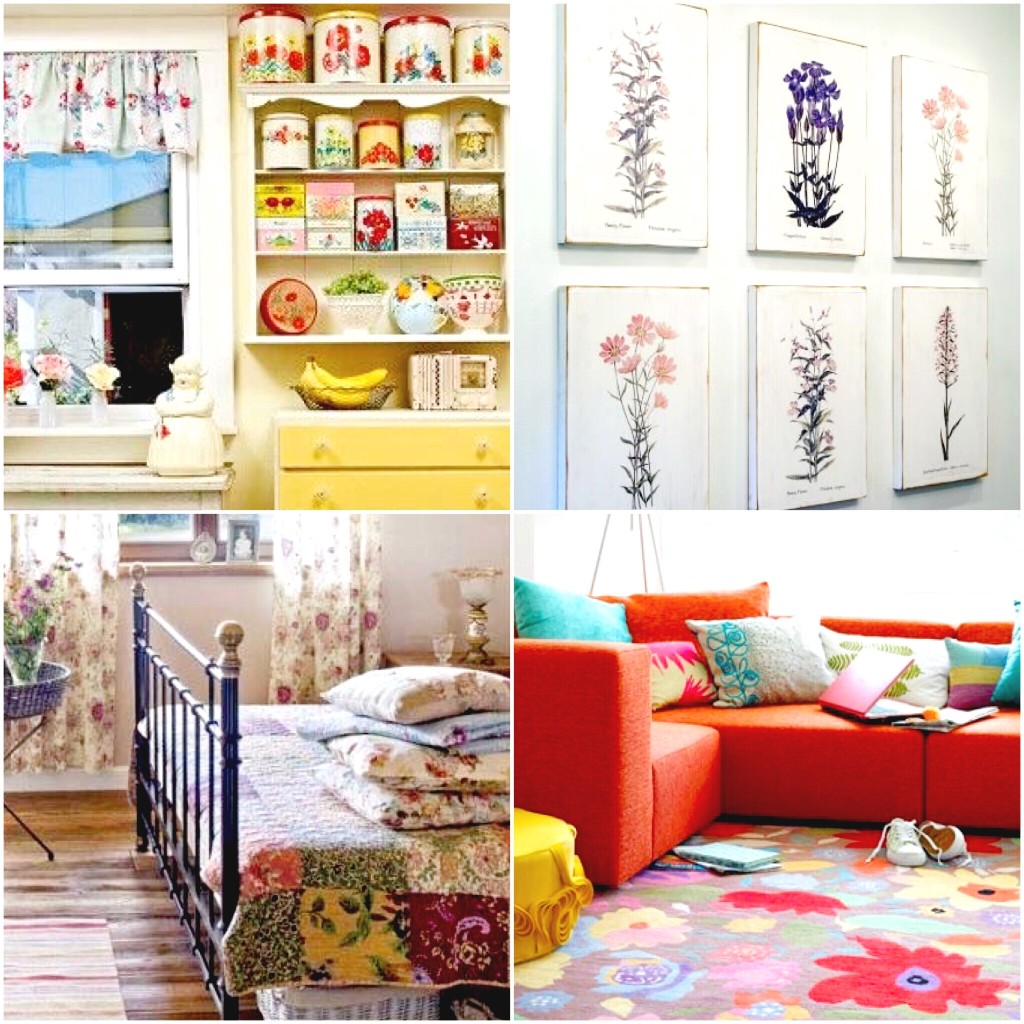 Updated floral print fabrics for curtains, quilts and pillows, as well as botanical prints and area rugs, can certainly add a neat floral flair to any home's interior design!
(I've found that JoAnn's and Hobby Lobby carries a good variety of floral fabrics, Target stocks a great pillow selection and rugsUSA has a nice assortment of rugs in various styles and sizes.)
 • Silk Flowers Are A Good Option
Silk flowers used in home decor today get the "most improved" award–a far cry from the ones used in our mother's and grandmother's generations!  In fact, I think the silk flower arrangements now look so good that it's hard to tell the difference between them and real ones often times.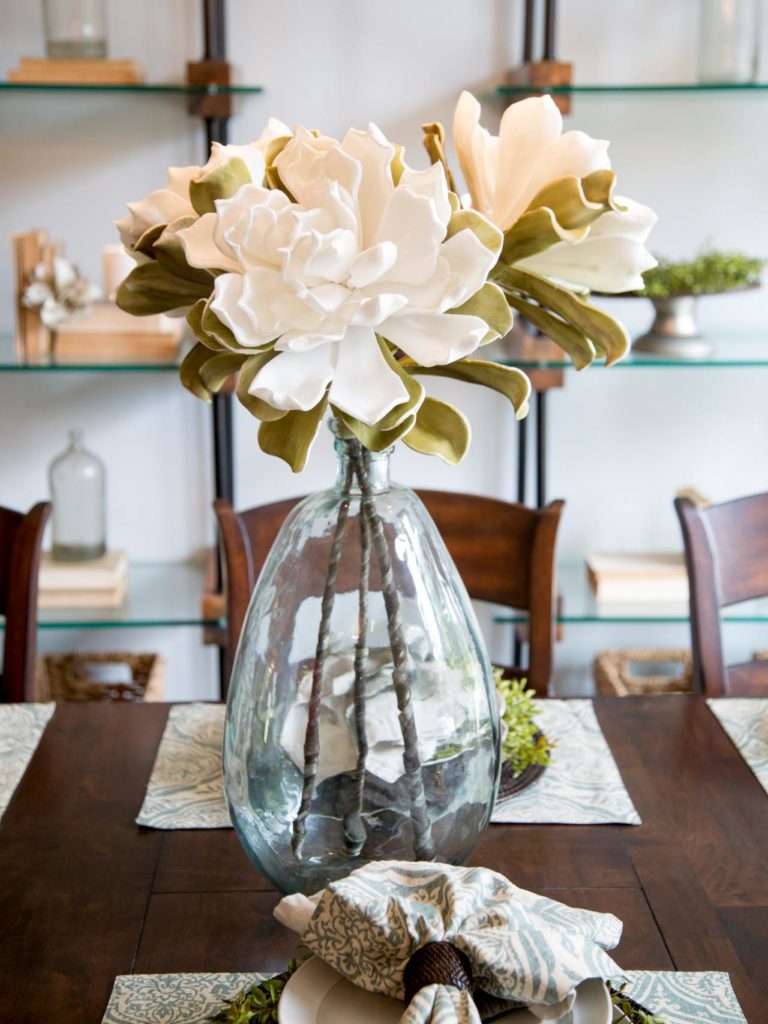 (via Fixer Upper)
Beautiful silk flower arrangements are a wonderful way to give a room some personalized character and make it feel extra warm and inviting…and you just can't beat their low maintenance quality!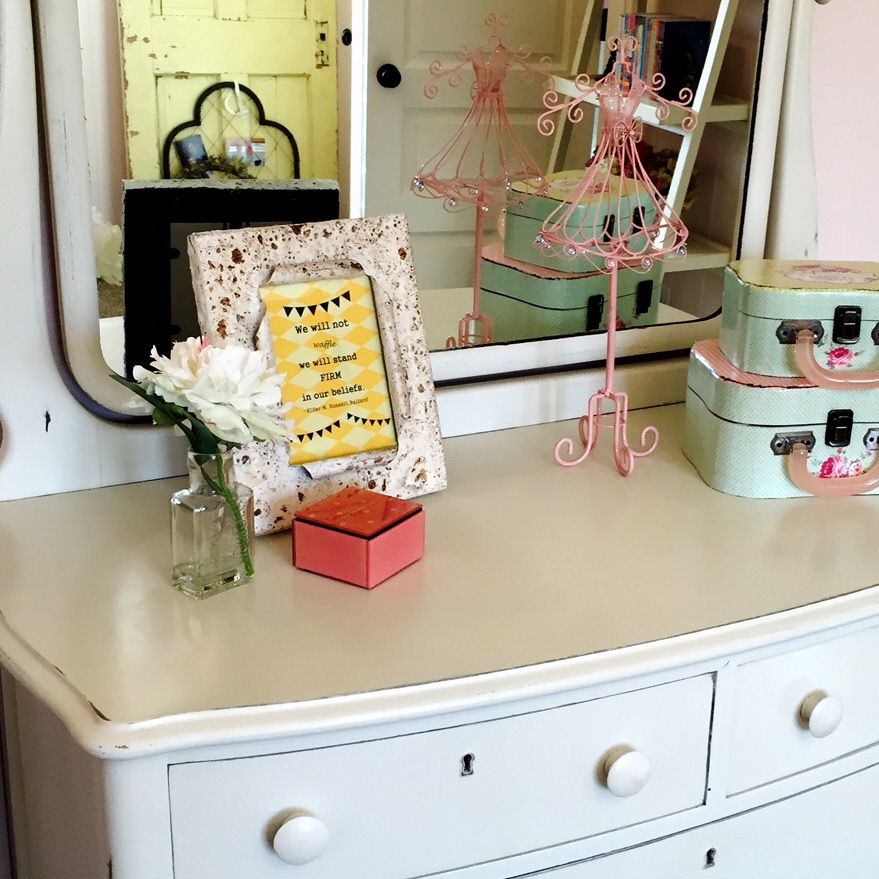 Even something as simple as the single silk peony put in an old perfume jar on my granddaughter's antique dresser gives it such a fun finishing touch.
(I have gotten some of my most favorite silk flowers online at Magnolia Market.)
• There's Floral Decor For All Design Styles
While some design styles seem to lend themselves more to floral decor than others, it can certainly be fit into any decorating scheme.  My daughter often likes to add a few eclectic accessories from different styles to the overall theme of a home.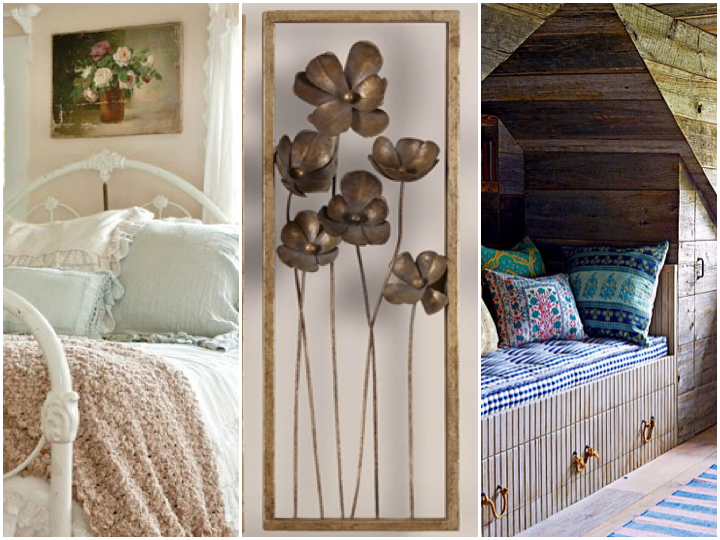 From a vintage painting to modern metal art, or country flower pillows in a rustic setting, floral decor just seems to make any space more welcoming!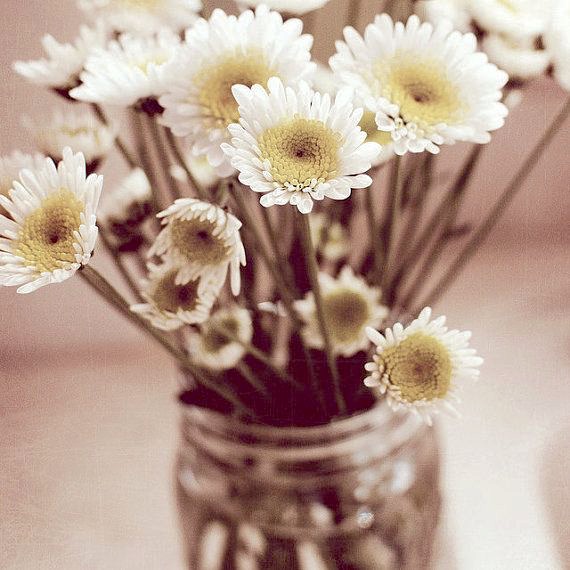 My grandma always used to say that every room in our houses deserved some flowers…even if it was just a few daisies in a jelly glass jar!
I hope everyone has a happy spring!
 Does floral decor give you a panic attack? What are some fun ways you incorporate it in your home?
–Mary