My granddaughters, Makena and Marli, love playing games–and I suppose they come by their gaming abilities quite naturally, since my husband's mother was quite a card shark and their Grandpa Wilding loves the competitive nature of a spirited game being played out!
When these sweet girls were little, we played all the usual games that are still popular for younger children, like Candy Land, Go Fish, Chutes and Ladder, and Memory, but now that they are growing up, it's fun to see them developing their game chops and becoming a force to be reckoned with at the game table!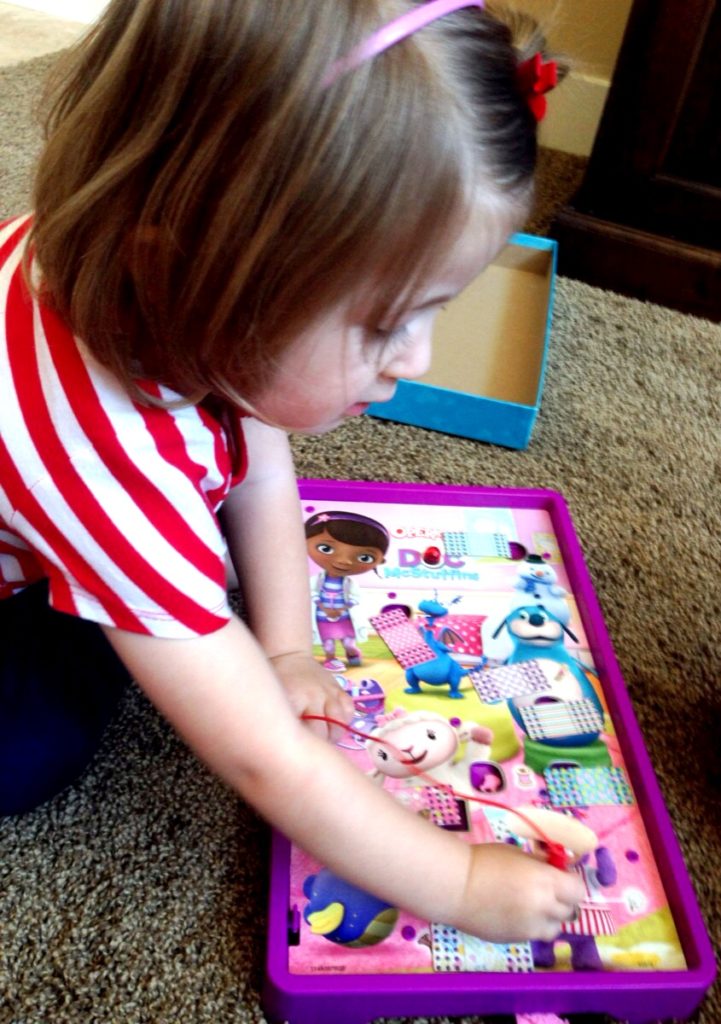 Even children's games that have been around for a while have been given a new face-lift, so to speak, with cute cartoon characters from popular children's TV shows!  Marli loves her Doc Mcstuffins Operation game.
Fun New Children's Games!
Just like many of you, our family spent many hours during the Christmas holiday playing games.  Here's a list of a few new games that are especially fun for kids to play and were a big hit with my granddaughters.
Scrabble Scoop is a fast-paced children's version of the original Scrabble game that so many adults love playing.  The letter tiles are mixed up in a large bowl that comes with the game, then each player takes turns scooping as many letters as they can with the orange spoons that are also provided.  The players work quickly to spell the word they've chosen on a card that is passed out at the beginning of each game.  The cards have words of varying degrees of difficulty, which makes this a great game for children with different levels of letter recognition and reading ability.  When their word is completed, the winning player puts a hand over the bowl and calls out "Scooped" –that way no more letters can be retrieved by other players.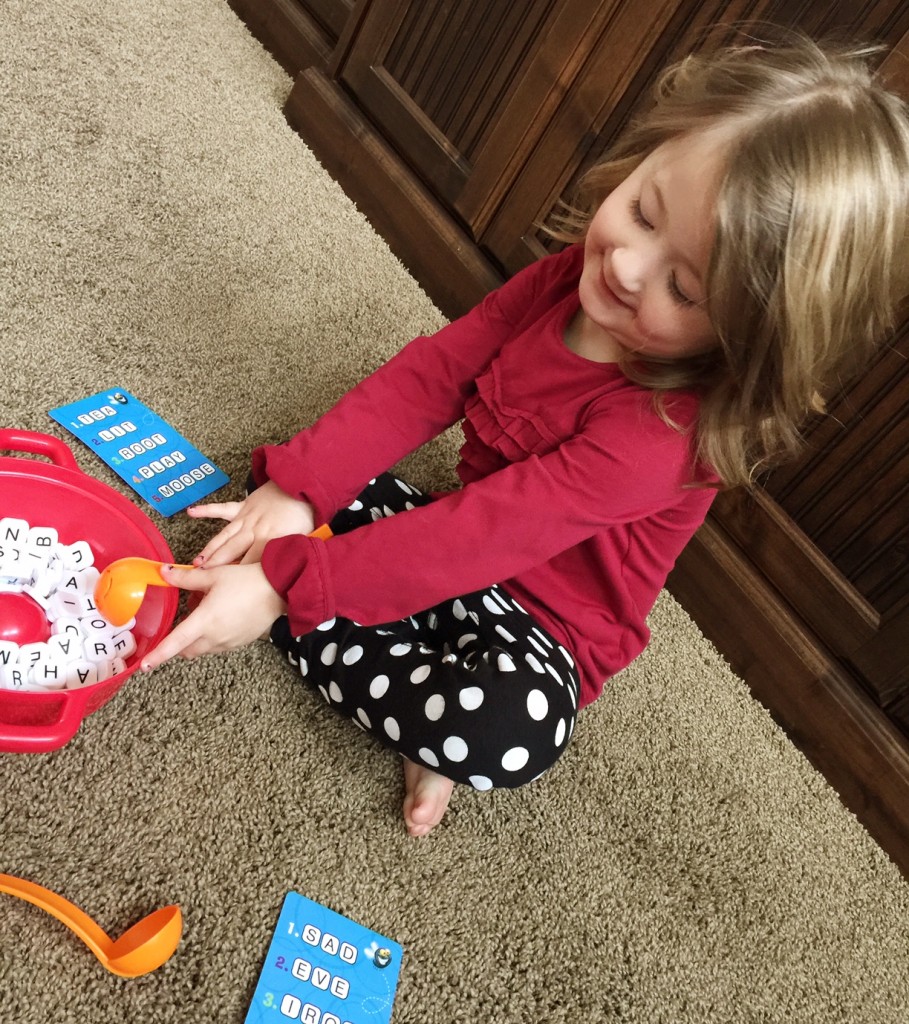 Scramble Scoop is a great game to help kids learn letters and words if they are just beginning to read.  Even though Marli can't read, she does know her letters and can match the tiles to the easier words, while Makena does the harder words since she can read most of them now. 
The Garden Game is a cleverly designed board game that was just awarded the Oppenheim Toy Award for best new game.  All I know, is that my granddaughters love this game.  The artwork is beautiful and setting up each of the garden pieces prior to actually playing the game is half the fun!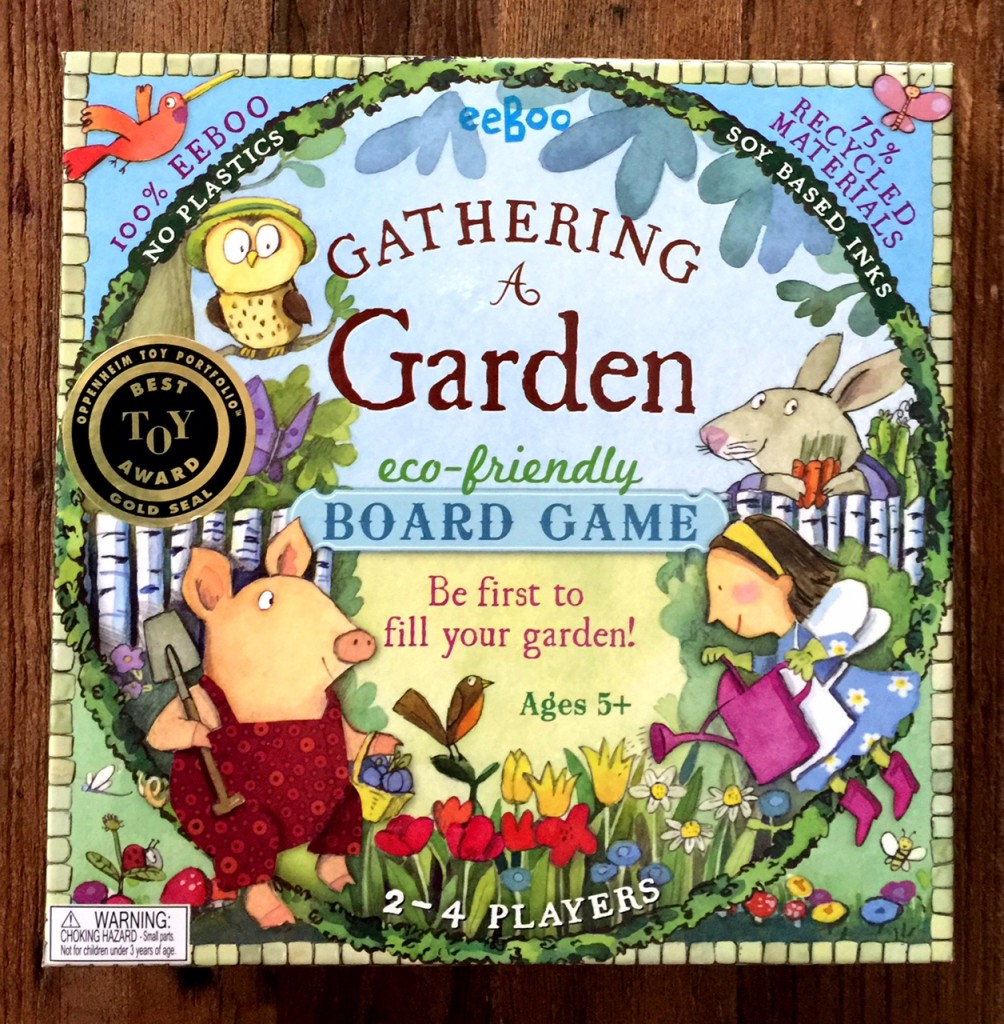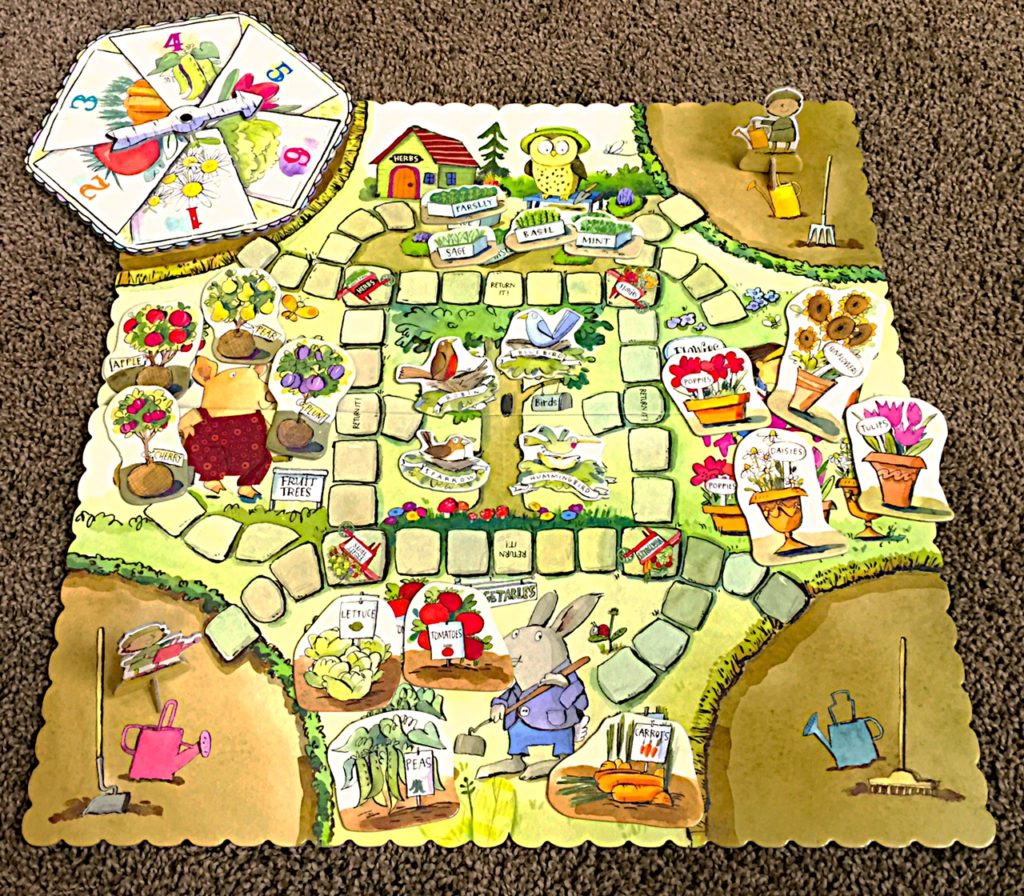 The object of this game is to spin the number wheel and work your way around the board until you have collected an item from each garden.   I think I love this game as much as Makena and Marli do!
While Spoons is a game we've been playing for a number of years, usually with old cruise-ship face cards and mismatched spoons; we often adapted the rules as we played too.  Now Patch Products has come out with a fun, updated variation of this game that comes with brightly colored spoons and matching cards.  The game also comes with an official rules card…imagine that!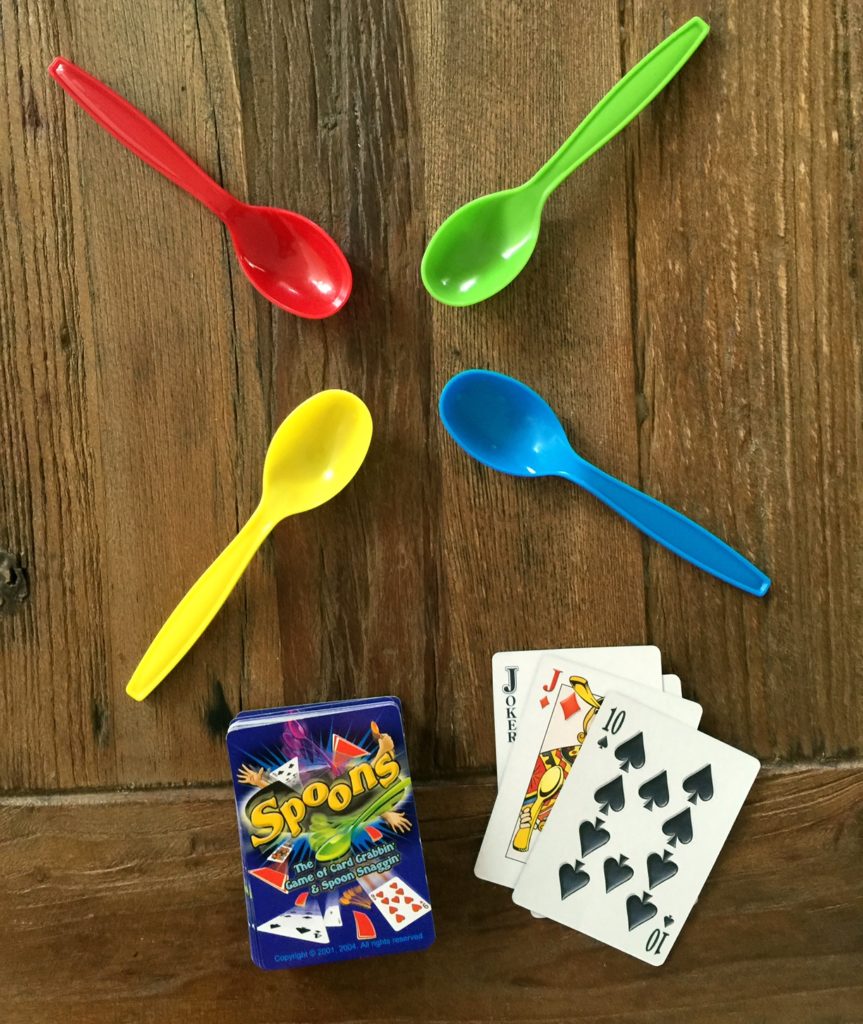 You start spoons by setting out one less spoon than the number of players, then after all the players are dealt four cards, the dealer quickly passes the cards to the person on the left–cards continue to be passed in tandem to all the other players.  When someone gets four matching cards, they quickly sneak a spoon.  Often it seems, everyone gets so caught up in keeping pace with the cards being passed and getting all their matches that the game can go on for a while before everyone realizes all the spoons have been taken. 
Makena takes her games very seriously and has honed her skills well on this game…she has become a particularly sneaky spoon stealer!  
Uno Dare is a silly adaptation of the original UNO game and I'm here to tell you, it's a riot!  Some special cards come with the game that when used, gives a player the option of accepting a dare rather than drawing extra cards when it's their turn, and since winning is determined by being the first one to get rid of all your cards, this is a fun alternative.  We played this game as a family on Christmas Eve and laughed so hard at the crazy antics people were willing to do so they didn't have to draw any cards.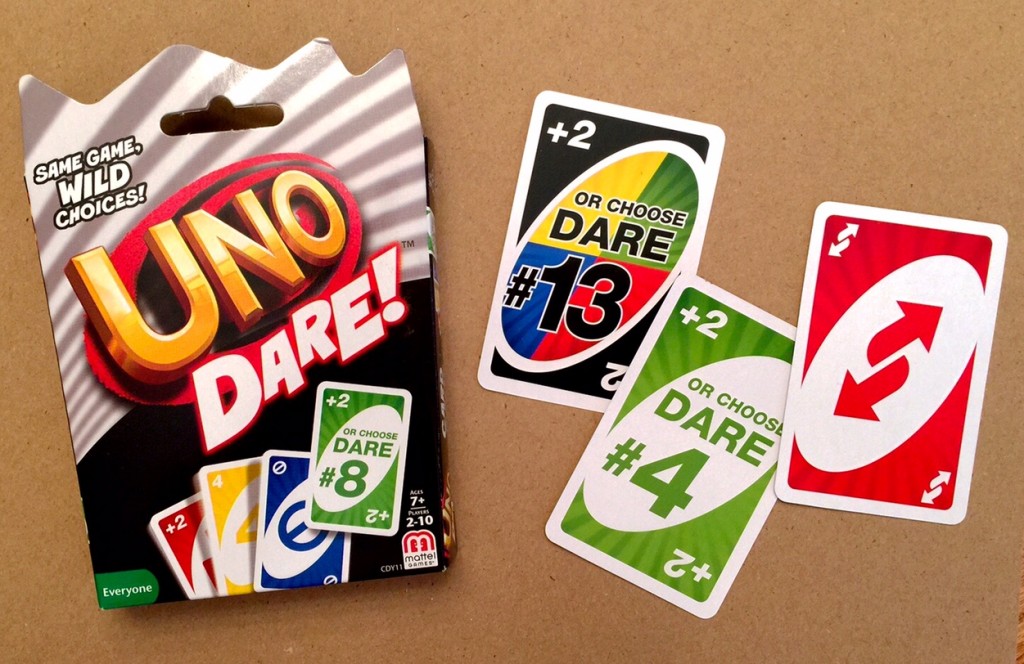 The "dares" range anywhere from having to balance a card on each shoulder until your next turn, to blowing the top card off of the draw pile.  Makena helped her Uncle Cole show off his best dance moves during one of his turns–I wish I had a picture of that, it was seriously so hilarious!  One of the things that makes this game so much fun is that it allows kids to see adults being a little silly–and that's always a good thing, I think!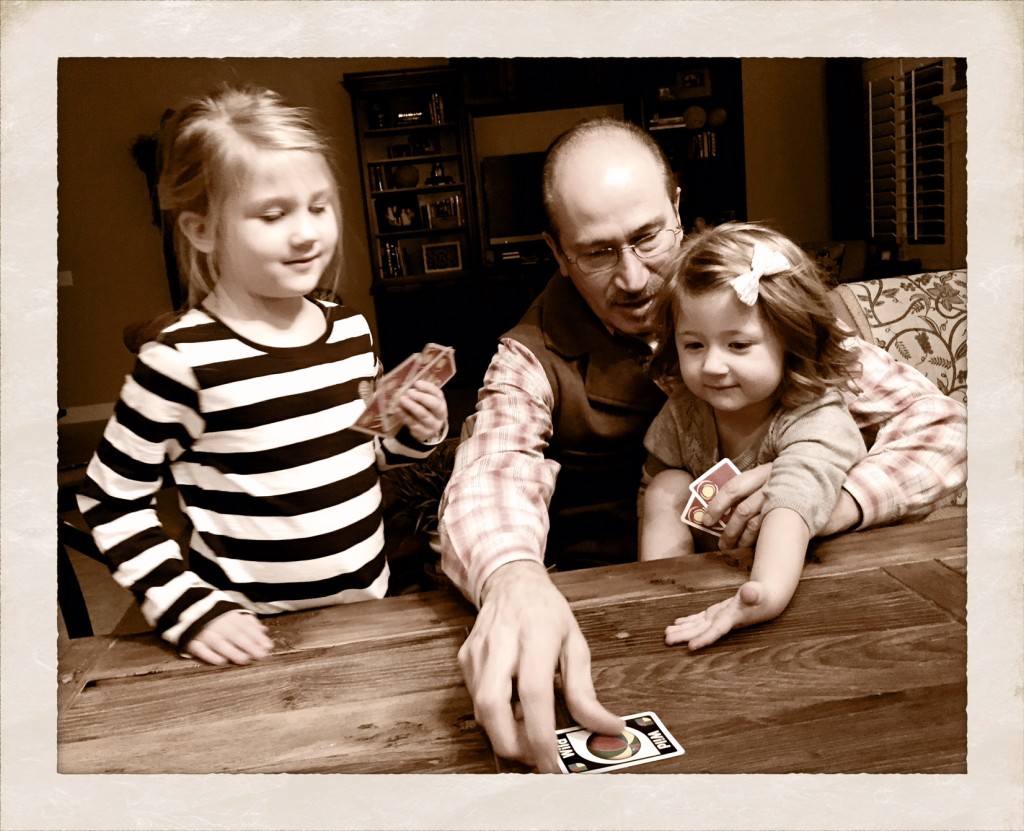 I think one of the things Grandpa loves most about game nights is that Marli usually wants to be on his team–then no matter what, you walk away a winner!
What are some fun games your children love to play together as a family! 
–Mary