The Fruits Of Our Labors…Don't Forget To Take The Time To Enjoy Them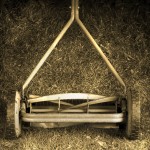 Of all the things my parents taught me about cultivating a good work ethic, working in the yard and gardening are ones that I enjoy the most!  Even as a young girl, I looked forward each weekend to working in the flower beds while my dad mowed the lawn.  I liked going to the garden nurseries with my parents to help pick out the beautiful flowers and plants that gave a much needed burst of life and energy to a winter worn yard!  I'm also impressed that my parents seemed to listen to my input with genuine interest while picking out their plants.  I'm not sure I gave that much credence to my own children's gardening ideas.  They did however, indulge my passion for yard work and were good to contribute their part to the upkeep and maintenance of our yard…if asked, they might suggest that they really didn't have a choice!
(My youngest daughter had many opportunities to mow the lawn and help in the yard after her older sister and brother left home!  Mandi now lives in New York City in a small tenth floor apartment; she's told me how she sometimes misses the days spent working in our yard!)  
My Grandma Mecham (my mom's mom) was my most adept mentor as I grew up and first started developing my gardening skills.  My grandma had a calm demeanor and kindly taught me, even as a young energetic child, the art of planting vegetable seeds and flower start-ups.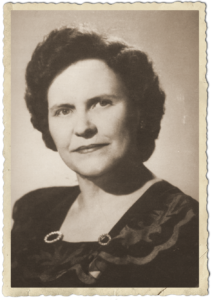 My grandparents had a long, more narrow backyard, with a winding stone path that curved down the middle of their beautiful garden.  The garden's artistic mix of vegetables and flowers became my own "secret garden"!  My mom often went to help my grandma with her gardening tasks so our family could reap some of the rewards at harvest time.  Countless hours were spent working together with my grandma in her garden, but one very distinct memory I have that left a lasting impression on me was that my grandma always took time after we were finished for the day, or before the sun went down, to sit on one of her garden benches or her front porch swing to enjoy little homemade treats with a tangy fruit drink.  She'd talk about all we'd accomplished and how beautiful everything looked.  Sometimes, even before she took her dirt-caked garden gloves off, she'd reach over and hug my shoulders and tell me what a wonderful day it had been.  It was hard not to be totally enchanted as I magically seemed to see things through my grandmother's delighted view of the world!  Too often, I just run from one task to another and forget to take time to enjoy what I have done.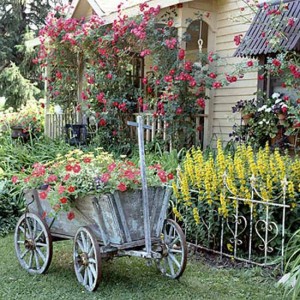 Long before it became such a trend, my grandma made beautiful planters out of unique items found in a storage shed.  All the more reason to take time and really enjoy the "fruits of our labors"!   
Enjoying Delicious Fruits Of Our Labors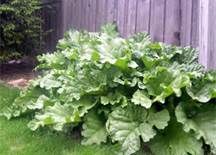 Although my parents didn't plant a big garden like my grandparents, they did grow rhubarb plants along the back fence of our yard.  When the plants were ready, my mom would ease the rhubarb gently out of the ground, then it was my job, along with some of my siblings, to cut the leafy tops off and rinse away any dirt left on the stalk.  I know I didn't really appreciate the value of this rhubarb ritual at the time, but I have a transplant from my parent's yard in my garden now.  One of my favorite desserts is made with rhubarb.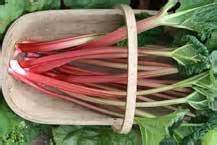 My thoughts are flooded with special memories each time I smell rhubarb cooking!  It's something my whole family really enjoys and now many friends and neighbors do so as well, since we have shared our rhubarb cobbler at many neighborhood gatherings.  We serve it warm with vanilla bean ice cream.  Talk about literally enjoying the fruits of our labors!   (I wish I could say that all my gardening endeavors produced abundant crops, alas, that is not the case!)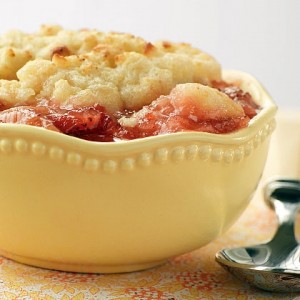 Rhubarb-Strawberry-Raspberry Cobbler
Biscuit Topper:
1 cup flour   2 tbsp. sugar   1/4 tsp. salt
Cut in 1/4 cup butter until mixture resembles coarse crumbs.  Combine 1/4 cup milk and 1 slightly beaten egg.  Add all at once to dry ingredients, stirring just enough to moisten.  Set mixture aside.
Fruit Mixture: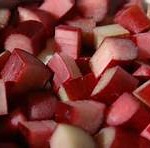 2 cups 1 inch cut rhubarb
2 cups sliced strawberries
2 cups fresh raspberries
Combine 1 cup sugar  2 tbsp. cornstarch 
 1/4 tsp. cinnamon  1 tbsp. water  1 tbsp. butter.  Bring to boil. Cook and stir for one minute.  Pour filling into 8 1/4 X 1 3/4 inch round baking dish (or comparable square dish).  Immediately spoon on biscuit topper in 6-8 mounds. 
Bake at 400 degrees for 20-25 minutes.  So good, you're gonna love it! 
What I'm learning now is…
Just like the Dr. Seuss quote in this past entry, sometimes it takes getting a little older to recognize that you really are wiser and truly appreciate so many of the things that your parents taught you.  What I'm learning now is that although your children may not verbalize aloud that they are glad they've learned a few things from you, I think that deep down in their hearts, (maybe in a crevice that may never surface in our lifetime-ha!) they really are grateful that you helped them know how to work.  I just hope my kids are doing a better job at taking the time to "enjoy the fruits of their labors" more than I did when I was younger!
Please share any rhubarb recipes you love.  Also, any gardening tips that make the yard work process easier or how you stop to take a breath and "enjoy the fruits of your labors"!  
–Mary