The Cookbook Challenge!  Healthyish!
How can you not stop and browse a cookbook with this title…I mean seriously!!!  Aside from the clever, eye-catching title, this cookbook is full of fun, easy recipes that will restore your faith in the fact that healthy-ish can be really tasty too!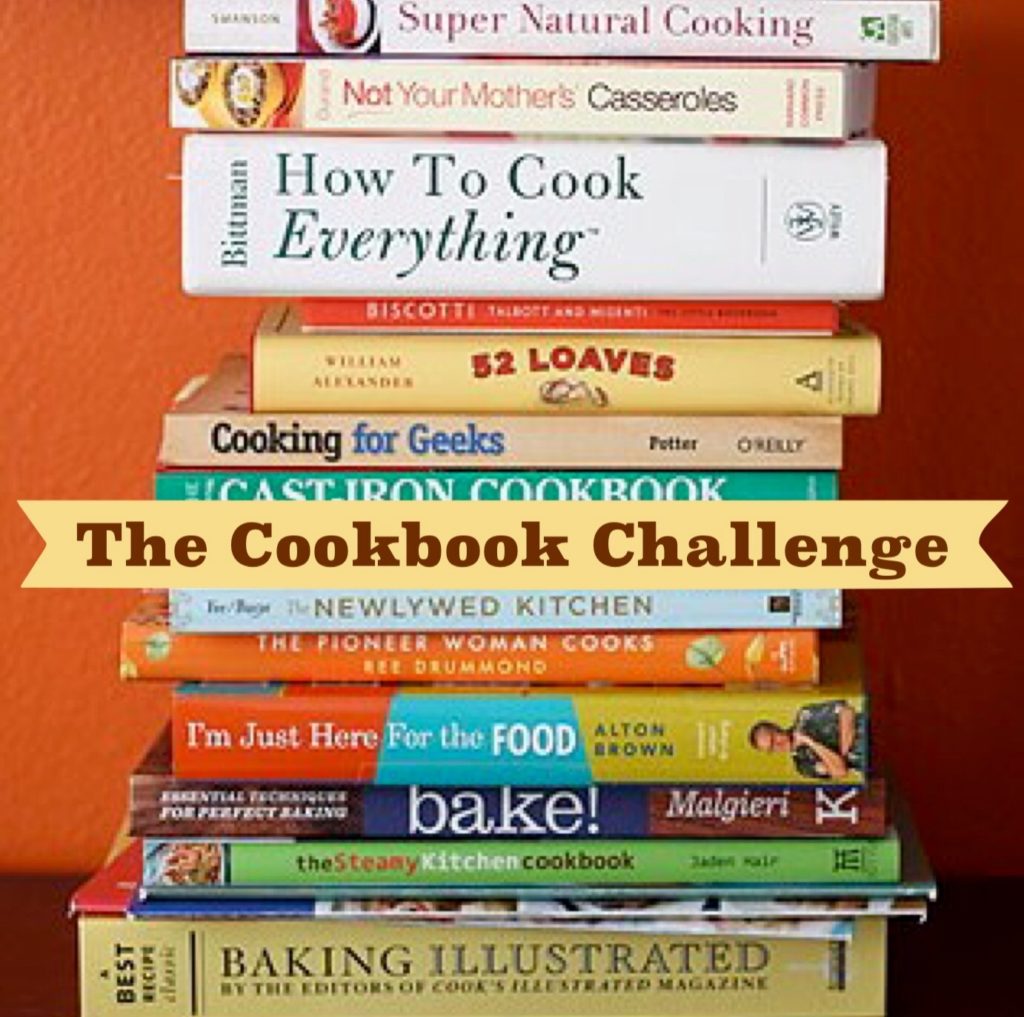 "You don't have to cook fancy or complicated masterpieces, just good food from fresh ingredients!"  Julia Child 
As the weather eases into summer, we naturally seem to be more active and are inclined to eat healthier as fresh produce is more available, but as the saying goes…people who love good food…are always the best people…and I believe that food should always be healthyish!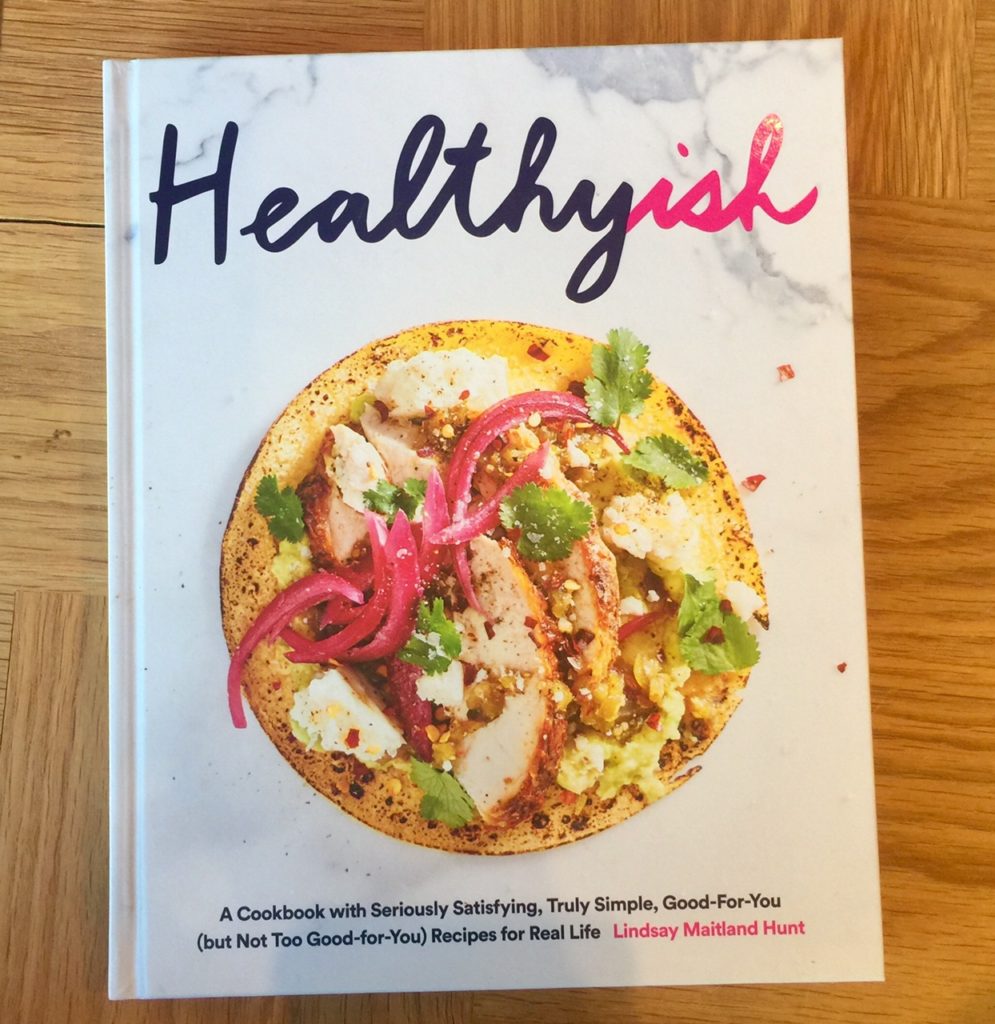 "My main goal is to give you good, doable recipes that fit into your real lives."  Lindsay Maitland Hunt
Lindsay Maitland Hunt is a recipe developer who has devoted her career to creating recipes for everyone from college students to busy families to seasoned home cooks.  In the introduction of her cookbook, it states that Healthyish, is for anyone on the move, working long hours and trying to live a bit more healthfully.  There are 131 satisfying recipes included, with straightforward instructions, using as few pots and pans as possible, and ingredients that won't break the bank.  Not to mention, you can find the ingredients at your everyday grocery store.  That my friends…is my kind of cookbook!
Healthyish Recipes I Love!
This cookbook is quickly becoming one of my favorites for finding easy recipes for packing my lunch to eat on the run at work, as well as great meals for when you need to fix dinner quick; it's one of those cookbooks that when you look at the recipes, you think to yourself, "Oh man, why didn't I think of this?"  Such serious goodness!
Apple Slice "Cookies"
There are three different recipes for these yummy Apple Slice Cookies, but really, the sky's the limit–so try creating your own concoction of this versatile snack!
My favorite is: Yogurt Peanut Butter Granola Apple "Cookies"
1 small sweet apple (such as Fuji or Gala)
Yogurt (I like "Oui" yogurt by Yoplait)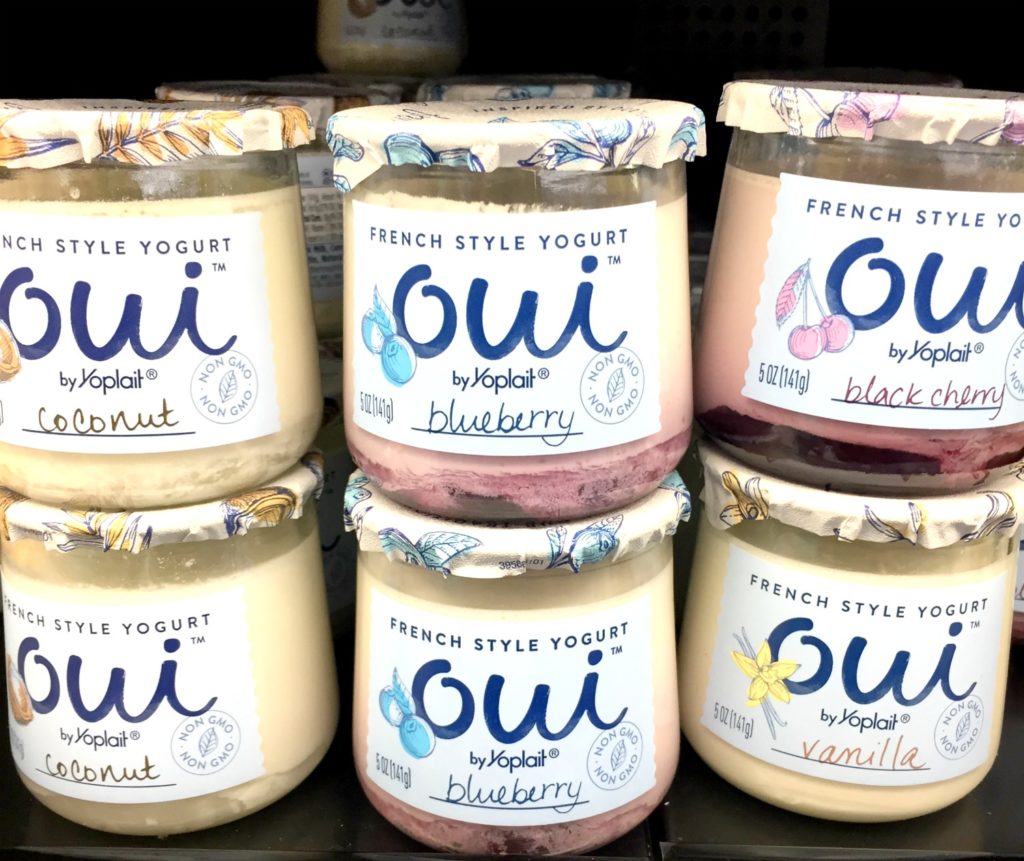 1/2 cup Peanut Butter Granola (There's a recipe for this granola in the cookbook, but you could just use one you like the best, which is what I do.)
Cut apples horizontally into 6-8 thinish slices.
Poke the seeds out of the center of each apple.
Spread slices with yogurt, then top with granola.
I'll often sprinkle on some chocolate chips too.
Old-School Pizzeria Salad
This is one of my most favorite recipes from this fun cookbook.  Like the author, it reminds me of the salads my family got with our pizzas when I was growing up.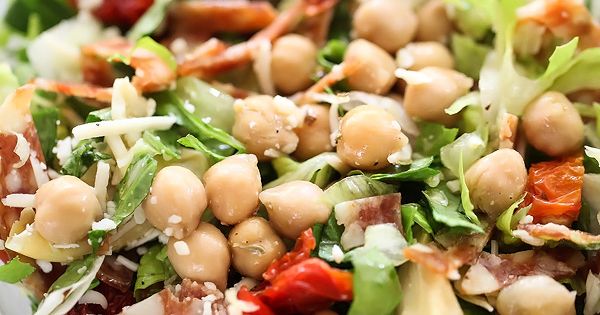 3/4 cup canned chickpeas (garbonzo beans) rinsed well
2/3 cup chopped giardiniera pickles or banana peppers
1/2 cup cubed Provolone cheese (I prefer it grated.)
1/2 cup sliced salami pieces (You could use pepperoni.)
2 Tbsp. Dried Oregano Italian Vinaigrette (Recipe below.)
Ground sea salt and black pepper to taste
2 cups baby arugula or any mixed greens
Mix all the salad ingredients together in a salad bowl.
You could also add sun-dried or fresh cherry tomatoes.
Fold in the arugula or mixed greens just prior to serving.
Homemade Dried Oregano Italian Vinaigrette
This salad dressing recipe adds a welcome tang to any simple salad!
1-1/3 cups olive oil
1 cup red wine vinegar
2 tsp. dried oregano
1 Tbsp. kosher salt
1 tsp. freshly ground pepper
Whisk together in bowl until ingredients are completely combined.
Refrigerate in airtight container for up to 1 month. 
Shake well before each use.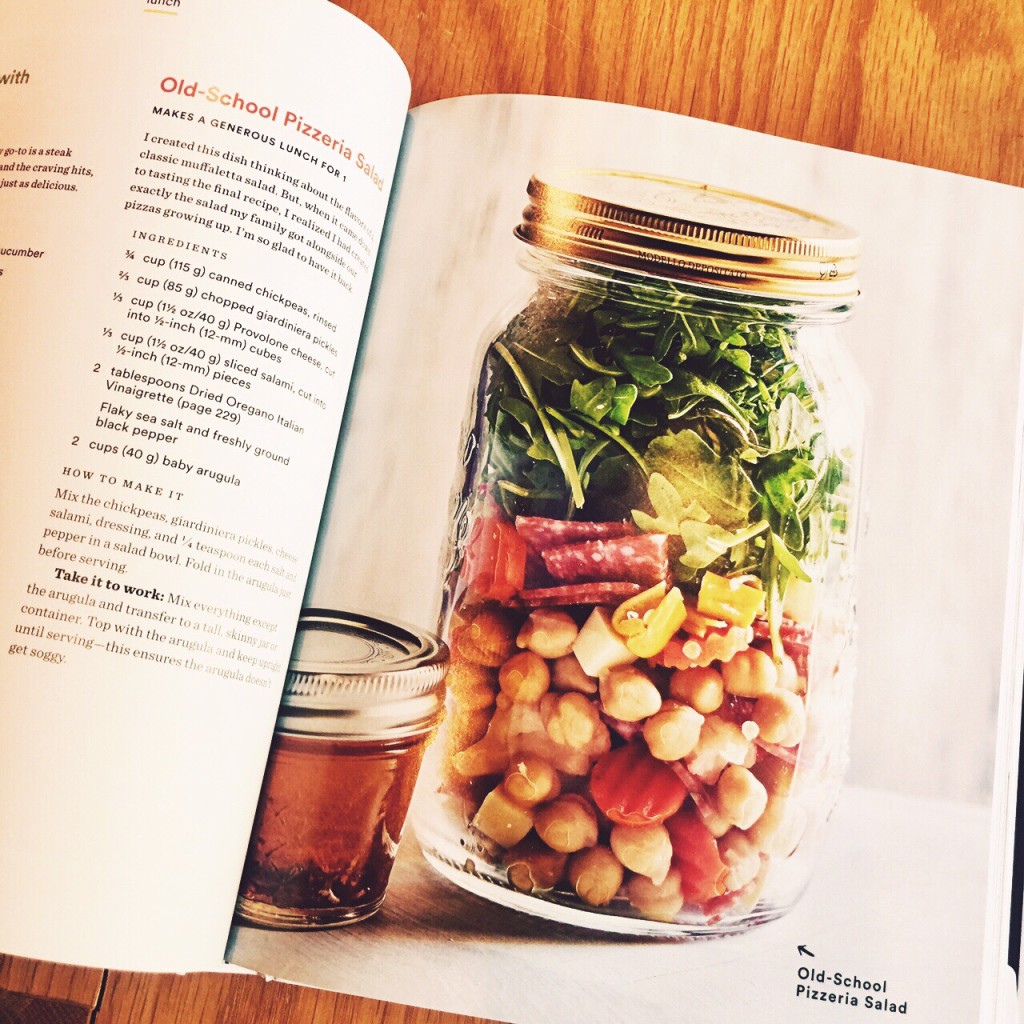 The author suggest that a great way to enjoy this salad at work or on a picnic lunch, is to layer the ingredients in a bottle, putting the arugula in very last.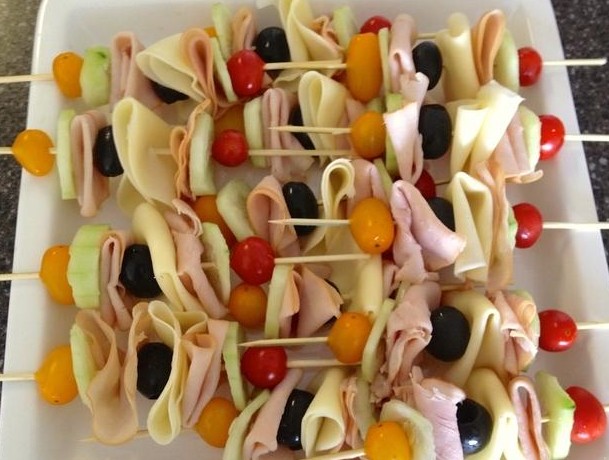 One of the things I love about this cookbook is how the author suggests changing how you serve food to give it a fresh reboot that makes for the best festive eating!   (These veggie, cheese and meat skewers have become a favorite snack!) 
As stated in the introduction of this cookbook: "Healthyish works if you're just getting started in the kitchen or if you've been at the stove for years, because the author has developed each recipe with the home cook in mind."  All I know is that I can't wait to try more recipes in the section titled: "Treats" –they all look amazing and pretty healthy to boot!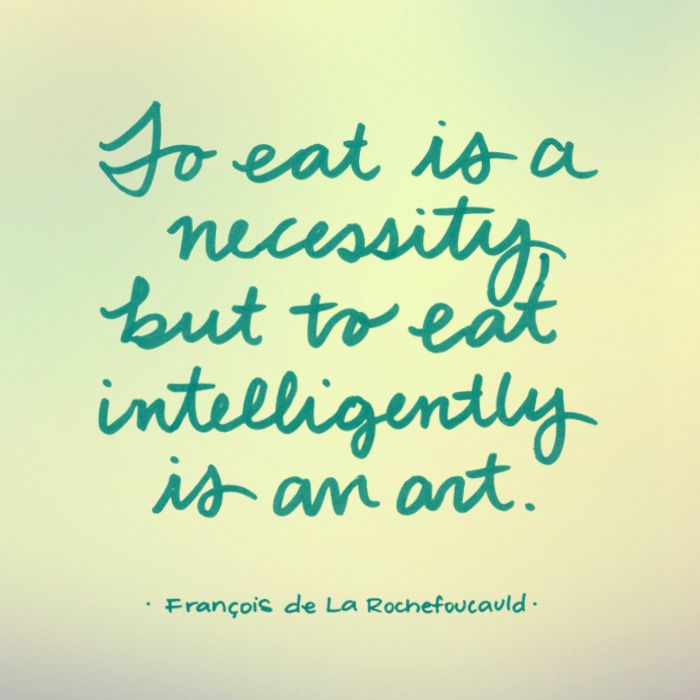 "A healthy outside starts from the inside!"  Robert Urich   
Here's to happy, healthyish eating and a wonderful summer!
Any easy, "healthyish" recipes you love that you'd share with us?
–Mary