This time of year, we like to share stories about Halloween!  As children, it seemed especially intriquing to huddle under blankets in the dark and tell exaggerated stories about Halloween, making sure to include haunting sound effects and raspy voice impressions!  I'd like to share my own, real life Halloween story…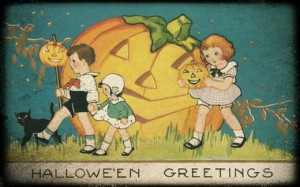 Long before the term "stranger danger"  became common vernacular, and an unlimited assortment of pre-made costumes on hangers could be found at your local drug store; and before climate controlled trick or treating was done at the mall, I remember rummaging around the house for the perfect mix of eclectic items to come up with my own festive, one-of-a-kind, Halloween attire.  (To be sure, each self-made garb was usually a funny Halloween story in and of itself!)  I often had to pile on extra layers underneath my costume to withstand the chill of the changing fall season that invariably saw a nose-dive in the thermometer right before Halloween night.
The specific story about Halloween that I'm recalling, took place when I was in second grade.  I was so excited to be going door to door with my older sister for the coveted bit-sized goodies.  After we attended our school fall festival, we met up with our friends at the back of the school play yard.  The dusky dark of the evening had just started to settle in.  We weren't adorned with glow-in-the-dark accessories, nor did we carry blinking goblin flashlights, rather, we just dashed about the streets with our large group of costumed misfits!  We would stop under street lights on occasion and take a brief inventory of our loot.  If we spied a full sized candy bar amid the mini versions that typically dominated our treat bag, screams of delight were loudly proclaimed!  To be sure, the events of the previous evening's ventures did incite the telling of stories about our successful Halloween conquests the next day.
One such brief stop however, soon found my sister and I, and a few other stragglers separated from the majority of our group.  Since the cold was starting to seep into the thermal layers under our costumes, we decided to finish up the final block of houses nearby that led up the street to our home.  In the abandon and excitement of wrapping up another Halloween excursion, I hadn't really paid much attention to the figure walking nearby with his face huddled deep in the collar of his coat.  I chatted away with my sister as we rounderd the final corner into our neighborhood.  I even offered a greeting to the man as we walked past him.  My sister, feeling a bit less gregarious, nudged my ribs with her elbow.  When I turned to face her with a bit of exasperation, I suddenly felt a forceful hand grab my candy bag with such brute strength that the handles broke away immediately!  I watched in disbelief, as the shadowy configuration of the person who had just been beside us, ran off into an open field in the opposite direction of our home!   By now, my sister had grabbed my other arm and was literally dragging me home with the tips of my boots barely touching the ground.  I was still lamenting about the prized candy stash of delectable treats I had lost, when my sister recited the events of the incident to my parents.  If they were alarmed, they certainly curbed their reaction.  I remember them being only moderately disgruntled!  It was a school night, so they just encouraged us to get ready for bed.  In fact, it seemed they showed the most concern when they reminded us to brush our teeth!
It was a hard call to be my usual jovial self at school the next day, while stories about Halloween candy abundance were indeed shared with relish!  I also observed my friends sneaking mouthfuls of their treats during class.  At home after school, my siblings were discreet as they poured the mounds of goodies from their bags, enjoying the cherished ritual of dividing the candy into piles of the most favorite to least liked.  They were good to share with me once in a while, but as you can surmise–it was usually from the least liked pile!  I obviously went to bed a little despondent!  Although I didn't know it yet, one of my fondest memories of Halloween was yet to unfold!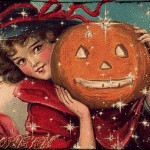 The next morning was Saturday, and since I was an early riser, the house was quiet when I tiptoed to the family room to watch morning cartoons.  I wasn't very far into my first show, when I thought I heard muffled voices coming from the bedrooms of my siblings.  I started to sneak stealth-like back down the hall, when suddenly my dad came out of his bedroom dressed in his work clothes.  He greeted me with a little too much cheer for someone ready to check off the chore list.  Then he pulled a brand new trick or treat bag from behind his back, and as I took it from his outstretched hand, I looked around and took note of the crayon artwork that decorated the doors down the hall.   As my mom coaxed me to knock on each door, they were opened with great decorum and bowls of candy were then presented for me to choose from and fill my bag.  To my delight, these wondrous antics went on for several rounds, until my bag held a generous supply of my favorite treats!
In the beginning paragraph of his autobiography, my dad shares one of his earliest childhood recollections.
"I was standing with my little, four-year-old right hand in my father's big left hand as we stood looking at our new home.  The feelings I had were of contentment and security–two emotions which have followed me pretty much throughout my life."  He goes on to say, "I think these feelings must have come from the inner realization that my parents were very happy and proud to have me as a member of their family."
Looking back, I realize that these two emotions have also defined my life.  What I learned from my own Halloween story, on that fall weekend morning-long ago, is that Halloween wasn't so much about the candy that year.  It was about my dad and mom showing me, in a way that I could appreciate at the age of seven, that they were grateful I was safe and still with them and our family!  I also remember still having to do Saturday chores!
What I'm Learning now…
Contentment is such a great word; my favorite, I think.  What I'm learning now is that amid all the many things we seek after in this life, being more content is perhaps what we need to strive for the most!      
How do you define contentment in your life? 
Happy Halloween!
–Mary