The Creating Your Home Sweet Home!  Feature Walls!
I haven't posted a Home Sweet Home journal entry in quite awhile, since during the summer months we tend to focus more on all the outside jobs that need to be done, but today I want to share with you a neat project that my daughter and her husband recently completed in their darling new home.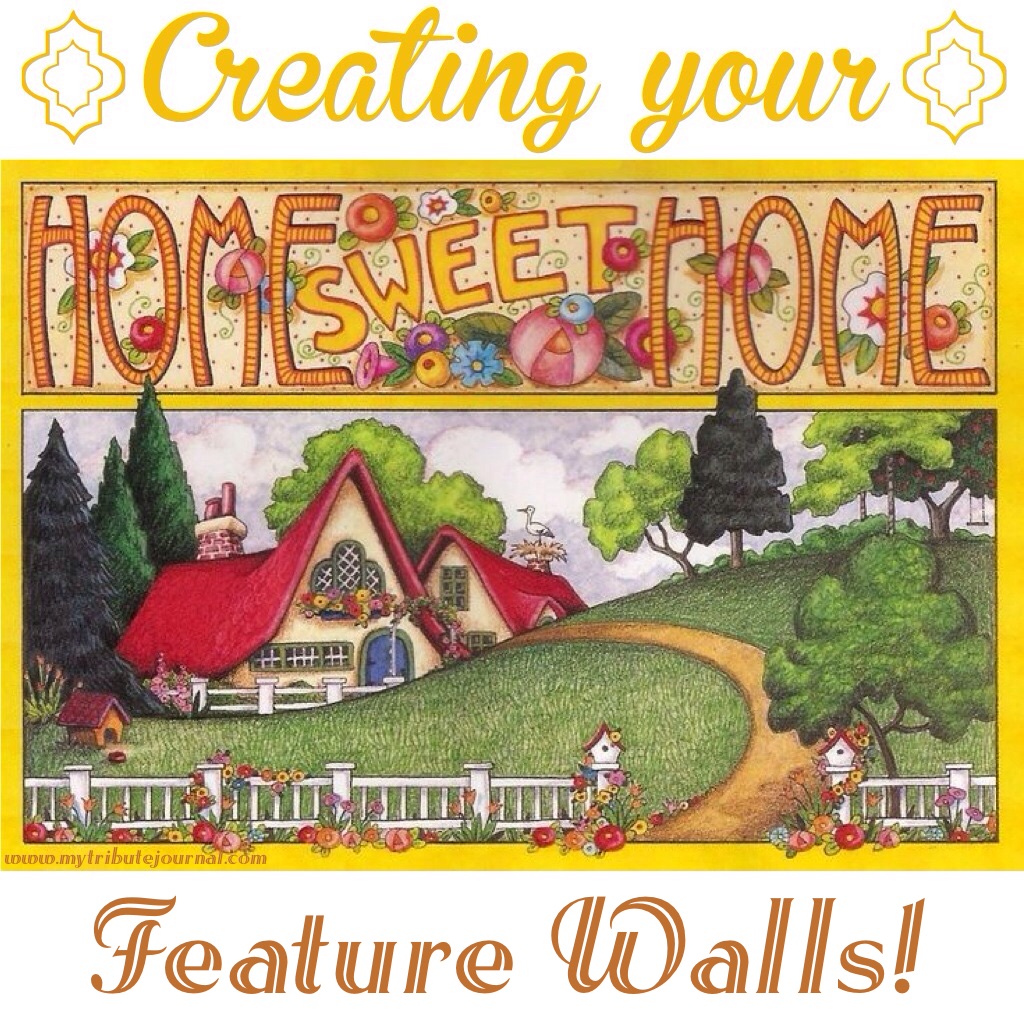 Like me, I'm sure that many of you had grandparents who proudly adorned the walls of their homes with an eclectic array of family photographs…each picture having a unique story that went along with it…..you know, the stuff that family folklore is all about!  Ha!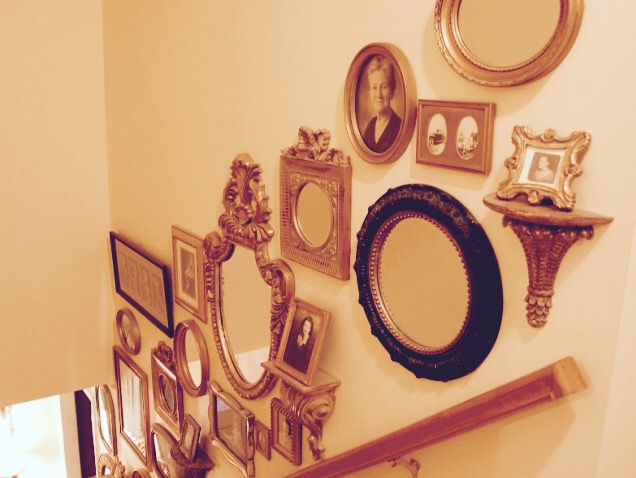 "It's hard to truly understand somebody without visiting them at home–the walls of their house reveal their character and share a bit of their story!"  Gilbert Higbit
Meaningful Feature Walls!
Like other decorative elements we put in our homes, I think it's important to personalize walls and feature a few special items that are meaningful to us!  Obviously, each wall doesn't need a full-throttle design treatment, but giving a little attention to a few key walls, especially those you see when entering your home, lets those who come to visit catch a glimpse of your personality!  In her work as a designer, Malia recommends that you try to stay on trend with your decorating style throughout your entire home, this way, all  the rooms of your home flow together better and your house will seem bigger.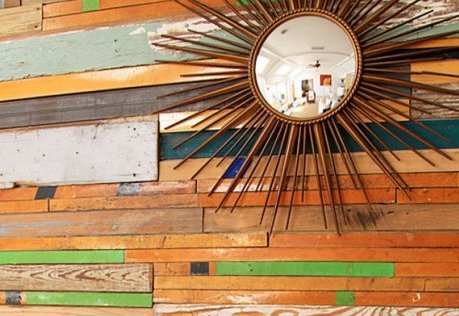 (via Ecowood Design)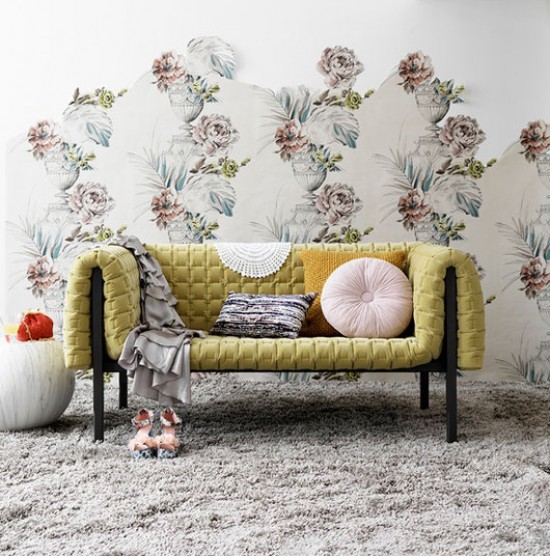 (via wannah.net)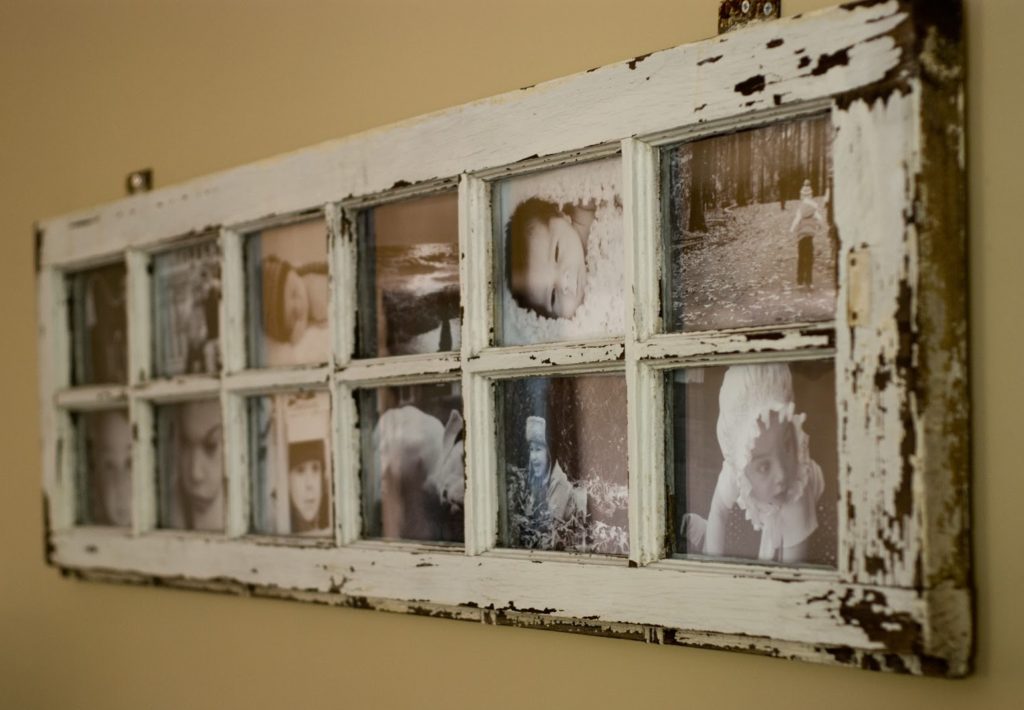 (via Vintage Home)
Whether it's adding an architectural element with a unique wood design, a simple wallpaper treatment or an unusual framing technique, feature walls help to create a neat, added dimension to your home's décor.  
The Look Of Old Wood Shiplap On New Walls!
A favorite home remodel show I like to watch on HGTV is "Fixer Upper" where the husband and wife team of Chip and Joanna Gaines fix up older homes for their clients in the Waco, Texas area.  One design element tthey quite often have to work with is the wood shiplap that's often found behind the wall coverings of these old homes.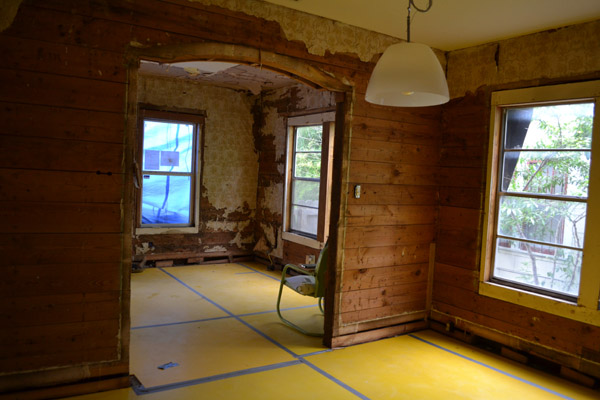 (via merzbaudesigncollective.blogspot)
Pre-sheetrock, interior walls were done in either wood shiplap or plaster.  Shiplap was usually cheaper to install; typically the wood was covered in cardboard, then painted or wallpapered.   
Malia knew when she built her home that she wanted to incorporate the look of old shiplap on a big wall by her entryway staircase–she also wanted the wood used to be painted white too, while still showing the different textures and variations of the wood.  After doing quite a bit of research on various techniques, this is the semi-DIY approach that Malia and her husband, Shane, took to get the shiplap look they wanted on their wall.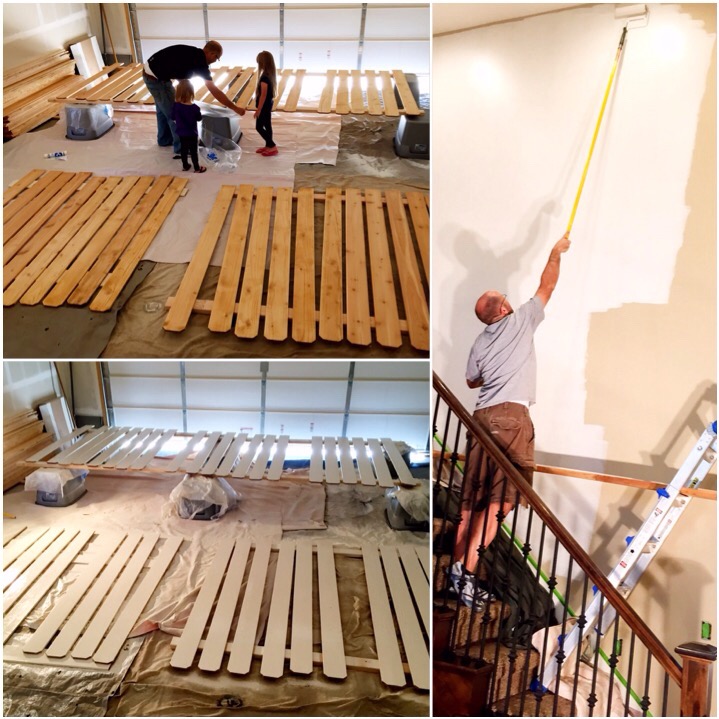 Malia decided she liked the look and texture of knotty fencing wood.  (All the wood was sanded, but not so much as to compromise the wood grain and knot holes.)
Shane set up shop in their garage temporarily while he prepped and painted all the wood.  (Shane highly recommends buying a paint sprayer for a project like this for two reasons–to get an even coat of paint and to save time!)
The big wall where the shiplap was going to go got a coat of the same paint color as the wood.  Since Malia was going for more the casual, farmhouse look with the shiplap, there would likely be some small gaps in the wood when it was installed, and she didn't want her other wall color showing through.  (The feature wall and the wood were both painted with the same color of paint as the trim paint used throughout the rest of Malia's home.)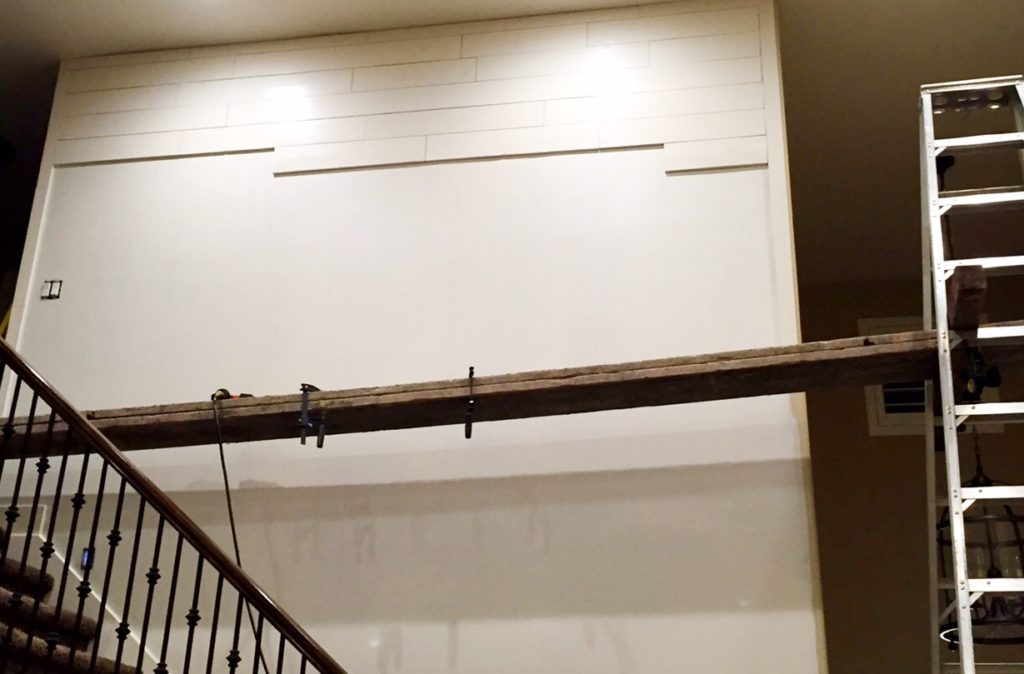 Malia and Shane laid out the wood in the pattern they wanted, but opted to have a professional carpenter install the shiplap wall.  (As you can see, trim pieces were put up along the wall's outside edges.)
And…the finished product!  Malia added her personal touch with her choice of unique wall hangings!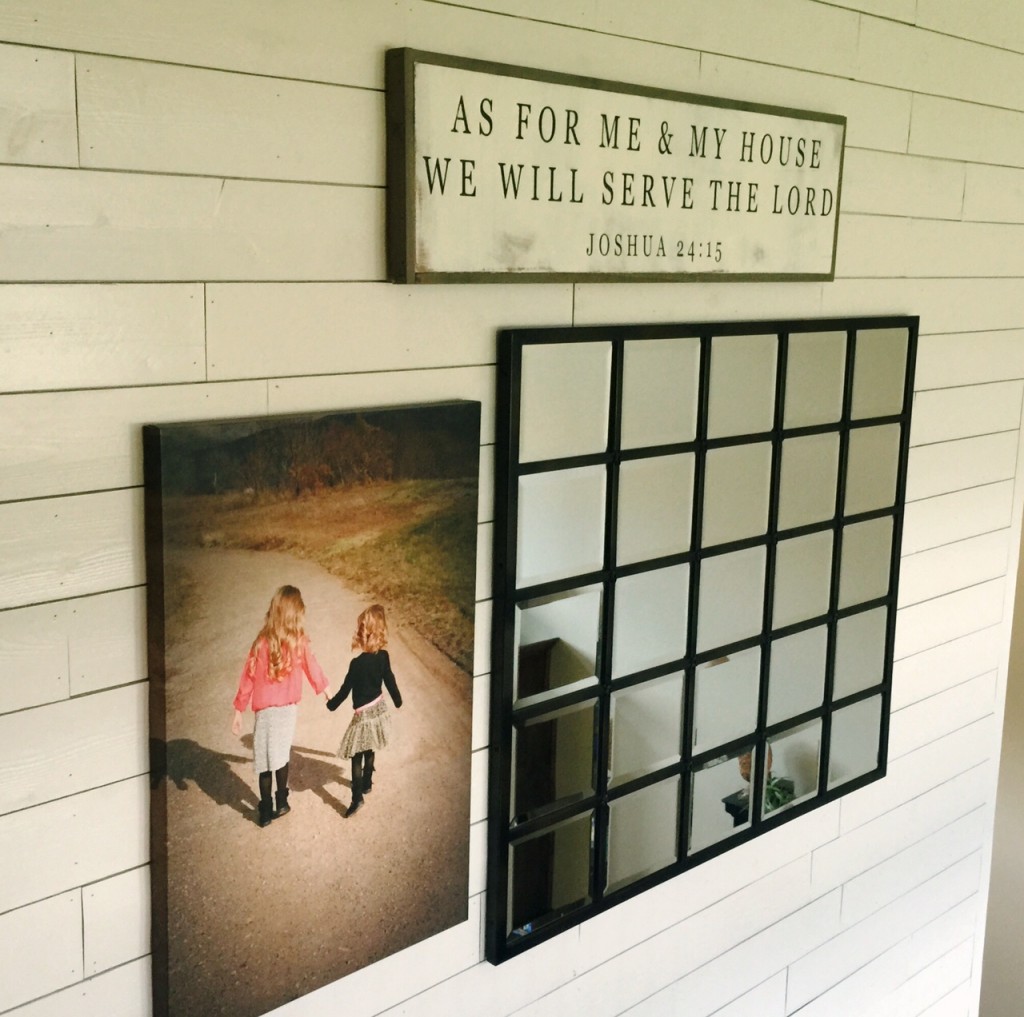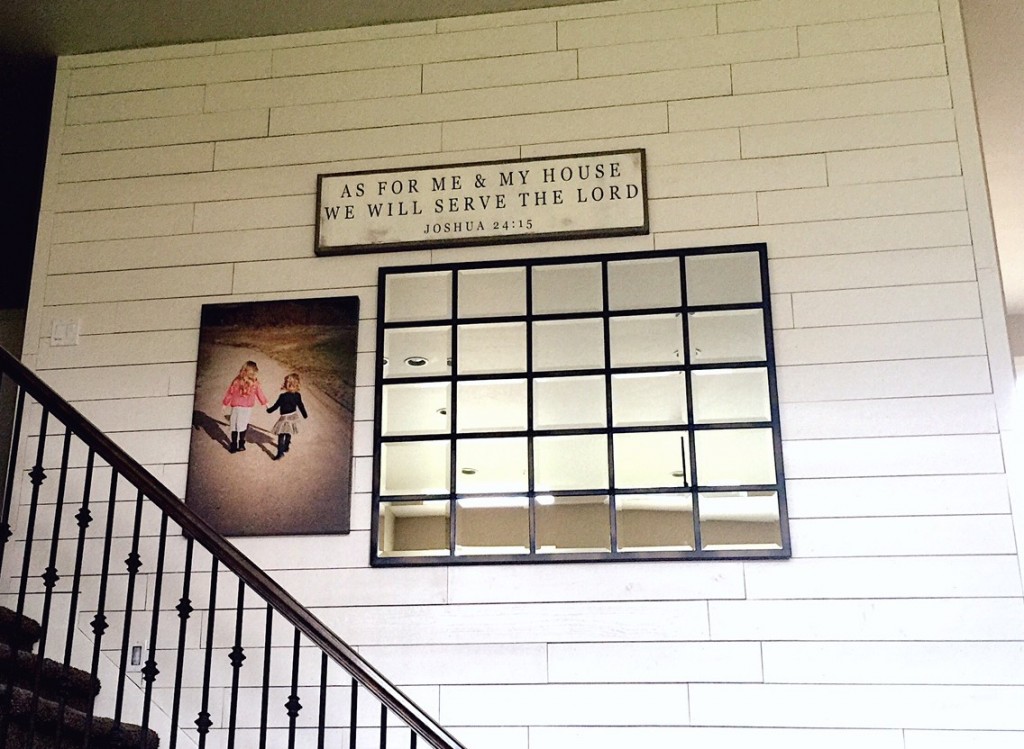 Malia found the large, divided mirror at Pottery Barn–besides its neat decorative element, she loves how it gives some depth to the tall wall.  I really like how Malia kept the wall hangings simple so they don't detract from the unique look of the shiplap.  (Malia also put shiplap on some walls in her dining area to help tie the rooms together.) 
This project was a large undertaking that required careful planning and some good teamwork between Malia and Shane, but like most things in life, it's always worth the effort when the outcome is how you envisioned it!  Great job, it's just beautiful, Malia!
Have you been brave enough to take on a big home improvement job?  I'd love to hear about it!  It is always fun to be inspired by other's decorating projects!
–Mary