"Back In The Saddle Again"!  A New School Year Anthem!
Do you recall the Staples advertisement where a dad joyfully gathers school supplies,  "It's The Most Wonderful Time Of The Year" plays as background music, and his two forlorn children seem to be less than amused?  My father would wake us early on the first day of school to the smell of eggs, bacon and hash browns, as well as a rousing rendition of Herb Alpert's "Spanish Flea"!  (Also known as the "Dating Game Show" theme song to my generation!)  In fairness, my dad didn't do this because he was glad to see us gone and out of the house, (at least I never believed that was the case) he was simply a college professor with a penchant for higher learning, who loved to teach!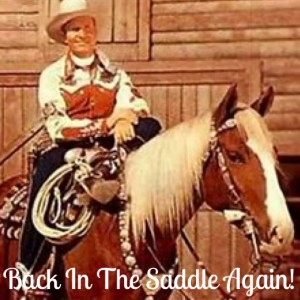 When our three children started school, a new anthem marked the dawning of another school year!  Have I mentioned before that my husband loves country music?  Come the first day of school, the cassette tape of Gene Autry's "Back In The Saddle Again" was played loud enough on our old Marantz sound system, that our house seemed to shake a little!  At the time, our kids would bemoan this tradition, but now, they often remember it with fondness!  ("Back In The Saddle Again" is also song #6 on the "Sleepless in Seattle" soundtrack.)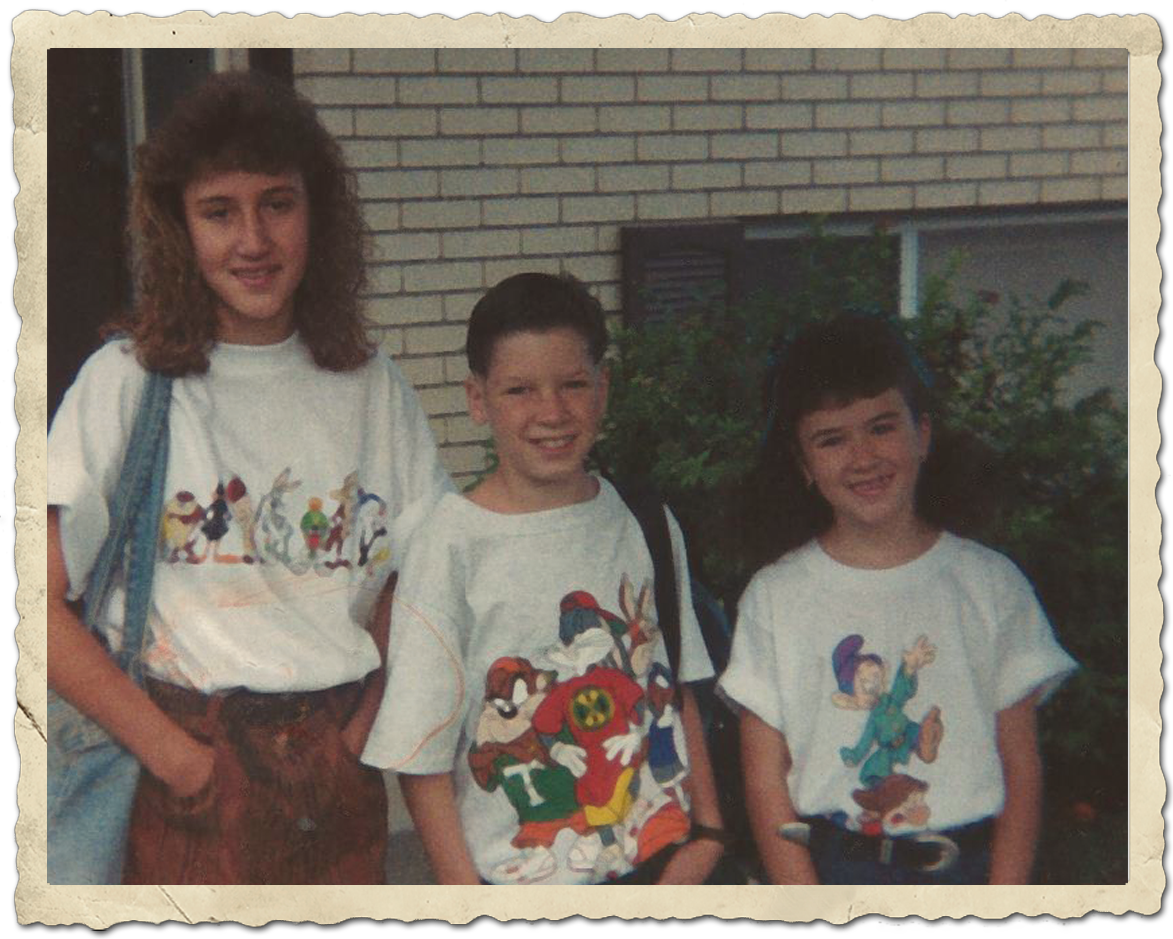 Malia-6th grade, Jake-4th grade, Mandi-1st grade.  The last year all three would attend the same school together.    
Celebrate A New School Year With Fun Traditions…
Just like I did with my granddaughter, Makena, I had fun

school shopping

trips with my children.  The girls would come home and play "fashion show" and model their new clothes for their dad.  Good times!

Breakfast was usually "Mush Cake" made by my husband, while I helped the kids get ready.  Obviously, all this happened to the strains of "Back In The Saddle Again!"
Mush Cake! 
A Wilding Family Classic!
I was a little leery of this recipe when I was first introduced to it, since I didn't like hot mush cereal growing up–but this warm, spicy cake served with fresh bottled peaches and milk is the perfect breakfast to send your kids out the door to a new school year!
1 cup sugar
1 1/2 cups dry Cream of Wheat Cereal
1 1/2 cups flour
2 tsp. cinnamon
1 1/2 tsp. baking powder
1/2 tsp. salt
1/2 cup shortening
2 eggs
1 cup milk
1 c. applesauce
Combine dry ingredients.  Cream together shortening, eggs, sugar and milk.  Add dry ingredients.  Stir until smooth then add applesauce.  Bake in 9×13 inch pan at 350 degrees for 30 minutes.  Serve warm with milk and peaches on top.
You can add milk or have it with just the peaches.  It's so good! 
We have a tradition of using a "You Are Special Today" red plate for fun days like birthdays, etc.  After school, I would have some of my kid's favorite snacks waiting for them on this plate–then I'd just sit back and listen while they chatted about the events of their first big day at school!  (Usually, I went for more healthy snacks after school, but on the first day after school, I'd splurge.)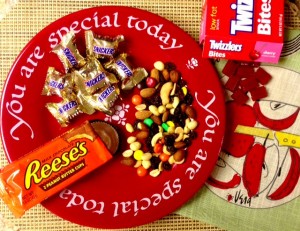 For a long time now, we have had a neighborhood BBQ that we attend after the first day of school.  It's sort of the last "Hoorah" where we all enjoy each other's company one last time before homework projects, sports practices and cooler weather.

My kids usually ate school lunch, so I didn't send any of the clever sack lunch notes that you hear so much about now–I'm not so sure they would have loved them anyway…I mean a note from mom, that's a little embarrassing, right!  I did however, try to leave a few surprise reminders in their bedrooms during the school year to let them know I was impressed with their efforts in school!  (There are a lot of fancy ideas online now for these type of things too, either way, your kids just want to know you are thinking of them!)  
When I saw this new brand of gum at the store, I had to laugh–if my dad were to make me a candy poster today, this would probably be his message!
In his autobiography, my dad shares a story about how he and a few high school friends would skip class on occasion to go fishing in a nearby river.  My dad also relates that when his father became aware of what he was doing, he said to him, "Roy, I know you've been missing some of your classes.  It's very important that you graduate from high school.  I didn't graduate and I know what I've missed.  If you can't see why you should attend class for your own sake, then do it for me."  My dad then records that since his father was such a good man, he started attending class regularly for him, "…but as time went on, I got a clearer vision of things and started going for myself!"     
What I'm learning now is…
When I was young, I used to think it was kind of corny that my dad celebrated the first day of school almost like it was Christmas!  But like I've said so many times before, as I've gotten older and a little wiser, I now see the wisdom in the things my parents did!  I have come to know that like so many other days in our lives, the first day of school is very much worth celebrating!  What I'm learning now is that often the family traditions we celebrate can't help but impress upon our children the importance of these special occasions to us.  Initially, our kids may go through the motions, so to speak, simply out of respect for us as their parents, but in watching my own children as they've excelled in school and other areas of their lives, I realize that before long, they develop their own strong convictions that motivate them to do well and succeed!
I'd love you to share how you celebrate starting a new school year, and what you do to help the enthusiasm last throughout the year?
–Mary